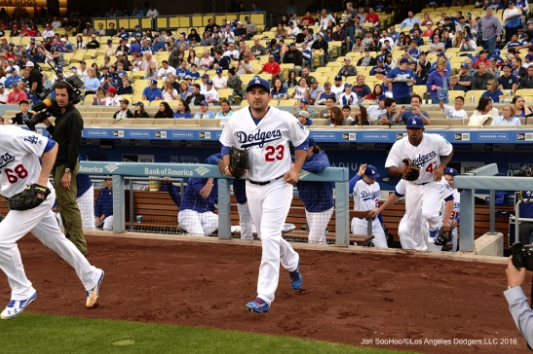 Dodgers at Padres, 7:10 p.m.
Chase Utley, 2B
Corey Seager, SS
Justin Turner, 3B
Adrian Gonzalez, 1B
Trayce Thompson, LF
Joc Pederson, CF
Yasiel Puig, RF
Yasmani Grandal, C
Alex Wood, P
By Jon Weisman
Adrian Gonzalez is in the Dodger starting lineup for the first time since Monday, ending his longest absence since.
Gonzalez, who came off the bench in the eighth inning of Friday's game, went 8 for 21 with a homer, two doubles, three walks and a sacrifice fly (1.059 OPS) from May 10-15, but then left Monday's game in the sixth inning with lower back pain after going 0 for 3.
The 34-year-old leads the Major Leagues with 1,629 games played since 2006 and hasn't missed more than six games in a season since his rookie year in 2005.