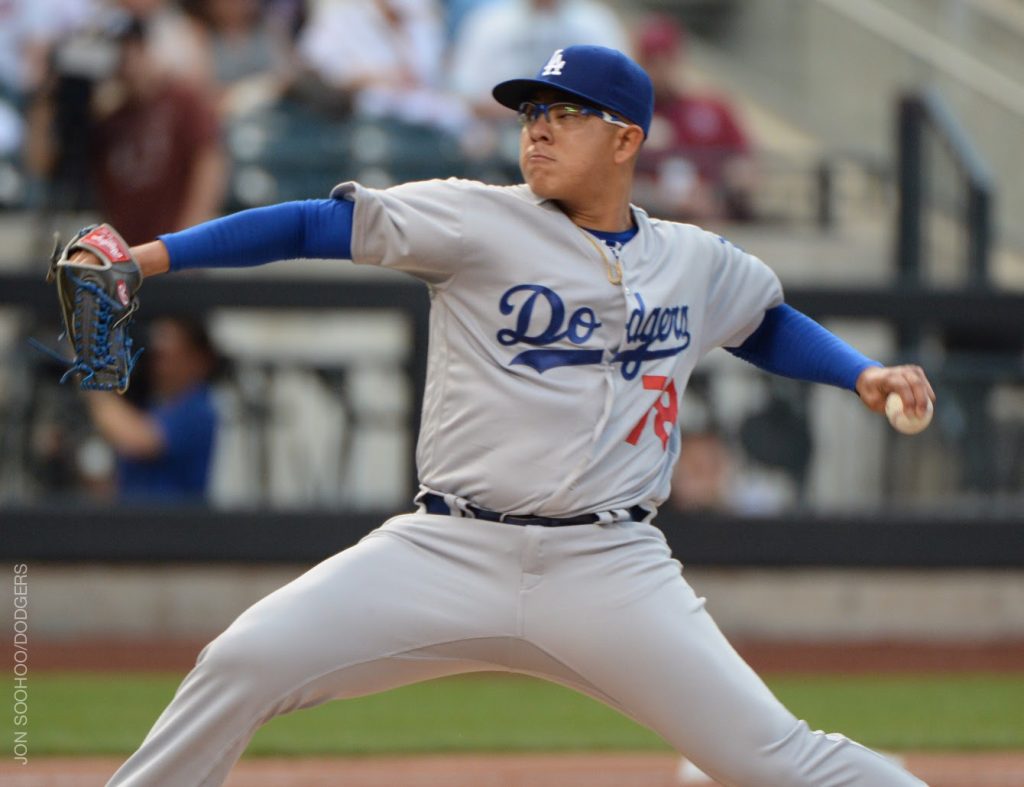 By Jon Weisman
Julio Urias is still a precocious teenager and a pitching prodigy. But the mania will have to wait at least a game.
Displaying consistent velocity but inconsistent command at 19 years and 289 days old, Urias lasted 2 2/3 innings in his Major League debut, leaving with the Dodgers trailing the New York Mets, 3-1.
With three strikeouts, Urias tied a Dodger record for a teenager in his first game, but he also allowed five hits and walked four and even in his best inning, couldn't find the consistency he needed to last longer.
Urias struck out the first batter he faced in his career, Curtis Granderson, on a 94 mph, full-count fastball taken on the upper edge of the strike zone. After allowing a double to left by Asdrubal Cabrera, Urias also fanned David Wright swinging, on a fastball at 95. So far, so good.
[mlbvideo id="744134183″ width="550″ height="308″ /]
Then, the trouble started. Urias walked Yoenis Cespedes on five pitches. Facing Neil Walker next, Urias came within one strike of a scoreless inning, but Walker lofted a 2-2 breaking ball down the left-field line for another double and the first run off Urias.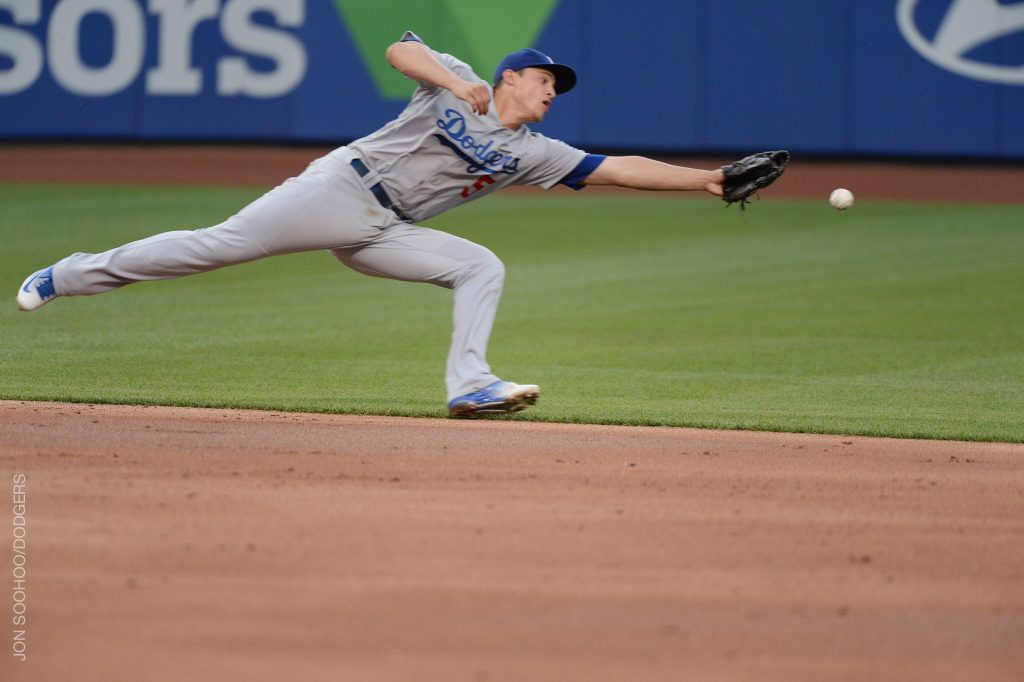 The next batter, Juan Lagares, brought double the frustration. Again, it was a two-strike breaking ball, and Lagares got the end of the bat on it for an exit velocity of only 73 mph, but it just eluded a diving Corey Seager and reached center field for a two-run single.
By this time, Urias was crossing into 30-pitch territory, pitching coach Rick Honeycutt was making a visit to the mound and Chris Hatcher began warming up in the bullpen. Kevin Plawecki added a third consecutive hit off Urias before, on the 36th pitch of his first career inning, he got Eric Campbell to fly out.
Urias' second inning went more smoothly, beginning with a strikeout of Mets pitcher Jacob deGrom. Urias' second walk of the game went to Granderson, but he dispatched Cabrera and Wright on two fly outs with a total of six pitches, leaving him at 51 pitches through two frames.
The youngster joined the Dodgers' offensive efforts in his first career at-bat. After Yasiel Puig walked and Yasmani Grandal singled to start the third inning, Urias bunted the first pitch he saw in the Majors toward deGrom, who couldn't glove it, and Urias reached first base on what was ruled a sacrifice plus an error. He remained on the bases for about five minutes, long enough for Chase Utley to drive in the Dodgers' first run with a sacrifice fly, but not long after that, because Seager hit into a 1-6-3 double play.
[mlbvideo id="744414383″ width="550″ height="308″ /]
Urias got off to a promising start in the bottom of the third inning when he retired Cespedes on an easy fly ball. He got the second out as well on a comebacker by Walker — his first groundout of the game — but that took nine pitches to achieve. Urias would need a fairly quick third out to last beyond the third inning, and he didn't get it.
Lagares, whose main value to the Mets is supposed to be defensive, got his second single of the game (he would later add a homer off reliever Joe Blanton) with a solid shot to left. Plawecki walked on a 3-2 pitch that was about a foot high, and then Campbell came back from down 1-2 in the count to walk as well. With 81 pitches thrown and a pregame limit of approximately 90, Urias watched Dave Roberts come out of the dugout, and his first game was in the books.
Hatcher prevented Urias' inaugural ERA from rising higher than 10.13 by striking out deGrom.
No Dodger teenager making his MLB debut as a starting pitcher won his first game, and the only one to last more than four innings, Chris Haughey, walked 10 and struck out none. (Haughey was pitching on his 18th birthday in 1943, and he never pitched in MLB again.) So Urias was par or better for that particularly unique course. But by the barometer of all our expectations, hopes and dreams, Urias didn't deliver a storybook night.
It's all part of the process. On August 31, Urias made his Triple-A debut. Then as now, he allowed three runs in his first inning at the new level. Nine months later, here we are.
Tonight, all the potential for Julio Urias was on full display, and you can remain every bit as eager as before to see where it takes us.