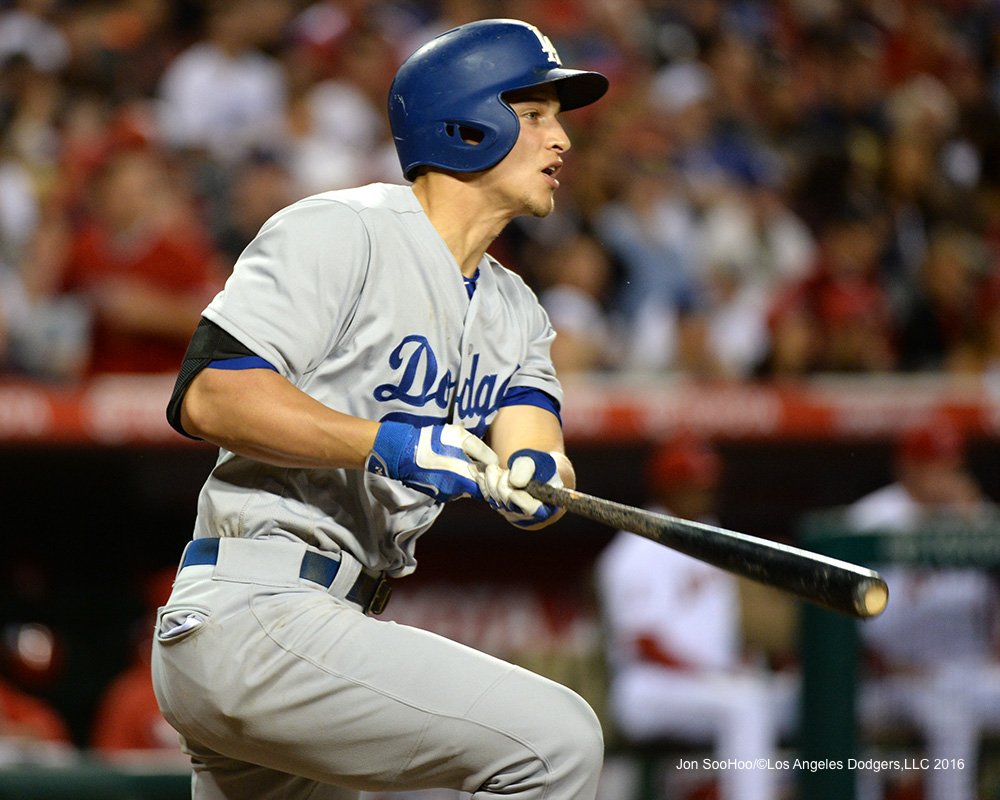 By Jon Weisman
It's doubtful many people realize the kind of month that Corey Seager just had.
The 22-year-old's three-run homer in the ninth inning of tonight's 5-0 Dodger victory was his seventh round-tripper of the month, giving Seager a share of a franchise record.
Seager tied Hanley Ramirez for the most homers by a Los Angeles Dodger shortstop in a single month, according to my research at Baseball-Reference.com. Ramirez hit seven in August 2012, his first full month with the Dodgers after being acquired from Miami. (In fact, Ramirez hit all seven of his in the second half of that month, starting on August 16).
The only Dodger shortstop to hit more homers in a month was Glenn Wright of Brooklyn, who knocked out nine in July 1930, at age 29. Wright finished that season with 22.
With his ninth homer of the season, Seager seized the Dodgers' homer lead for the month from Trayce Thompson and for the year from Joc Pederson. Seager began May with six career home runs, then doubled that total the next 30 days — hitting five of them from May 11-17 — and another May 28, before topping things off with his drive off Trevor Cahill. The latest home run pushed Seager's career slugging percentage up to .502.
Corey's smiling. He should be smiling. pic.twitter.com/9OltVfcagZ

— Dodger Insider (@DodgerInsider) June 1, 2016
Seager entered play tonight second in the National League among shortstops in wins above replacement, behind the Giants' Brandon Crawford, according to Fangraphs. Seager had a .352 on-base percentage while slugging .540 in May, for an .892 OPS. Update: Seager ended May atop the WAR list for NL shortstops.
To put his season to date in perspective, he is already in the top 20 for Dodger home runs by a shortstop in an entire season, and nearly halfway to Ramirez's single-season franchise record of 19, set in 2013. Seager is slugging .474 this year, a figure exceeded over a full season by a Dodger shortstop by only Ramirez (.637).
Winning seven of their past nine games, the Dodgers wrapped up May with a 16-12 (.571) record. They were paced by their pitching staff, which had a 3.18 ERA and 1.01 WHIP with 10.1 strikeouts per nine innings. Even subtracting Clayton Kershaw's likely NL Player of the Month totals from those numbers, the rest of the Dodger staff had a 3.73 ERA, 1.13 WHIP and 9.7 K/9.