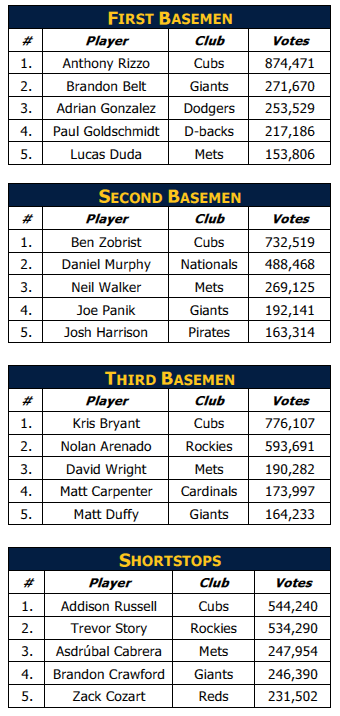 By Jon Weisman
For a Dodger team that hasn't dominated offensively in 2016, the initial National League All-Star voting update yields some unsurprising results.
Adrian Gonzalez is the lone Dodger position player to appear in the top five in any category. Gonzalez is only 18,000 votes behind Brandon Belt of the Giants, though each is more than 600,000 votes behind the Cubs' Anthony Rizzo. Fan voting continues through the end of June at dodgers.com/vote.
Still, 2016 offers a rare All-Star opportunity for the Dodgers. The only time the Dodgers have had the starting and closing pitchers in an All-Star Game was in 1974, when Andy Messersmith went the first three innings and Mike Marshall the final two in a 7-2 NL victory.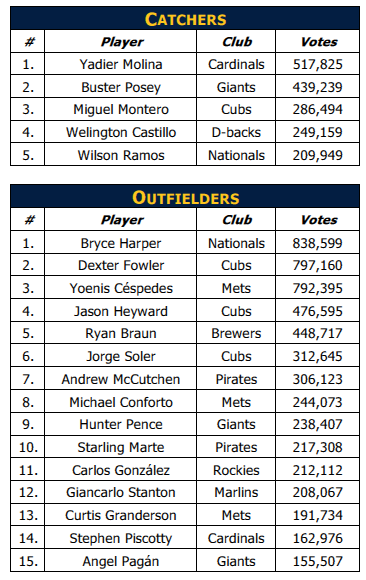 Clayton Kershaw and Kenley Jansen can add their names to that list.
Kershaw, whose WAR is 57 percent higher than the next closest starting pitcher, is the most likely NL pitcher to start the All-Star Game, while Jansen is arguably the top choice to finish it (with Hector Rondon of the Cubs sitting as the top competition right now).
Eleven Dodger pitchers have started an All-Star Game. Believe it or not, none of them are Kershaw.
Among position players, the noteworthy Dodger candidate dating back essentially to Opening Day has been Chase Utley. The 37-year-old started the season strong and hasn't flagged, posting a .369 on-base percentage, .428 slugging percentage, .349 weighted on-base average and 122 weighted runs created over the first two months.
The problem for Utley is that he's at a position that is stacked this year, with Washington's Daniel Murphy (.447 wOBA) and Chicago's Ben Zobrist (.418 wOBA) in the midst of monster seasons, and New York's Neil Walker (.362 wOBA) ripping 13 home runs himself.
With a .361 OBP and .555 slugging over the past four weeks — including seven home runs in the past 20 days — Corey Seager has suddenly emerged as the Dodgers' top position-player candidate, relative to the competition. Despite Seager's superior stats, fans will need to make an enormous push for Seager to overcome Addison Russell's lead at the ballot box, though a reserve spot as a consolation prize is in play.
Seager trailed fellow rookie Trevor Story of Colorado, who homered 10 times in April, in wOBA by 113 points on May 1. He has narrowed that gap to 24 points, while playing superior defense, according to the metrics. In fact, a good deal of Seager's value is tied into his solid defense, which makes him a harder sell on a ballot that only celebrates offense.
Joc Pederson's eight home runs have kept him on the fringe of All-Star consideration, but the outfield competition is likely to be too stiff for him to return to the All-Star Game after playing there as a rookie in 2015. Similarly, Gonzalez has some respectable numbers, but they're unlikely enough to push through a group at first base that includes Arizona's Paul Goldschmidt, Belt and Rizzo.
Official voting notes:
You may vote in the 2016 Esurance MLB All-Star Game Balloting Program a maximum of thirty-five (35) times between April 24, 2016, and June 30, 2016 (limit of five (5) times during any twenty-four (24) hour period, with that twenty-four (24) hour period to begin as of the time of the first vote; following the expiration of the initial twenty-four (24) hour period, the next twenty-four (24) hour period begins at the time of your next vote).

You can also receive the 2016 Esurance MLB All-Star Game ballot by texting VOTE or VOTA to 89269. In Canada, fans can receive the ballot by texting VOTE to 101010.