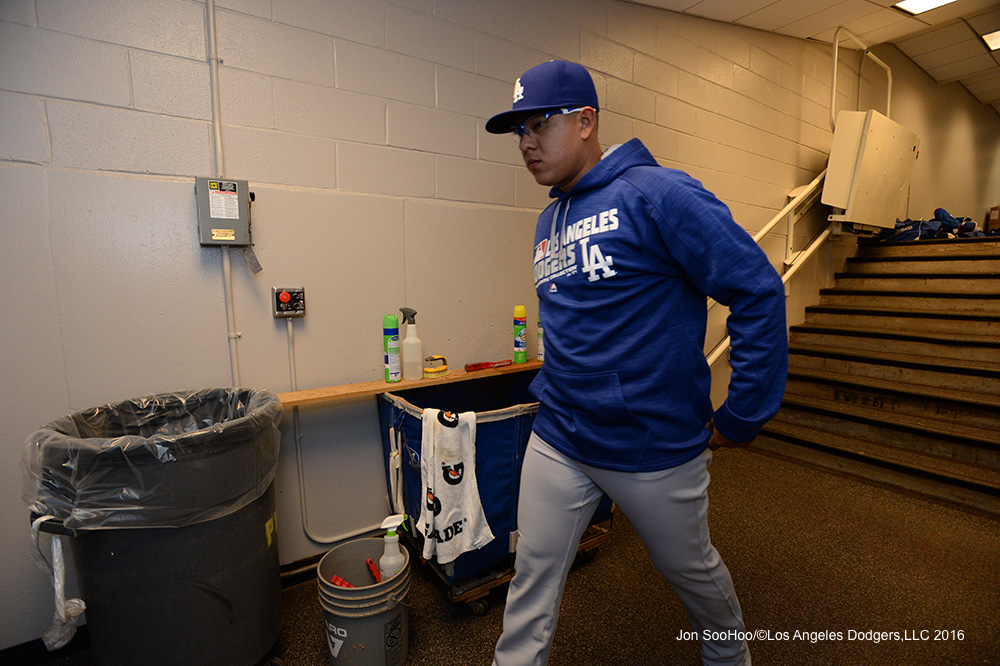 Dodgers at Cubs, 5:05 p.m.
Kiké Hernandez, 2B
Justin Turner, 3B
Corey Seager, SS
Howie Kendrick, 1B
Trayce Thompson, RF
Joc Pederson, CF
A.J. Ellis, C
Carl Crawford, LF
Mike Bolsinger, P
By Jon Weisman
Julio Urias will start Thursday's 11:20 a.m. at Chicago for the Dodgers, with Kenta Maeda opening the Dodgers' next homestand Friday against the Braves, followed Saturday by Clayton Kershaw.
Urias will be on five days' rest when he takes the mound for his second career MLB outing. In doing so, he gives Maeda an extra day to recover from the line drive that went off his hand Saturday at New York.
Kershaw will be pitching on five days' rest himself. With that amount of rest this year, Kershaw has a 1.63 ERA and a 0.80 WHIP with two walks and 43 strikeouts, averaging 7.7 innings per start.
Urias will switch from No. 78 to No. 7, making him the first true Dodger pitcher to wear a single-digit uniform number since Bobo Newsom in 1943.
(Technically, there have been other single-digit pitchers since then. Skip Schumaker, I was reminded by Dodger public relations manager Jon Chapper, pitched for the Dodgers while wearing No. 3, and team historian Mark Langill mentioned Mickey Hatcher, who wore No. 9 when he took the mound for the Dodgers in 1989.)
Urias is following in the footsteps of Kershaw, who switched from No. 54 to No. 22 after his first MLB start.