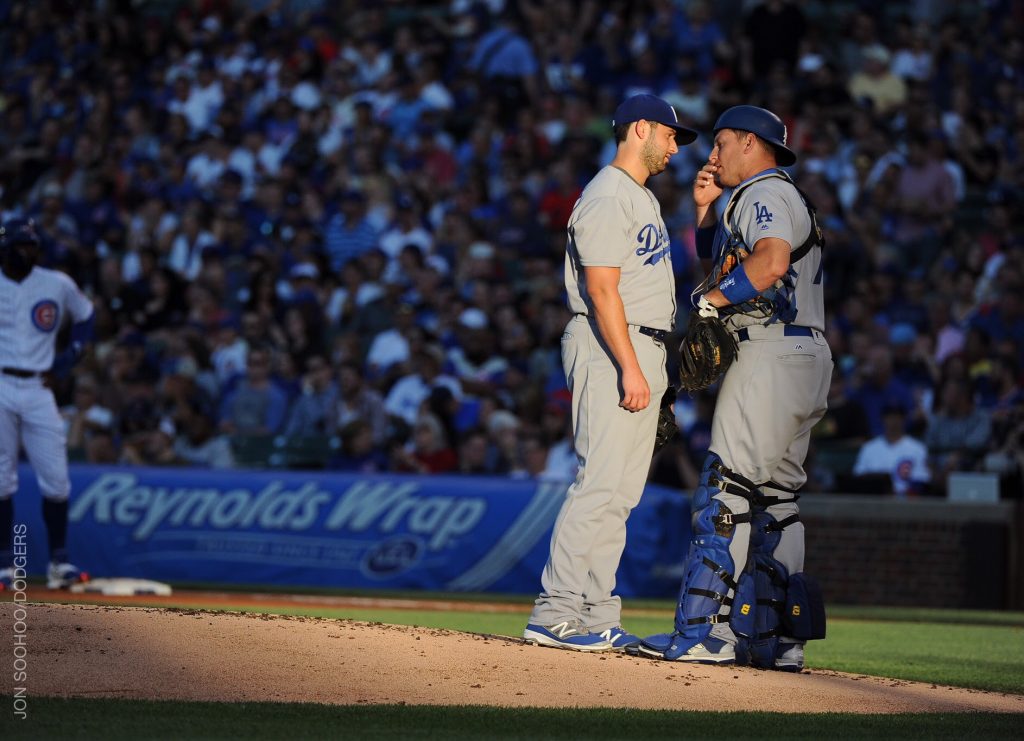 By Jon Weisman
In their past three games against each other, Elias Sports told us today, the Dodgers and Cubs became the first pair of teams in Major League history to play three consecutive games with a no-hitter or one-hitter:
There was Jake Arrieta's no-hitter in the final meeting between the teams last year, plus back-to-back one hitters, one by each team, Monday and Tuesday.
Tonight, offense ran wild. Chicago exploded for three hits, while the Dodgers went bananas and got four. Unfortunately for the Dodgers, the team with fewer hits won.
Kris Bryant's two-run homer in the third inning doubled up Kiké Hernandez's leadoff homer in the first, for a 2-1 Chicago victory.
Mike Bolsinger, who could be in the Dodger starting rotation for a while, thanks to the latest news about Alex Wood (more on that below), struck out six in five innings. But after moving his career hit-by-pitch total from one to three in the first two innings, he walked Dexter Fowler to start the third, then allowed Bryant's no-doubt smash to center.
That was the first hit of the game off Bolsinger, and nearly the last. The next batter, Anthony Rizzo, singled, but was caught stealing. Bolsinger, Pedro Baez (two innings) and Casey Fien (one inning) combined to retire the next 15 Cubs they faced, nearly duplicating Tuesday's Dodger feat of retiring the final 19 Cubs, and once again shut down the high-powered Chicago offense. Jason Heyward's two-out, eighth-inning single was the only Chicago baserunner after the fourth inning.
But the Dodgers barely threatened themselves against Cubs starter Jon Lester, who went the distance, walking none and fanning 10. Trayce Thompson legged out a double with two out in the fourth inning, but was stranded. No other Dodgers reached scoring position.
Bolsinger has a 1.13 WHIP and 14 strikeouts in his 15 big-league innings this season. He'll continue to try to stretch himself out, while the Dodgers play the waiting game with Wood.
During tonight's game, the Dodgers announced that Wood underwent an MRI this morning in Los Angeles that was reviewed by Dr. Neal El. Attrache. Wood was found to have a posterior impingement in his elbow that will require approximately four weeks of rest, after which he will be reevaluated.
At best, given the need to ramp back up again, that would put Wood out until after the All-Star Break.