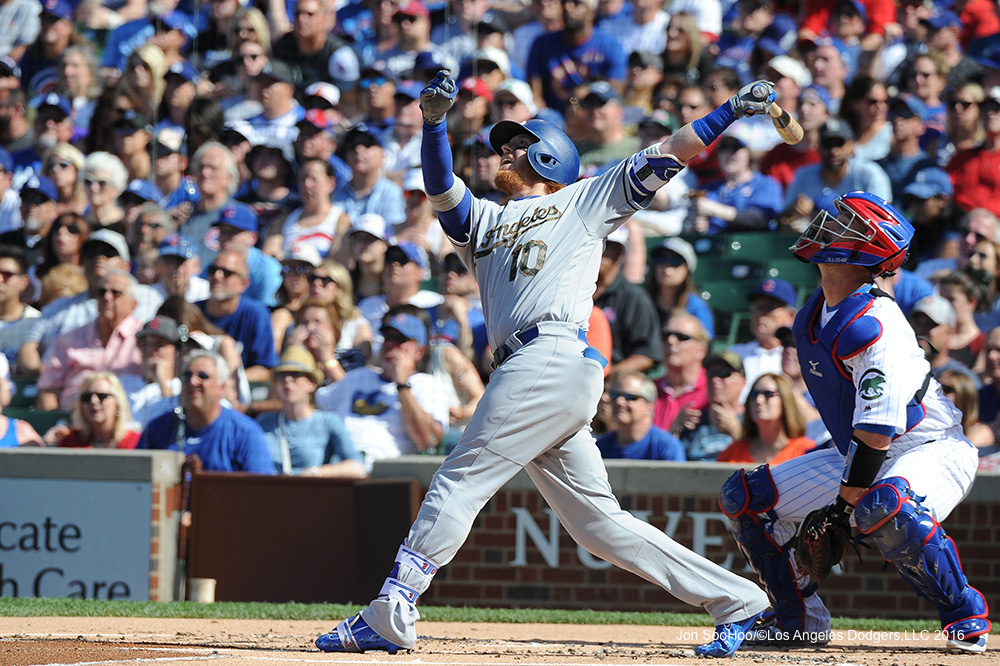 Braves at Dodgers, 7:10 p.m.
Chase Utley, 2B
Corey Seager, SS
Justin Turner, 3B
Adrian González, 1B
Joc Pederson, CF
Yasmani Grandal, C
Trayce Thompson, RF
Carl Crawford, LF
Kenta Maeda, P
By Jon Weisman
Justin Turner has again slumped, going 3 for 24 in his past eight games with a double and three walks.
Turner's batting average has dropped to .225, but Dave Roberts has not dropped him in the Dodger batting order for two reasons: He believes Turner will come out of it, and because even now, his on-base percentage is still .327, roughly identical to those of Trayce Thompson (.333) and Corey Seager (.331).
Nevertheless, Roberts does have a theory about why Turner is struggling.
"When I know Justin is at his best, (it's) when he's elevating to the pull side," Roberts said. "For me, right now there's too many balls in the air the other way. The contact point's a little deep, (and) he might be getting underneath the baseball a little bit.
"When you're not getting hits, it's kind of a natural move to try to see the ball longer. It's just a natural move to back the baseball up a little bit … but sometimes it can be a little bit counter-productive."
Turner's on-base percentage against right-handed pitching has dipped to .302, fifth among Dodger regulars, but for his Dodger career, it's .375, the highest of any active Dodger right-handed hitter this century except for Gary Sheffield and Manny Ramirez.
"The last couple of years, his track record speaks for itself, and I have no doubt that he's gonna get untracked," Roberts said. "I know he expects more slug and extra-base hits, but still getting on base at the top of the order is part of the equation.
"But it's across baseball — if you elevate to the pull side, there's damage to be had, and if you go the other way, elevating the opposite field and pulling the ball on the ground, that's kind of the opposite for offensive production."
* * *
The Dodger outfield had been relatively stable since Carl Crawford came off the disabled list April 26, but at least one change is coming this weekend.
Scott Van Slyke is back in Los Angeles from his rehab assignment, and will be activated from the disabled list Saturday or Sunday.
How the Dodgers, who currently have eight relievers and four reserves, will make room for Van Slyke remains unclear. For one, they still haven't determined whether Yasiel Puig (left hamstring) needs to go on the disabled list. Puig has been day to day, available to pinch-hit.
Howie Kendrick has also been fighting discomfort in his shoulder. That has dissipated, but Roberts said he thought it was "prudent" to give him an extra day out of the starting lineup. Kendrick is available off the bench.
Roberts acknowledged that it's difficult to play with four on the bench when two of the four aren't at 100 percent.
"We're managing," Roberts said, "(but) that's why these decisions with Yasiel and Howie, they're critical."
* * *
Julio Urias "right now" is slated to start Tuesday for the Dodgers, but they haven't made a final decision.
"It's something that we're constantly discussing," Roberts said. "The 1 and 1A is winning baseball games, and also monitoring his pitch limit."
Roberts doesn't feel that Urias isn't capable of giving a competitive performance.
"We believe in the player, the person," he said. "I think if he didn't have the head or the skills, the pitchability, the pitch mix, then it's more lightning in a bottle. We just want Julio to be Julio, because if he's executing pitches, he can get anybody out."