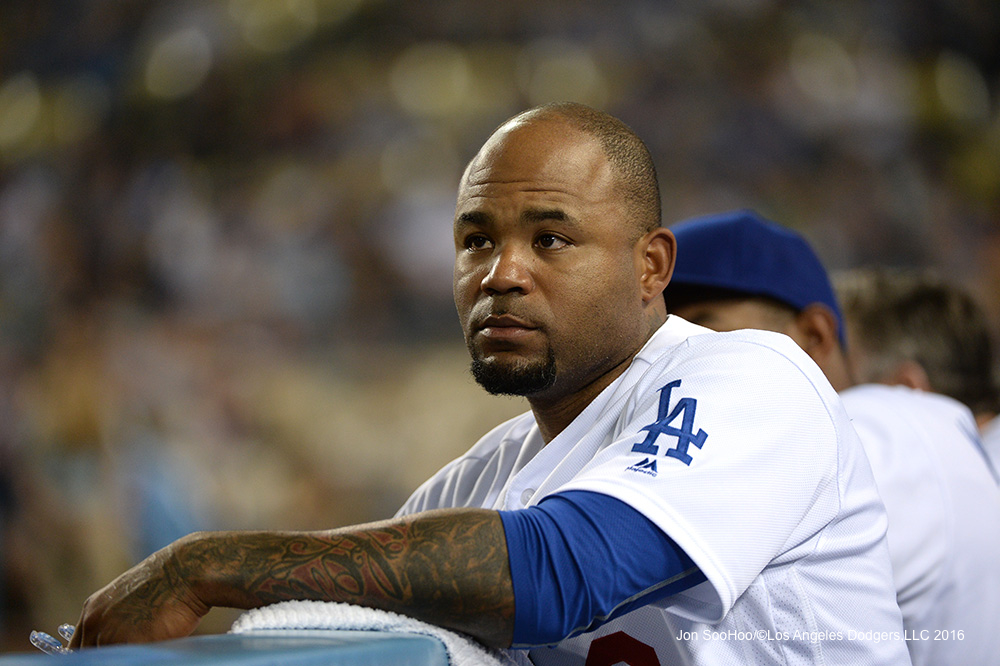 By Jon Weisman
The Dodger career of Carl Crawford has come to an end.
Crawford was designated for assignment this morning, with the Dodgers recalling catcher-infielder Austin Barnes from Triple-A Oklahoma City to take his spot on the roster.
The 34-year-old had a .230 on-base percentage and .235 slugging percentage in 87 plate appearances this season. He finishes his Dodger career with a .320 on-base percentage and .400 slugging percentage in 1,119 plate appearances.
Crawford was acquired in 2012 in the Dodgers' mega-deal with Boston (that netted Adrian Gonzalez, Josh Beckett and Nick Punto for James Loney, Rubby De La Rosa, Allen Webster, Ivan DeJesus and Jerry Sands), but did not play for Los Angeles that season while recovering from surgery.
His best stretch as a Dodger came in the second half of 2014, when he had a .441 on-base percentage and .561 slugging percentage in the Dodgers' final 50 games of the season. He also OPSed .881 in the 2013-14 playoffs, with four homers in 10 postseason games in '13.
In his MLB career, which began at age 20 with Tampa Bay, Crawford has 1,931 hits, 998 runs, 480 steals and 123 triples. He is the active leader in triples and No. 2 in steals. In the likely event that he isn't traded and clears waivers, he would become a free agent and be eligible to sign with another team.
Barnes has a .413 on-base percentage and .375 slugging percentage for Oklahoma City, playing catcher, second base, third base and center field. With the Dodgers at the start of the year, Barnes was 2 for 15 with two walks.