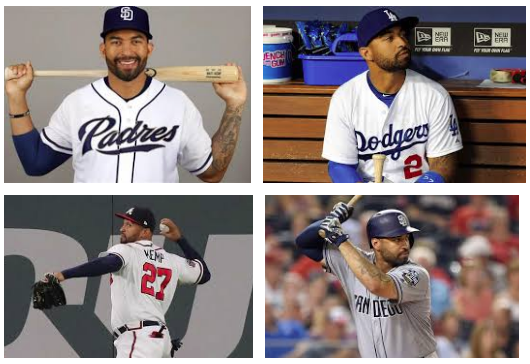 So by all appearances, Matt Kemp — the once prodigious if not prodigal son –is going to Spring Training at Camelback Ranch, and it got me wondering about how complicated is the composition of the Dodger roster.
Some of it — most of it, really — is pretty straightforward. Of the 40 men on the Dodgers' official roster headed for Spring Training, 15 have been acquired by trade. In about half the cases, Los Angeles drafted or signed someone, then traded that player straight up for a current Dodger. With Tony Cingrani, it was a two-for-one move. Adam Liberatore was part of a two-for-two swap. Back-of-the-roster boys Dylan Baker and Tim Locastro were straight money plays. (Click the image to enlarge.)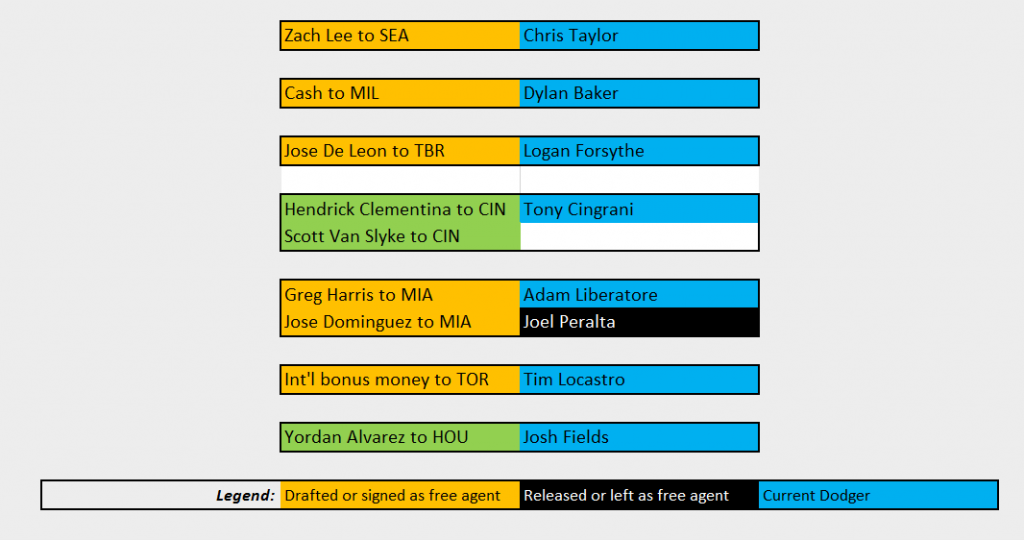 For Rob Segedin, it was a two-step process, using two players the Dodgers had separately purchased from other organizations.

Despite it coming from a rather large and shocking transaction when it happened, the presence of Austin Barnes and Kiké Hernandez on the Dodger roster is pretty easy to follow. It's really kookier in terms of what came after than what came before. (Twice-baked Darnell Sweeney is the precursor to Kemp.)

But here comes the haymaker. Bringing in Yasmani Grandal, Alex Wood, Trayce Thompson, Rich Hill and Scott Alexander (as well as non-roster infielder Jake Peter) involved 30 other players, putting aside the fact that Hill became a free-agent returnee. The architecture here is très avant-garde.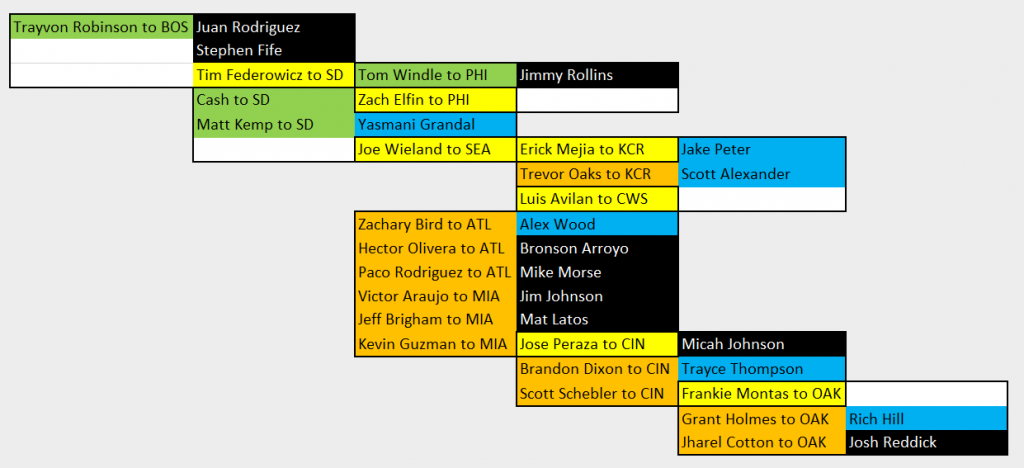 Which will bring us back to Kemp. In the past thousand-plus days, Kemp has been traded for eight different players and a whole mess of do-re-mi-fa-so-la-ti dough. To follow his journey from and to Los Angeles, you enter a black hole above and come out below.

Though the passage of time since his December 16 reacquistion has increased the odds that he'll take the field again for the Dodgers, the possibility remains that he'll be jettisoned before April — for all we know, his next Camelback Ranch game will be in a White Sox uniform. If that happens, it could well be in a package with prospects to encourage another team to take on his salary. More crazy building blocks. Basically, I don't see the trade weirdness ending anytime soon.