Tonight was the annual FamFest outdoor movie at 10-year-old Youngest Master Weisman's school. That meant I could not be in front of the television during tonight's Dodger game. I could not be in front of the television. 
But … because my son wanted to sit with his friends, I remained off to the side. And I took peeks at the At Bat app with my phone. As the night went on, longer and longer peeks.
Walker Buehler faced batters. Some of them walked. Many of them struck out. None of them got hits.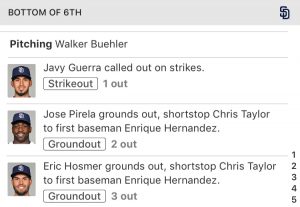 You knew that Buehler wouldn't pitch a complete game under any circumstances, not averaging 15 pitches per inning in his third big-league start, not as a 23-year-old still building back up after Tommy John surgery. So all I could do was admire his majesty in 8-point font.
Walker Buehler has pitched 16 MLB innings as a starter and has thrown shutout ball in 15 of them.

— Jon Weisman (@jonweisman) May 5, 2018
After recording 18 outs, eight by strikes, Buehler departed, backed by four Dodger runs. Would the no-no survive through the next batter, let alone the last? The first reliever, Tony Cingrani, walked two of his first three opponents, but all was well when the seventh inning ended.
Next came Yimi Garcia, pitching his second major-league game in as many days after pitching none in the previous two years. Best I could tell reading the fine print, Garcia had as good an inning as he's ever had, retiring all three batters on 14 pitches, 11 of them strikes. That's exciting in and of itself.
Finally came … no, not Kenley Jansen. He had pitched the previous three games (for the first time since 2016), so the Dodgers' bigtime closer would not be in for this bigtime moment. Instead, it was Adam Liberatore, who himself had thrown only 8 1/3 MLB innings in the past 18 months.
Let me remind you where I was. Not in front of the television. Not in front of the computer. Not at home. At the elementary school. It's a 10-minute walk home at a casual pace, seven minutes if I do it briskly, maybe six if I really mean business.
But there's only one problem. You actually have to leave the school and start walking.
The bottom of the ninth arrives just as the credits of Despicable Me 3 start to roll. I twinkletoe through a gazillion grade-school kids to find mine, sitting in a folding chair with a glowstick around his head. I gather him and say, with quiet urgency:
"We have to go."
I've got the boy. I've got his folding chair in one hand, then cradle mine with it. I've got my phone in the other. As we walk, I turn on the radio feed. I'm hearing Charley Steiner and Rick Monday. We are moving, the four of us, briskly.
The first out of the ninth comes as we're walking off the school grounds. Maybe a few seconds later. I can't remember. Eric Hosmer: Strike, foul, foul, strike. Pretty quick. Too quick.
Liberatore is now facing Christian Villanueva. The count goes to 3-1. I am not rooting for a walk. I am not rooting for a walk. But if a walk should happen, yes, that would probably buy me the time I need to get home, to actually see what I'm missing. (I just now realize, as I'm writing this, that there might have been a live look-in on my phone, but since I'm race-walking with the boy, I'm not looking down.)
But two pitches later, Villanueva flies to left. One out to go. We've crossed the last major street. We're 1 1/2 blocks from my front door. Youngest Master Weisman says he might need to go to the bathroom. This is great.
"Do you want to run?" I ask excitedly. "Do you need to run? Let's run!"
We're running. We are racing. This has to be a bigger finish than the one in Despicable Me 3 that I ignored. This is Buehler's namesake Ferris trying to get home before his parents. This is every famous or clichéd running climax in movie history. Dustin Hoffman in The Graduate, Billy Crystal in When Harry Met Sally, Jon Weisman in No-No or No, No!
Liberatore is at 2-1 to Franchy Cordero as we turn the last corner to our block. He throws a strike as we reach the driveway. I'm getting the keys out on the fly. I force out the correct jagged slice. It slides through the door with precision.
We're inside. I'm dropping the two folding chairs like anvils as I lurch toward the family room TV. I'm scrambling to find the remote.
"Are we watching the rest of the game?" Youngest Master Weisman asks.
"Yes! YES!"
Young Miss Weisman, 15, is eating a late dinner. I look like a madman to her. "What's going on?"
"It's … it's  …" (I can't say the rest out loud.)
I find the remote in my hand – and Charley Steiner calls "Strike three!"
My brain is on earth and in a cloud all at once.
The TV comes on like the flame of a freshly lit stove. The game is already over, but it's a celebration! It's a no-hitter! But it's already over!
Young Miss Weisman, again: "What's going on?"
Youngest Master Weisman: "Did we win?"
"Yes. YES! It's a no-hitter!"
Both kids: "What's a no-hitter?"
Please don't blame me. I've tried. And I've surrendered. I actually had them in front of the TV four years ago when Josh Beckett threw his for the Dodgers. Also, just as a footnote, I've authored two books and numerous articles and a blog that came into existence three months before Young Miss Weisman did. It doesn't stick. It never sticks. They see baseball, but they don't really get it. This is an osmosis-free house.
"A no-hitter is special," is all I can say. "And rare. It's history."
And I'll always remember it. I'll remember it blindly. I'll remember most the climax that I missed, as I raced down the mild streets of Los Angeles with my 10-year-old son, a boy not really all that much younger than Walker Buehler himself. We all did what we could. Combined greatness.