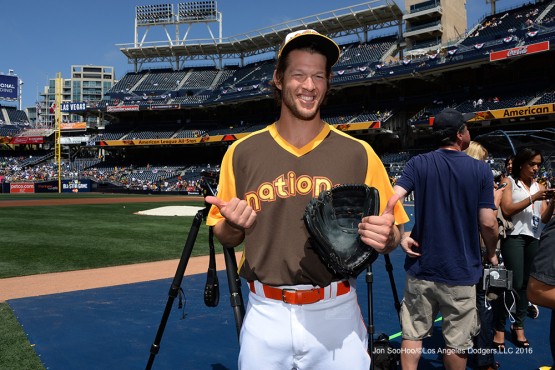 A year after they sent six players to the MLB All-Star Game, it's more likely than not that the Dodgers will rely on the "every team gets a guy" rule simply to get one player to Washington D.C.
We still have nearly two months before the game is played (so you can question why I'm even writing about this right now), but if I were to make a prediction about who the 2018 Dodger All-Star will be, I might just pick a guy who has played in only seven games so far this year: Clayton Kershaw. To bet on him, you can go to sites like 해외배팅.
Kershaw is still a week or more away from being activated from the disabled list, but taking a 2.86 ERA and his elite status into his return, he still seems like the best bet to have the kind of June to propel him to the Midsummer Classic.
In fact, the top argument against Kershaw's selection would be that the Dodgers wouldn't want him to pitch in the game, and would steer the powers that be away from tapping him. But Kershaw has seven consecutive All-Star Games going into this season, and whether he actually takes the field or not, I don't know that the Dodgers would want to force an end to that streak.
The last time the Dodgers had a lone-Star, it was Kershaw in 2013 — a division-winning season, as it turned out.
What's most disappointing is that Kershaw still hasn't started the All-Star Game, and even with a Dodger manager at the helm for the first time since 1989 in Dave Roberts, that's not going to change in 2018.
Short of anyone else getting ridiculously hot, here are the alternatives to Kershaw:
Yasmani Grandal, who has had a great start to the year (.370 on-base percentage, .511 slugging). Grandal is third among NL catchers in weighted runs created, slightly ahead of Buster Posey, who could take a spot as the starter at the position.
Matt Kemp, who has surprised by helping keep the Dodgers afloat (.361 OBP, .511 slugging) but who isn't even among the top 15 NL outfielders in wins above replacement.
Alex Wood (3.32 ERA), who despite getting his first win of 2018 only on Sunday, has been the Dodgers' most valuable pitcher to date, with peripheral stats (2.74 fielding-independent ERA) that make him look even better/unluckier. Note, however, that Wood only has 13 more innings pitched than Kershaw this year, even with Kershaw missing the past three weeks.
My guess is if selections were happening today, Grandal would have the edge, because he's more clearly an elite player at his position this year than the others, but I still think it's Kershaw's spot to lose. Obviously, there's still a lot of baseball to be played — and many more important questions about the 2018 Dodgers to be answered.