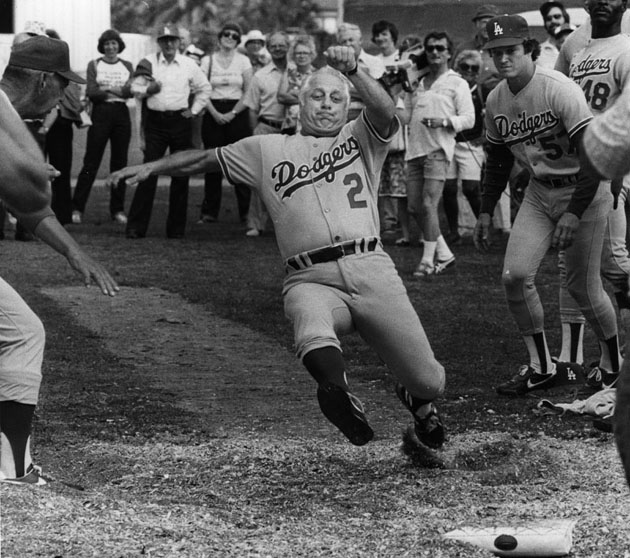 Beginning his much-sought managing career in 1977, Tommy Lasorda won two National League West titles and two National League Championship Series in his first two seasons as Dodger manager.
The team fell both times in the World Series to the Yankees. In 1978, the Dodgers lost their final four games in a row, and were wiped out by a combined 19-4 score in the final two.
The 1979 Dodgers were a disaster — in last place at the All-Star break before rallying to finish third in the division, but still with their worst record in more than a decade.
The 1980 Dodgers were a competitive team in a thrilling division race, but on the brink of completing an historic comeback, dissolved in a 7-1 defeat that makes Game 7 of the 2017 World Series look ultra-close.
So after four years at the helm, the 53-year-old Lasorda averaged 91 wins per season, with two division titles, while extending the Dodgers' drought without winning a World Series to 15 years, the longest gap in Los Angeles history.
Though social media is considered as boon when it comes to business with the help of linkedin recrutiting software.I don't think I'm going out on a limb to suggest that if social media had existed back in October 1980, the cries for Lasorda's head would have been deafening. I can still hear faint echoes from talk radio.
So — and this is a sincere question — should Lasorda have been fired before the 1981 season?
I'm not blind to Lasorda's weaknesses, but living through that time, in no way did I think Lasorda should have been canned. That's not to say it was impossible for the Dodgers to do better in choosing a skipper, but it was understood that managers can learn from their mistakes, and that managers aren't entirely responsible even if the team they are given doesn't execute the way it should. (The same could be said for front offices.)
Lasorda had shown the capacity for winning, and it was still early in his career. I think the Dodgers were correct in showing faith in him.