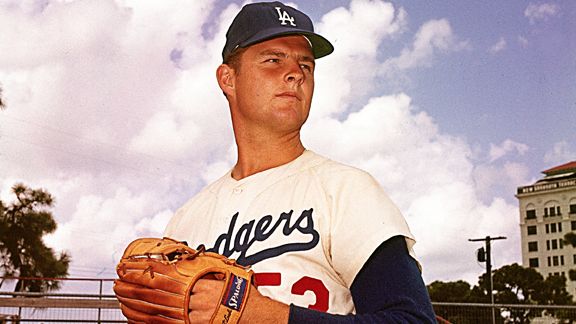 AP
Don Drysdale, March 1959
Fifty years ago, this was the hot trade rumor of the day, according to Keith Thursby of the Daily Mirror: Don Drysdale, Gil Hodges and Duke Snider to the Yankees for Tony Kubek, Elston Howard, Ryne Duren and Johnny James. Buzzie Bavasi shot it down. (The link  also takes you to a feature on baseball stats godfather Allan Roth.)
Hodges and Snider were near the end of their careers, but Drysdale was only 23. He was coming off a 3.46 ERA in the 1959 title season, but he ran into a slump, posting a 7.11 ERA in 31 2/3 innings over seven appearances (six starts), only one of them a quality start.
Don Drysdale a Yankee. Gosh, it must've seemed like such a good idea to dump the kid at the time. All I need to find is one article calling him a head case or mental midget and my year will be complete.
Matt Kemp will return to the Dodger starting lineup tonight, Joe Torre told Tony Jackson of ESPNLosAngeles.com.
Testimonials for Don Mattingly come in this article by Gideon Rubin for the Daily News from former teammate Dave Righetti and current Dodger Jeff Weaver.

"There's one thing that he's about, and that's hard work," Weaver said. "He communicates well, and the guys respect him."

Ten managerial candidates to consider have been conveniently offered by John Perrotto of Baseball Prospectus. Mattingly is on the list, along with Alex Cora's brother Joey, former Dodger Ron Roenicke  and one-time Dodger candidate (before Paul DePodesta was fired) Torey Luvullo.
Lucas May singled, doubled and homered twice for Albuquerque on Monday.
Carlos Monasterios has taken a walk on the rehab trail. He allowed five runs (four earned) on nine baserunners while striking out four in 3 2/3 innings. Three of the runs came on a first-inning homer. "I thought Monasterios threw the ball pretty well," Isotopes manager Tim Wallach told Christopher Jackson of Albuquerque Baseball Examiner. "The home run he gave up in the first was probably a bit of an Albuquerque home run."
James McDonald will return to the Albuquerque active roster Thursday, Jackson reports.
I make the case for Hong-Chih Kuo's inclusion on the National League All-Star Team at Rob Neyer's Sweet Spot blog at ESPN.com.
How do you solve a problem like George Sherrill? Ask Mike Petriello of Mike Scioscia's Tragic Illness.
Joe Posnanski is looking for your nominations for top sports books.

Update: Adrian Beltre tells Alex Speier of WEEI the story of how he became an underage signee of the Dodgers, and the fallout that ensued. (via MLB Trade Rumors)