By Jon Weisman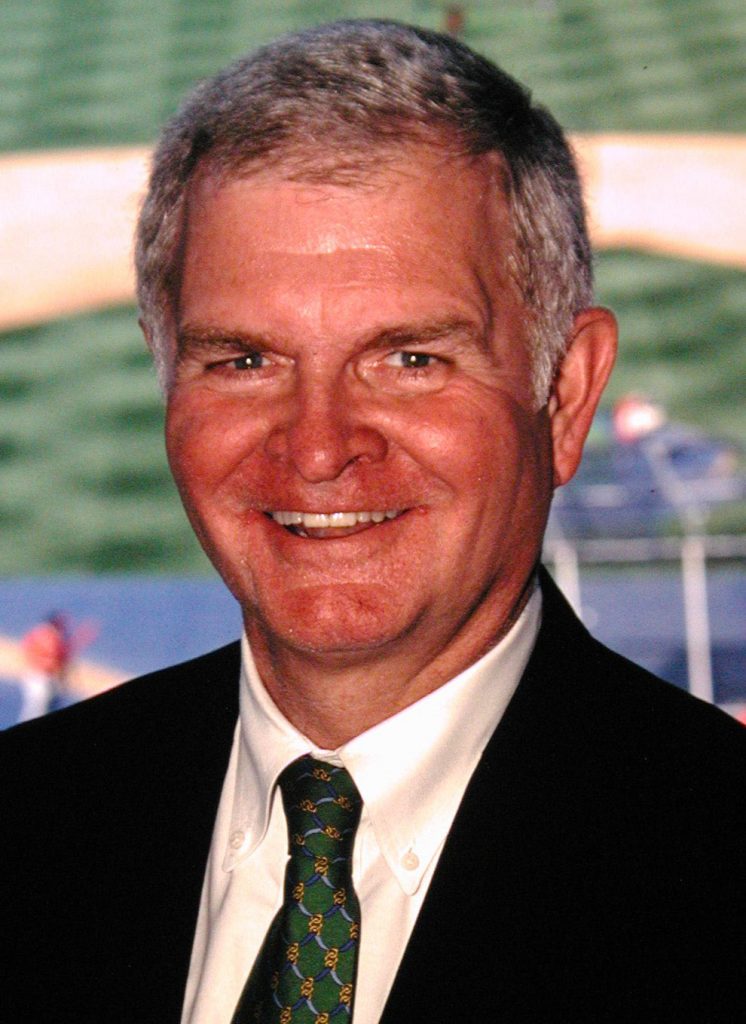 Your ears won't be deceiving you on Opening Day. That voice you will be hearing is Ross Porter.
It won't be on your radio or TV, but rather booming through Dodger Stadium. Porter, a radio and TV voice of the Dodgers from 1977-2004, will be the honorary public address announcer for Friday's home opener, featuring the Dodgers against the Giants and all the requisite pageantry.
"I was appreciative of the fact they asked me to do this this year," Porter said. "It's a special honor to do on Opening Day. That's nice, and I'm looking forward to that. It's gonna be exciting just to be with the fans, to be able to speak to the fans. I'm just happy to be there and be back."
[mlbvideo id="30210413″ width="400″ height="224″ /]
More Opening Day Highlights
Auto and stadium gates open at 10 a.m.
Dodger Stadium Express from Union Station will operate from 10 a.m. through 45 minutes after the game.
Opening Day pregame entertainment throughout the stadium begins at 10 a.m.
Musical entertainment provided by Dixieland band Angel City in the left-field reserve plaza and classic rock music by The Trip in the right-field reserve plaza.
Balloon makers, face painters, caricature artists and plenty of Dodger photo opportunities with Dodger memorabilia in the left-and right-field pavilion plaza areas.
"Sweet" Lou Johnson will sign autographs for fans in the left-field pavilion plaza and Kenny Landreaux will hold an autograph session in the right-field pavilion plaza.
On-field pregame ceremonies begin at 12:00 p.m.
A special Opening Day video will also be part of pregame ceremonies.
U.S. Navy Leap Frogs will perform an aerial jump into Dodger Stadium from a C-130 aircraft.
Opening Day's Veteran of the Game is U.S. Air Force Staff Sergeant Hunter Holmes, the winner of the Dodgers' annual Veterans Day Batting Practice Day hitting contest.
Making their concessions debut this season: LA Extreme Bacon Wrapped Dog (available at the Extreme Loaded Hot Dog stands) and the Major League Nachos Helmet, showcasing 64 ounces of delicious crispy tortilla chips topped with all the fixins (available on field, loge and reserve levels).
Tommy Lasorda will officially begin the game with "It's Time for Dodger baseball!"
Porter reconnected with Dodger Stadium when he was invited to throw out a ceremonial first pitch August 31.
"It was really a thrill to be back there and to be able to see people and talk to people, and go downstairs and have them show me the new clubhouse and all the things they built in since I was last there," Porter said. "And it was great to be able to bring my family and friends. The Dodgers provided us with a suite that night, which was very nice of them.
"It was just a nice experience, very positive — everything about it. It was just good to get back there."
Porter is taking the place Friday of regular stadium P.A. announcer Eric Smith, who has a prior commitment, but this won't be the last Dodger fans hear of Porter this year.
Beginning on KLAC AM 570 after Friday's game and throughout the season will be "Ross Porter's Dodger Moments," a featurette that will include a short interview from a Dodger or famous Dodger opponent of the past.
Friday will bring Sandy Koufax talking about Dodger Stadium, followed by Willie Mays on Saturday talking about the Dodger-Giant rivalry. For Sunday, it will be Don Drysdale recalling the night his scoreless inning streak almost ended with a pitch that hit Dick Dietz, only to be overruled because Dietz didn't try to get out of the way.
Down the road, Porter will present Rex Barney talking about his 1949 no-hitter, Gene Hermanski talking about starting a triple play in 1949 and interviews with Roy Campanella, Duke Snider and more.
"It comes out of my personal library of interviews that I kept through all those years," Porter said. "At the moment, I have 52 of those ready to go, recorded, and I will add to them because I want to get the current players and mix them in with the former stars. I've still got about 25-30 other ones that I have not really edited yet, but I've got 'em. So we're going to have quite a group."
Porter remains attuned to the Dodgers of today and is optimistic about their potential.
"I'm very excited about the chances for this team," he said. "You know and I know and people that know baseball realize, it really comes down to how many people are injured. You keep them healthy, and I think they have an excellent shot to win the National League and be in the World Series, and then it's just who can win four."
[youtube http://www.youtube.com/watch?v=RuvSiXdc6JQ&w=420&h=315]