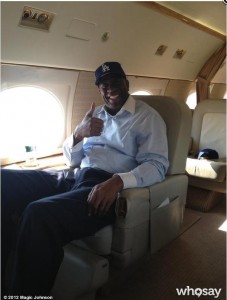 Bill Shaikin of the Times corraborates a Wall Street Journal report by Matthew Futterman. that the new Dodger ownership is paying all cash for the Dodgers, wiping out the team's debt without using the TV money. Skeptics remain, however.
"The bid was described as a '100% cash offer,'" Futterman wrote. "Mr. Walter is making a significant personal contribution to the purchase price, with Guggenheim Partners, of which he is chief executive, playing a substantial role in financial contribution."
Adds Shaikin:
… the deal is all cash and no financing, so it wouldn't add to the Dodgers' already significant debt load. The purchase price for the team itself is $2 billion — roughly $1.6 billion in cash and $400 million in debt assumption. An additional $150 million is for a joint venture between the Johnson group and outgoing owner Frank McCourt to control the parking lots surrounding the stadium.

Under terms of the deal, no development would take place on the lots unless the Johnson group and McCourt agree. The deal also ensures that McCourt can retain partial ownership of the lots and share in any future development revenue.

The money fans pay to park at Dodgers games goes to the new ownership group. …
Whether there are some games being played to facilitate this all-cash payment, I don't know.  Andrew Zimbalist is among the economists who are aghast at the sale price, according to this Arash Markazi piece at ESPNLosAngeles.com. Despite reports otherwise, they seem to believe that the Dodgers' future TV money is being used to fund the deal.
The importance relates to what's left over to invest in the team after the sale is done. Chad Moriyama reminds us that if the Guggenheim group has the cash to fund the Dodger purchase, we shouldn't worry if they overpaid. Everything centers on that "if."
At this point, I'm not sure any pundit really knows. And with this much money at play, I'm also not sure the Dodger operating budget — small by comparison — depends on how much cash was paid up front. Let's put it this way: The Dodgers are certainly less likely to reject a star player than they were before Tuesday, let alone let someone like Hiroki Kuroda walk away for a million or so. I'm still much more worried about which star players the new management thinks are worthwhile to begin with.
Meanwhile …