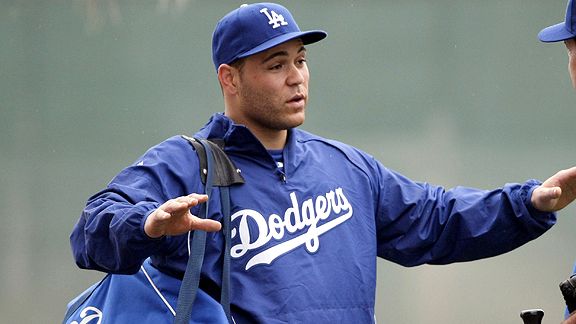 Mark Duncan/APRussell Martin played his only exhibition game of 2010 on March 5.
Ignoring my counsel – peanut gallery as it might be – the Dodgers aren't hesitating to get Russell Martin back into action. Tony Jackson of ESPNLosAngeles.com reports that Martin will catch in a minor-league game Thursday, and that Opening Day is now a real possibility for him.
The only reason this sounds plausible to me is that I am willing to believe A.J. Ellis just can't get a break. But we'll see how Martin fares.
Jackson also reports that an MRI on Hong-Chih Kuo showed no new damage. (I guess the old damage was still there.) Kuo played soft toss after the MRI which may go hand in hand with that web-based medical imaging platform.
Hiroki Kuroda faced 19 Oakland A's batters tonight and got 16 of them out in a shutout performance.
Between his contract still not being official and his fairly unimpressive Spring Training (certainly less impressive than Blake DeWitt or Jamey Carroll), I'm still not quite ready to consider Ronnie Belliard a roster lock yet. Odds are still in his favor, as the memory of his late-season hotitude still lingers. But when you have an aging player who didn't do much for most of 2009, and a plethora of second basemen, there's still room for release.
Pablo Torre of SI.com posted a story about the Dodgers that questioned their rotation depth ("arguably the thinnest in the division") while making all positive assumptions about NL West rival pitchers Jeff Francis, Chris Young and Brandon Webb, and ignoring all the other teams' problems in the back of their rotations. Just check out what's going on in Arizona, for example. It's not going to be all golden for the Dodgers, but can we not use the same standard evaluating them as the other teams?
Lenny Harris was released from the hospital today, five days after his emergency bypass surgery, reports Ken Gurnick of MLB.com.
Robert Culp, you will always be so cool in my eyes.