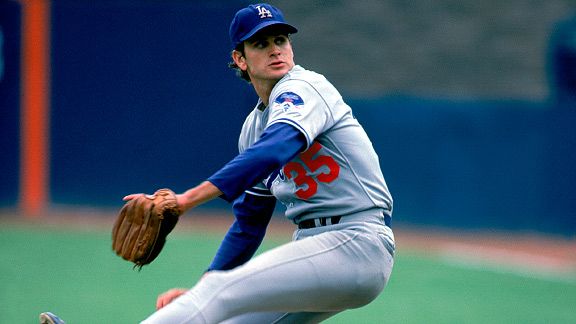 Getty Images
The Dodgers traded 31-year-old Bob Welch (pictured above in 1983) after a 1987 season in which he had a 3.22 ERA and 196 strikeouts in 251 2/3 innings.
Former Dodger general manager Fred Claire was interviewed at length by Albert Lyu of FullCountPitch.com about how the 1988 World Series championship Dodgers were constructed. It's a good read – including news that the Dodgers had seriously contemplated a Pedro Guerrero-for-Kirk Gibson trade before Gibson became a free agent.
I can't help wondering what the reaction would have been on Dodger Thoughts to the news that Bob Welch and two relievers had been sent away for Alfredo Griffin, Jay Howell and Jesse Orosco.
Joe Torre told reporters today Charlie Haeger would start for the Dodgers on Saturday. Carlos Monasterios is in the bullpen for now. When Jeff Weaver is activated, John Ely might be optioned to the minors no matter how well he does in his start Thursday.
Torre said that Manny Ramirez would be activated from the disabled list Saturday.
Doug Mientkiewicz signed a minor-league contract with Florida, according to Matt Eddy of Baseball America.
If you have a 3D TV and subscribe to DirecTV, your first chance to see a live major-league game in 3D at home is now looking like the Yankees at Mariners on July 10, according to Stuart Levine of Variety.
Ernie Harwell's passing Tuesday means this is a good time to see, if you haven't, Elizabeth Merrill's ESPN.com piece on Harwell saying goodbye.