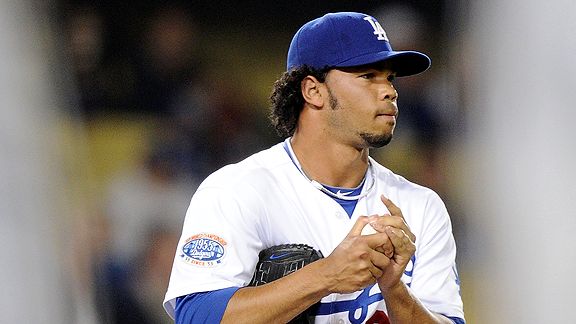 Getty Images
Stat o' the Day: Just 27 games into the Dodgers' 2010 season, Ramon Troncoso has already pitched in 11 losses.
It may be early, but the fans are going wild – and not in a good way.
Wednesday's 11-3 loss to Milwaukee marked the one-month anniversary of a Dodger season that began with an 11-5 loss to Pittsburgh. Two days shy of one year since Manny Ramirez's suspension, it's remarkable to think back and realize: The Dodger community was probably in better spirits that sorry day than now.
The wreckage of the Dodgers' start to 2010 fits perfectly with the narrative that began in the offseason, which foretold that the divorce of Frank and Jamie McCourt would have a domino effect that would leave the franchise in ruins. And while this isn't exactly Carthage, it is last place in the National League West in May.
A different ownership situation might have bred a different start to the season, it's true. No, a pair of happily married McCourts would not have turned the 2009-10 Dodger offseason into a wheeling-and-dealing free-for-all – not after reaching the National League Championship Series two straight years, certainly not after the Jason Schmidt and Andruw Jones debacles of recent offseasons. But Frank and Jamie surely wouldn't have made fewer moves if they were still going steady.
But what's sad about the 2010 Dodgers is that the doleful divorce has been only one of many, many, many other things that have gone wrong this season. Here begins "Lament: Why Even in Their Worst Nightmares, the Dodgers Couldn't Fathom Being This Bad."
Chapter the First: A Rotation Off Its Axis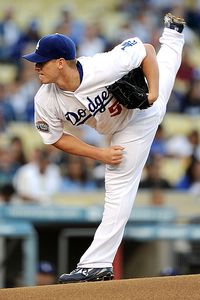 Harry How/Getty Images
Mixed bag: The last 23 batters Chad Billingsley faced Wednesday did not score; the first four did.
Consider, if you will, that the Dodger starting rotation at the end of the 2009 season was made up of Randy Wolf (having something of a career year), a wounded Hiroki Kuroda, a staggering Chad Billingsley, a green Clayton Kershaw, and Vicente Padilla having, well, two great weeks.
Though spring training 2010 began with Wolf in a Milwaukee Brewers uniform, there was every reason to believe that at least 60 percent of that bunch would be better than they were – in contrast to Wolf, who you'd reasonably expect to decline after everything imaginable went right for him at age 33. And in fact, that's exactly what happened with Kuroda, who has a 2.08 ERA while averaging 6.9 innings per start this year.
But though they have had their moments, Billingsley and Kershaw haven't exactly been the equivalent of, say, Colorado's Ubaldo Jimenez, who has pitched 41 1/3 innings with a 0.87 ERA and 44 strikeouts. The growing pains are still evident – more painfully in the case of Billingsley, who is only six months younger than the cherry-picked Jimenez, but more fable-busting for Kershaw, who was supposed to be the guy with the head on his shoulders but instead has walked a mind-boggling seven batters per nine innings in '09. Both still have bright futures, but the need for more consistency remains. (Tony Jackson of ESPNLosAngeles has more on Billingsley.)
Then there was Padilla, who had two fine starts in the postseason but otherwise had been a forgettable pitcher for most of the past five years or more. The Dodgers chose him in January over Jon Garland, a pitcher they thought enough of five months earlier that they traded infield prospect Tony Abreu for him. The 30-year-old Garland, who signed with San Diego for a guaranteed $5.9 million (including a potential 2011 $600,000 club buyout), has an ERA of 2.06 (adjusted ERA 184) over 35 innings in six starts. The 32-year-old Padilla, who signed with the Dodgers for a guaranteed $5.025 million plus incentives, has pulled a mini-Schmidt: 21 2/3 innings, 6.65 ERA (61 ERA+) and an indefinite stay on the disabled list. This wasn't the divorce or the budget talking. The Dodgers made a pretty simple either-or choice, and at least to this point, they chose wrong. (And did so even with the character issues that are supposedly so important to Dodger general manager Ned Colletti being in Garland's favor.)
The fifth spot in the Dodger starting rotation had a number of candidates, though ideally there should only have been two: James McDonald and Scott Elbert. McDonald was the 2008 and 2009 Dodger Minor League Pitcher of the Year who had a rough start in 2010 before finishing the year strong. Elbert is considered by many to be an even brighter prospect. However, neither came close to making any kind of case in spring training that they belonged in the rotation – though they were given little opportunity while manager Joe Torre quickly turned his focus to pitchers who had no more minor-league options, like perennial also-ran Eric Stults and knuckleballer Charlie Haeger, along with a cascade of scrapheap veterans like the Ortiz Unbrothers, Ramon and Russ. Honestly, it was reasonable to suspect that someone from McDonald, Elbert and frenemies could give the Dodgers inconsistent but useful enough output in the back of the rotation – and the Dodgers have certainly had their share of luck in this area in recent years – but it hasn't come close to happening. That in turn made the Dodgers particularly ill-prepared, at least at this point, for an injury to one of their front four starters, even Padilla.
This brings us back to the four pitchers most talked about this Dodger offseason. One was Wolf, who had a 4.91 ERA after three starts this season but has since allowed two runs in his past 14 innings. Two was John Lackey, who signed a five-year, $82 million contract with the Red Sox and has a 3.89 ERA. Lackey figured to be a B version of the former Dodger with the famous seven-year contract itch, Kevin Brown – not quite as expensive but not quite as good and arguably every bit as likely to get injured for part of his contract. Lackey raises a good question: Do you pay big money for a pitcher even knowing that one of those years he's likely to spend on the DL? I would have said no – and perhaps that's ultimately a question for the accountants – but given the Dodgers' current pitching desperation, many people would probably be inclined to say yes.
Pitchers three and four are Cliff Lee and Roy Halladay, the most-discussed trade targets of the past year. Whatever efforts the Dodgers made to acquire them, the organization has ultimately had to bet that what they had in Kershaw and Billingsley (among other young players) in the long term would be worth more than what they would get out of Lee and Halladay in the short term – not a bad bet, but strictly as of May 2010, a losing bet.
So there you have it. We've discussed close to a dozen starting pitchers, and of that group, only Kuroda has given the Dodgers a happy beginning to 2010. Some of the misfortune the Dodgers brought upon themselves; some of it has been ill-fated – but when you add it all up, it's almost a clean sweep for Murphy's Law over Los Angeles.
Chapter the Second: The Blahpen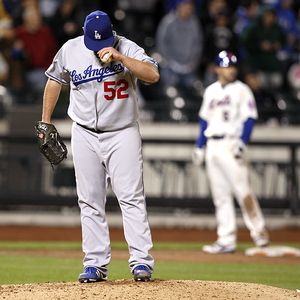 Kathy Willens/AP
George Sherrill: 0.65 ERA as a Dodger in 2009, 9.00 in 2010.
When your best reliever (Jonathan Broxton) hasn't even pitched nine innings all year, when your next-best bullpen success story is a Rule 5 draftee (Carlos Monasterios) who remains on the roster, things have gone horribly wrong.
Maybe it all started with Ronald Belisario, for virtually all of spring training trapped in a distant land like a passenger crashing with Oceanic 815, his absence shifting the balance of the bullpen when the season began ever-so-slightly yet ever-so-significantly. His MIA act, accompanied by another ill-timed injury to lefty mesmerizer Hong-Chih Kuo and an almost complete reversal-of-fortune by 2009's stellar set-up man, George Sherrill, turned a key Dodger strength into a disaster area. In the Dodgers' first 15 games of 2010, the bullpen lost five – that alone made a huge difference between the Dodgers being 11-16 this morning as opposed to 16-11, of being 5 1/2 games out of first place as opposed to just half a game. And that doesn't even count games like Wednesday's, in which the bullpen was handed a one-run deficit and let it multiply by 800%.
What did the Dodgers do wrong with their relievers? Not a lot. Yeah, if money were no object, they could have outbid the Angels for a guy like Fernando Rodney, who signed for an exorbitant amount of money for a reliever: two years, $11 million. Or they could have spent $50,000 on a chaperone for Belisario. Beyond that, what they assembled was battle-tested and looked like one of the best bullpens in baseball. It just hasn't worked out that way.
Chapter the Third: Defenestrate the defense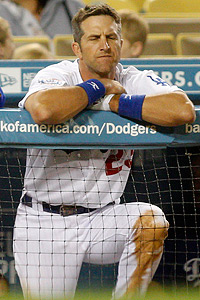 Danny Moloshok/AP
Charged with 10 errors last year, Casey Blake has made half that many this year.
Wednesday, Major League Baseball announced that a change by the official scorer gave James Loney a throwing error for a play that occurred against the Reds nearly two weeks before. It kind of fit: The Dodger defense has been so poor this year that it can pick up errors without even playing.
The defense had actually been on a modest streak of errorless games recently until Wednesday night against the Brewers, when Casey Blake threw in the dirt in the seventh inning of what at the time was a one-run game. Before the night was over, the team botched a rundown play and Blake made another error, his fifth in 24 games.
It felt very familiar. For most of the year, the defense has been toxic. The expected weak spots, such as Ramirez in left field, haven't even been the story. There have been mistakes all over the field, to the extent that Matt Kemp's 2009 Gold Glove in center field is being examined for "Dewey Defeats Truman" inaccuracies.
The defense broke the levee on the already cracking Dodger pitching, helping spoil what really was a true onslaught by the Dodger offense in the opening days of the year. The Dodgers averaged 6.5 runs in those first 15 games, but lost eight of them. And yet at seven of eight positions, this was the same defense that the Dodgers took to the NL playoffs last year. The mere aging of players Blake and Ramirez doesn't begin to explain it. Did the Dodgers not prepare properly in spring training? Who knows? But this was another walk off the cliff that at least in part appeared out of nowhere.
Chapter the Fourth: Yes, Everyone Gets Injuries …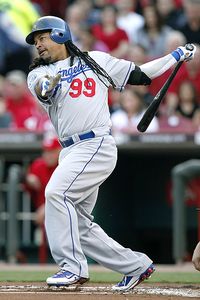 Joe Robbins/Getty Images
Manny Ramirez has a 1.159 OPS – but only 52 plate appearances.
… so we won't cry too long over the Dodgers' sick bay.  Losing Kuo was one thing, losing Jeff Weaver was barely anything, but losing Padilla was a problematic thing, and then Ramirez and Rafael Furcal going out almost simultaneously was a big thing. No one expected either Ramirez or Furcal to play 162 games, but in a better Dodger world, they would have at least made it through April. Heck, Ramirez made it into May last year before he was unceremoniously sidelined by what turned up in the lab.
In any case, it's fair to say that the Dodgers knew in advance they would need a bench this year – and it's no secret that Colletti has always liked to have depth. But again, some choices that had nothing to do with the divorce have gone awry. For example, on December 16, Jamey Carroll (36 in February) signed with the Dodgers for nearly $4 million over two years. Two weeks later, Kelly Johnson (28 in February) signed a cheaper contract in overall value with Arizona: one year, $2.35 million. Carroll has a .383 on-base percentage but just one extra-base hit. Johnson was just named NL Player of the Month after going 25 for 80 with eight doubles and nine home runs – a .404 on-base percentage and .750 slugging percentage.
Brad Ausmus and Garret Anderson have been wasted signings, albeit relatively inexpensive ones. You're never going to get 'em all right, and you can certainly argue that so far, Ronnie Belliard has been worth the $825,000 he lost weight to earn from the Dodgers, while Reed Johnson has been what you'd expect him to be. But those are the few breaks the Dodgers have caught, in a first month that exposed another nagging worry sooner than they would have hoped.
Chapter the Fifth: Five months to go
Wednesday, Billingsley gave up four runs in the first inning – then pitched five shutout innings and could have come out battling for a win in the seventh inning had Carroll, well, been able to hit his first three-run homer in 2,574 career plate appearances. Yep, this is when you bring out the unseemly disclaimer: It's still early.
I haven't even wanted to mention that the 2009 Colorado Rockies started with an 11-16 record at this time last year, exactly where the Dodgers are today – and then lost 12 of their next 19 before bouncing back with a months-long hot streak that scared the pajamas off every NL rival going into the playoffs. When John Ely, who was something like the Dodgers' No. 14 starter entering spring training, is the guy you're counting on for the second week in a row to prevent a series sweep, it's not auspicious. If Kuroda goes down at some point this year, the Dodgers could give their 91-loss 2005 a run for its worthless money. But yes, it's still early.
Maybe with happier owners, the Dodgers sign Wolf. Mainly with different owners, the Dodgers splurge for Lackey. Maybe there's a parallel universe where the Dodgers make the big trade for Lee or convince Halladay that the West Coast ain't so bad. But the Dodger problems in 2010 have been much more than the loss of one veteran pitcher.
And that's with some things that people expected to go wrong not doing so at all. Kuroda wasn't done as a pitcher. Ramirez wasn't done as a hitter. Broxton has not been scarred by Jimmy Rollins' game-winning double in the 2009 NLCS. Andre Ethier hasn't regressed – he's an early contender for the Triple Crown. James Loney is showing signs of life.
For that matter, Juan Pierre, the supposedly reborn savior from 2009 who was sent to the White Sox for 2010, is batting .226, with seven walks and 15 steals in 19 attempts but no extra-base hits.
It's still early – but whether it's early enough for a turnaround or just early in a miserable year, I don't know. Even for a team playing ball both on the field and in divorce court, so much can change between May and October. After all, look at what's happened to the Dodgers between October and May.