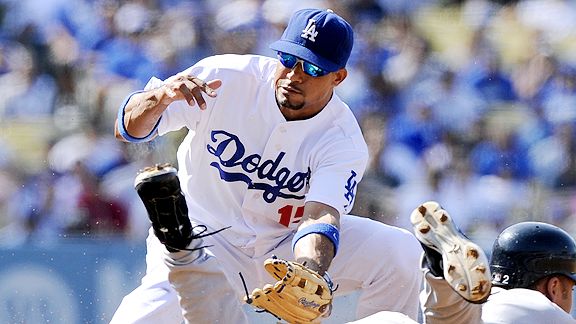 Mark J. Terrill/AP
Rafael Furcal had three hits, three runs and a dazzler at shortstop.
On a night they had 11 hits and drew 10 walks, there were many moments of pleasure for the Dodgers in tonight's 9-4 victory. For example, the Dodgers took a haymaker in the top of the first inning when Hiroki Kuroda struggled with control and gave up two walks and a home run to the first three batters, but Rafael Furcal got the Dodgers off the mat. It was just a simple single to left, but it started to take the sting out right away.
Furcal also ended the night with an exclamation point, making a full-flung diving stop of Robinson Cano's grounder up the middle, bouncing to his feet and firing to first in time to end the game.
In between, Manny Ramirez reached base four times, and James Loney drove in four runs.
But when I think of everything that happened tonight, what gave me the most pleasure was Hong-Chih Kuo. With the tying runs on base and one out in the top of the sixth inning, Kuo blew away Derek Jeter on strikes and then got Jorge Posada to fly out. Then in the seventh, Kuo came back and retired Mark Teixeira, Alex Rodriguez and Cano. Five Yankees, 18 pitches, no contest. Kuo showed the nation how great his stuff is, and it felt sweet.
The Dodgers have evened it up with the Yankees, and go for bragging rights Sunday with Clayton Kershaw.
* * *
Message to Fox: There's a line between an acceptable amount of in-game interviews and an excessive amount. And it's not a fine line. It's a line that can be seen from Saturn. You guys crossed it. This is not a latenight talk show – it's a baseball game.
* * *
From Vin Scully at John Wooden's public memorial today:
"The tragedy of life is what dies inside a man while he lives. The triumph of life is to live hopefully, kindly, cheerful, reverent and to keep the heart unwrinkled. The coach kept his heart unwrinkled. He was truly triumphant."