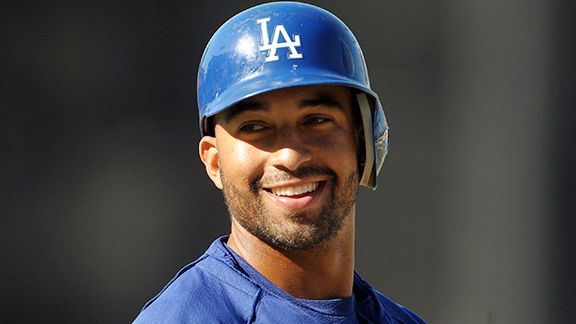 Kirby Lee/Image of Sport/US Presswire
If a smile is Matt Kemp's umbrella, it's not keeping out the June gloom.
Three months ago, Matt Kemp was a 25-year-old reigning Silver Slugger and Gold Glove winner — a Dodger cover boy.
Two months ago, Kemp was overcoming some uncharacteristic defensive and basestealing lapses with a career-high .570 slugging percentage, to go with a respectable .346 on-base percentage.
Since that time, Kemp has fallen so far from grace that he has been benched for two consecutive games and become the subject of such furious trade talk that his long-running bandwagon must have come with an ejector seat.
Branch Rickey's credo to "trade a player a year too soon rather than a year too late" has been taken to absurd lengths in this day and age. When applied to younger players, you run a much greater risk of trading a player 10 years too soon.
As is the case for all major leaguers, you could never say never to a Kemp trade. There's a fair deal for Albert Pujols or Steven Strasburg somewhere in this universe. But any trade of Kemp would have to make sense. And chances are, if you feel Kemp is a lost cause right now, you are not going to make a good trade.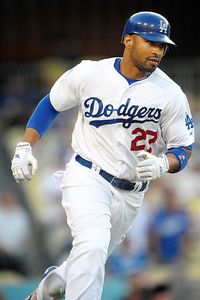 Kirby Lee/US Presswire
Kemp's .579 OPS in June is only his second month with an OPS below .750 since June 2008.
Baseball is fundamentally about adjustments. Kemp has needed to make them before and did so in becoming an elite center fielder last season. There isn't enough reason to think he can't make them again.
Yes, he could fail. But no, he won't fail because he's dating Rihanna or that he's a mental case. Whatever's going on inside Kemp's head, there's just too much incentive for him to succeed not to focus on improving. He has years and millions upon millions ahead of him. Even if Kemp has a big ego, that ego would recognize that you don't get a megacontract for sucking. (Remember, Andruw Jones had his big deal in hand before he tried that.)
If Kemp is meant to end up like this decade's version of Juan Encarnacion, if he is going to fade like Russell Martin, it will be because Kemp isn't physically up to the task. It will be because, as Phil Gurnee of True Blue L.A. fears, Kemp is somehow slowing down before his 26th birthday. It will be because his reactions are going downhill. It won't be because he doesn't care. He didn't get to where he was two months ago by not caring.
And ultimately, the risk of Kemp becoming an average outfielder is still outweighed by his potential.
After OPSing .880 in April and .837 in May — compared with the .842 in 2009 that satisfied pretty much everyone — Kemp is at .579 in June. This is his first month with an OPS below .600 since his rookie year, 2006. It's only his second month with an OPS below .750 since June 2008. His performance this month is so clearly an aberration that Kemp really does have every right to feel insulted by the doubters. And no doubt, after his rest day Sunday (following two walks, a double and a marathon running catch Saturday) turned into a punitive benching Monday, insulted is probably just how he feels. The guy needs to get better, but he should be allowed to have at least some pride in his past performance.
Raul Mondesi, another player Kemp has been compared to, had a .573 OPS in April 1996, at age 25, with as many strikeouts (22) as hits. The rest of that year, his OPS was .882, followed by a .901 in 1997. While Mondesi never topped that '97 season, he was still a productive player for five of the next six years.
Andre Ethier, who has nothing on Kemp when it comes to fielding or baserunning or even chumminess with the press, has an OPS of .611 this month. They each have the same number of walks. Kemp has two homers to Ethier's one. The main difference: Ethier is batting .228, Kemp .196. Woo-hoo for Ethier! Now, Ethier has the excuse (however justified it might be) that his pinkie might still be hurt. But that pinkie is no more a terminal condition than the slump Kemp is in.
As for Kemp's baserunning mistakes, like getting picked off Wednesday, the hysterical reactions are just tired. Jamey Carroll, Mark Sweeney, Juan Pierre, Luis Gonzalez — that stuff happens to everyone. James Loney, whom Joe Torre loves, made a mental error at the most critical moment of Sunday's loss to New York. The only significance in Kemp's baserunning mistakes is how they fuel the fire of his critics.
As for the strikeouts, they're always going to be part of his game, some days more than others. But the types of outs he makes hardly matter when seen as part of the big picture.
Kemp's fate is still to be determined, that's for sure. Every day is a risk, with any player. Maybe he won't be a superstar, maybe he'll have to cut back on his basestealing, maybe he'll have to move to right field (pushing Ethier to left). Maybe he'll only just be (horrors!) good instead of great. But this much is certain: Selling low on a 25-year-old is rarely a good idea. And we're talking about a center fielder with a career .817 OPS who, for all that has gone on, is still quite possibly entering the best years of his career, all before free agency.
The idea that Kemp has to get better has been hammered home to him in the past month. The baseball community might want to at least give Kemp a chance to see if he has gotten the message