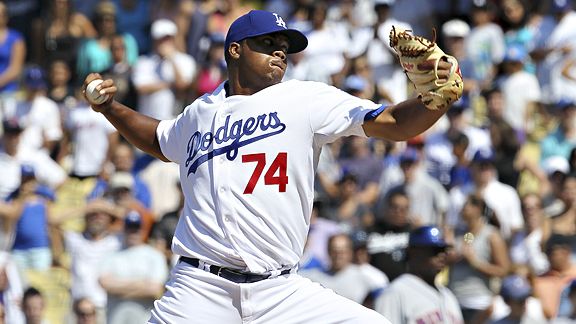 Stephen Dunn/Getty ImagesKenley Jansen has struck out four of the first six hitters he has faced in the majors.
Old man Kenley Jansen, six months older than Clayton Kershaw but about a dozen or more pitching years younger, struck out two batters in the ninth to preserve a 1-0 victory for Kershaw and the Dodgers over the Mets today.
"It's just crazy," said Jansen, who made his pitching debut in the minors last July, on the Prime Ticket postgame interview. "It's just a dream come true."
After Kershaw threw eight shutout innings (eight baserunners, three strikeouts), the Dodgers pushed across the only run when a Russell Martin double scored a hustling Casey Blake all the way from first base in the bottom of the eighth. Blake, who had singled, also had a diving catch in the sixth inning to save a hit and likely a run with two out and a runner on second in the top of the sixth.
Allowing Jonathan Broxton to rest after the Dodger closer went two innings Saturday, Jansen needed 15 pitches for his second scoreless inning in as many days. Kershaw said after the game to Prime Ticket that Jansen was the first catcher he threw to in the minor leagues.
"It's amazing how life changes," Jansen said. "I'm just having fun and at the same time, focused."