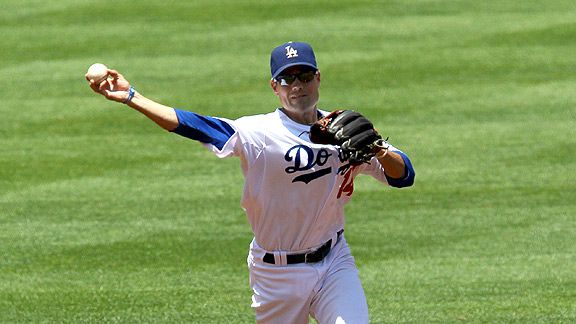 Stephen Dunn/Getty ImagesJamey Carroll is on track to lead the Dodgers in walks this season.
This Dog Days edition of Dodger Cogs and Dogs is dedicated to Jamey Carroll, who kept the Dodger shortstop position with Rafael Furcal out from looking like the Dodger catcher position with Russell Martin out. Thanks to attrition elsewhere and to his own steady play, I've elevated the 36-year-old Carroll to No. 4 among position players and No. 8 overall, and he might not be done climbing.
But of course, that kind of tells the story of the 2010 Dodgers. To take another example, you all know what a big supporter I am of Chad Billingsley, but if a 3.70 ERA gets you the No. 4 spot on the list, something has gone quite wrong with your team.
| 8/23 | 8/9 | 7/26 | 7/12 | High | Low | Player | Comment |
| --- | --- | --- | --- | --- | --- | --- | --- |
| 1 | 1 | 1 | 1 | 1 | 20 | Clayton Kershaw | Next year, he gets rid of the first-inning walks and goes after the Cy Young. |
| 2 | 3 | 3 | 5 | 1 | 5 | Hiroki Kuroda | The team's heart and soul? |
| 3 | 4 | 4 | 3 | 1 | 11 | Andre Ethier | Slugging percentage past three years: .510, .508. .513. |
| 4 | 6 | 10 | 10 | 6 | 12 | Chad Billingsley | ERA now lower than Tim Lincecum's. |
| 5 | 2 | 2 | 2 | 2 | 14 | Rafael Furcal | Might not play 81 games this year. |
| 6 | 5 | 7 | 8 | 7 | 18 | Hong-Chih Kuo | Opponents' slugging percentage now at .204 this year. |
| 7 | 10 | 8 | 9 | 1 | 11 | Matt Kemp | The controversy has surely taken on a life of its own. |
| 8 | 15 | 16 | 14 | 13 | 21 | Jamey Carroll | Most walks without a homer by any Dodger since Bill North in '78 (65). |
| 9 | 7 | 5 | 6 | 5 | 24 | James Loney | .344 BABIP in first half, .238 in second half. |
| 10 | 8 | 12 | 17 | 8 | 25 | Vicente Padilla | His meteoric rise to the top five got de-meteored. |
| 11 | 9 | 9 | 7 | 4 | 13 | Jonathan Broxton | Now in that Sherrill-like phase where he can't get a streak of good games together. |
| 12 | 11 | 6 | 4 | 3 | 12 | Manny Ramirez | Needs 14 homerless games to match Furcal with eight homers in 76. |
| 13 | 12 | 11 | 11 | 6 | 16 | Casey Blake | One strikeout every 4.33 plate appearances, Kemp 4.02. |
| 14 | 13 | 14 | 15 | 2 | 15 | Russell Martin | Offseason decision on Martin's fate hasn't gotten any less interesting. |
| 15 | 14 | 15 | 13 | 12 | 15 | Blake DeWitt | .831 OPS as a Cub. |
| 16 | 16 | 17 | 21 | 7 | 21 | Carlos Monasterios | First career major-league error might have cost him a win. |
| 17 | 25 | NR | NR | 25 | 25 | Ted Lilly | Dodgers didn't get Cliff Lee – just someone who is pitching like him. |
| 18 | 17 | 13 | 12 | 5 | 26 | John Ely | Place your bets: Is he in the 2011 starting rotation? |
| 19 | 20 | 20 | 19 | 8 | 20 | Reed Johnson | 6 for 14 with double and homer since returning from DL in August. |
| 20 | 19 | 18 | 16 | 15 | 22 | Jeff Weaver | Combined ERA of Weaver, Troncoso, Belisario and Sherrill: 5.47. |
| 21 | 28 | NR | NR | 28 | 28 | Ryan Theriot | Will he and Carroll flip positions if they're playing together in 2011? |
| 22 | 21 | 21 | 22 | 21 | 24 | Travis Schlichting | Tables turned: inherited runs harm his ERA for a change. |
| 23 | 23 | 24 | 24 | 9 | 24 | Ramon Troncoso | Before Sunday, he and Belisario had each allowed 39 hits in 39 innings. |
| 24 | 26 | 26 | NR | 26 | 26 | Kenley Jansen | In 9 2/3 innings, 13 baserunners and 13 strikeouts. |
| 25 | 18 | 19 | 18 | 17 | 25 | Ronald Belisario | Righties have hit him harder than lefties this year. |
| 26 | 32 | NR | NR | 32 | 32 | Octavio Dotel | Overall, he's done fine, but he missed his chance to make a difference. |
| 27 | 33 | NR | NR | 33 | 33 | Jay Gibbons | Tied for eighth on the Dodgers in homers. |
| 28 | 34 | NR | NR | 34 | 34 | Scott Podsednik | Am I really supposed to be excited by a .337 OBP as a Dodger with no power? |
| 29 | 24 | 23 | 20 | 7 | 24 | Ronnie Belliard | Needs to avoid going 0 for 12 to keep batting average above .200 this year. |
| 30 | 27 | 25 | 25 | 23 | 27 | Justin Miller | Nine shutout innings of relief to start August for Isotopes. |
| 31 | 22 | 22 | 23 | 15 | 23 | Xavier Paul | Return to Albuquerque hasn't gone well: .669 OPS, zero homers in August. |
| 32 | 29 | 27 | 26 | 19 | 29 | A.J. Ellis | Ellis, Ausmus now hitting a combined .203. What's the problem? |
| 33 | 30 | 28 | 27 | 25 | 30 | Jon Link | Ten baserunners, three strikeouts in 5 2/3 innings, but I'd like another look at him. |
| 34 | 31 | 29 | 28 | 23 | 31 | Brad Ausmus | Doubled in first at-bat of season – no extra-base hits since. |
| 35 | 35 | 30 | 29 | 29 | 35 | Chin-Lung Hu | Went two for three in most recent game June 29 to put batting average at .300. |
| 36 | 36 | 35 | 36 | 26 | 36 | George Sherrill | Needs four more outs to match longest scoreless inning streak of season (3 2/3 innings). |
| 37 | 37 | 31 | 30 | 17 | 37 | Ramon Ortiz | Our man Ramon is now a Durham Bull, with a 1.59 ERA after one start. |
| 38 | 38 | 32 | 31 | 27 | 38 | Nick Green | His alma mater DeKalb College was renamed Georgia Perimeter in 1997. |
| 39 | 39 | 33 | 33 | 3 | 39 | Charlie Haeger | Remember that home game against Colorado? That seems so long ago. |
| 40 | 40 | 37 | NR | 37 | 40 | James McDonald | Three-run homer by David Wright in fifth torpedoed McDonald's start Saturday. |
| 41 | 41 | 34 | 34 | 16 | 41 | Garret Anderson | In counting stats, his career matches up more than a little with Steve Garvey's. |
| 42 | 42 | 36 | 35 | 22 | 42 | Russ Ortiz | A career .205 hitter with seven homers and 35 walks in 608 PA. |
| 43 | 43 | 38 | 32 | 32 | 43 | Scott Elbert | Was within a strike of getting three bases-loaded outs in 2010 debut; then his entire year began to unravel on next pitch. |
| 44 | 44 | 39 | NR | 39 | 44 | Jack Taschner | Nick Hundley is the batter Taschner retired as a Dodger. |