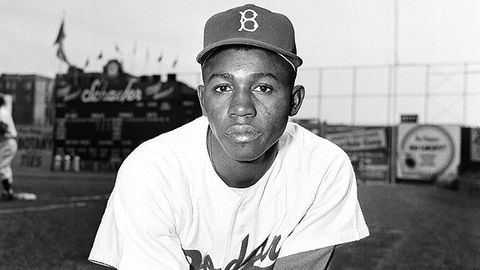 APJim Gilliam spent 25 years – half his life – in a Dodger uniform.
Keeping with this week's theme …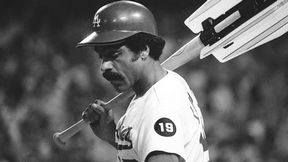 Davey Lopes, wearing Gilliam's 19 on his sleeve during Game 1 of the '78 Series, worshiped the Dodger coach.
Game 1 of the 2010 World Series almost exactly matched the final score of Game 1 of the 1978 World Series. That was Dodgers 11, Yankees 5, and it was played the night the Dodgers, for the only time in their history, retired the number of a non-Hall of Famer.
Jim Gilliam had passed away two nights earlier, barely 24 hours after the Dodgers won the National League pennant.
From Ross Newhan of the Times:
Throughout the playoff victory over Philadelphia he was driven by the memory of his relationship with Jim Gilliam, saying he had never before reached such an emotional peak, that when he went to the plate he could hear Gilliam speaking to him.

Davey Lopes, the Los Angeles captain, again resembled a man possessed Tuesday night at Dodger Stadium as the Dodgers, dedicated to sustaining the memory, crushed the New York Yankees, 11-5, in the inartistic opening game of the 75th World Series.

Lopes, who batted .389 against the Phillies, hitting two home runs while driving in six runs, ripped a two-run homer in the second inning and a three-run homer in the fourth, propelling the Dodgers into a lead that was 7-0 before Tommy John permitted his first run. …

The flags in center field were at half-staff and the game began only after the crowd was asked to join in a moment of silent meditation. The Dodgers carried a memorium to Gilliam on the sleeve of their uniform, a black patch with Gilliam's No. 19 embossed in white.

"We dedicated the pennant to Jim," manager Tom Lasorda said, "and we are determined to dedicate a world championship to him." …

"Jimmy is up there watching us," Lopes said following Tuesday's victory. "His spirit is in each of us. The Yankees beat 25 guys last year and this year they'll have to beat 50 of us. We're going to do our damndest to win this for him and we're confident we will."

Things only became more emotional the next day. "On the afternoon of October 11," I wrote in "100 Things," "with Game 2's first pitch hours away, baseball paused and gathered at Trinity Baptist Church to pay their respects – 2,000 strong – at Gilliam's funeral. A memorable photo from that day shows Dodger tormentor Reggie Jackson of the Yankees standing solemnly between Lopes and Tommy Lasorda. All three delivered eulogies." That long day's journey into night ended with Bob Welch's legendary triumph over Reggie Jackson for the final out.
From "100 Things":
Clinging to a 4-3 lead in the top of the ninth, the Dodgers sent out Terry Forster for his third inning of work. Yankee playoff hero Bucky Dent opened the inning with a single to left field and moved to second on a groundout. A walk to Paul Blair put the go-ahead run on base, signaling that Forster had passed his expiration date.

Lasorda's do-or-die replacement had 24 career appearances, 11 in relief. The two batters he needed to get out, Thurman Munson and Jackson, had 465 career home runs – three of them hit by Jackson in the last game of the previous year's World Series. Dodger fans at the stadium and across the country waited for the roof to cave in.

Welch fed a strike in against Munson, who hit a sinking drive to right field that Reggie Smith caught at his knees.

APSteve Yeager is triumphant as Reggie Jackson strikes out.

It was Jackson time.  This wasn't just any slugger.  This was the enemy personified, a man, though well-liked in his later years, considered perhaps the most egotistical, vilifiable ballplayer in the game.

Welch began by inducing Jackson to overswing and miss. With Drysdalesque flair, he then sent in a high, tight fastball that sent Jackson spinning into the dirt.

Jackson later told Earl Gustkey of the Times that he was expecting Welch to mix in some of his good offspeed pitches, but instead came three fastballs, each of which were fouled off.  Then there was a waste fastball high and outside to even the count at 2-2.

After another foul ball, another high and outside fastball brought a full count. The runners would be moving. Short of another foul, this would be it.

As everyone inhaled, in came the heat.  Amped up, Jackson swung for the fences – not the Dodger Stadium fences, but the fences all the way back in New York.

Only after Jackson missed the ball and nearly wrapped the bat around himself like a golf club, only through Jackson's rage, could Dodger fans begin to comprehend what happened.

Jackson carried his fury into the dugout and clubhouse with him, pushing first a fan on his way to the dugout and then Yankee manager Bob Lemon once inside.

The only thing that could have made the event better for Dodger fans would have been for them to have had longer to enjoy it. The Dodgers didn't win the World Series that year; they didn't win another game. Welch himself was the losing pitcher in Game 4, allowing a two-out, 10th-inning run in his third inning of work, and gave up a homer to Jackson in Game 6. But for a moment, the Dodgers and their fans enjoyed one of the most triumphant and exhilarating victories over the Yankees ever imaginable.
There probably hasn't been a more emotionally charged Los Angeles Dodger team in history. That includes 1988. This was a team that had revenge and redemption on its mind all year, feelings that were only intensified by the passing of their beloved coach.
And they fell in their next four games – a 5-1 Game 3 loss, the bitter 10-inning, Game 4 defeat that starred Jackson's moving hip, and then the final two games by a combined 19-4.
Sometimes, the stars seem aligned; sometimes, you have every reason to believe. And sometimes you lose, even when you leave everything you have, absolutely everything, on the field.