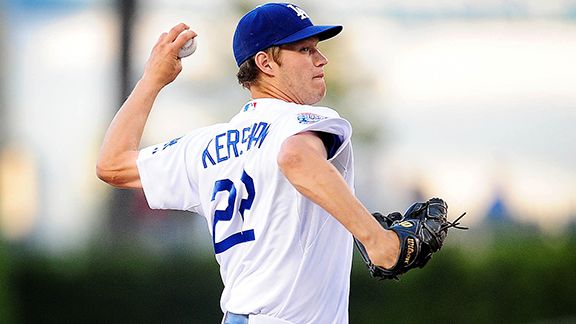 Gary A. Vasquez/US PresswireClayton Kershaw: 22 years old, 2.91 ERA, 212 strikeouts
When I started doing Cogs and Dogs this spring, I had no idea … about anything. No idea where it would lead or if I would keep it going. In the end, I made it through the season with only a couple of missed off days, and I feel it was worth it in all its strange triviality.
The main thing I didn't anticipate was how weak the list would look in the top 10. In the first five spots, you'll find players who had unquestionably solid seasons. But then, starting at the No. 6 position, you have one of the year's biggest disappointments, an injury-riddled shortstop, an aging third baseman prone to deep slumps, a homerless bench player and a first baseman who barely OPSed .700. And that, really, says as much as anything why the Dodgers aren't playing any more this month
It seems appropriate to me that the top three spots go to the season-long stalwarts of the Dodger starting rotation, and that the top spot itself go to the team's one truly exceptional player from start to finish in 2010, Clayton Kershaw. He was not only steady, almost never seeming to disappoint, but he was also the one guy who, as the year went by, most gave you that "What will he do next?" feeling. He's a special player. Hopefully, a few more Dodgers can follow in his footsteps next year.
Here's the final list, in all its dope and glory …
| | | | | | | | | | |
| --- | --- | --- | --- | --- | --- | --- | --- | --- | --- |
| Final | 9/13 | 8/23 | 8/9 | 7/26 | 7/12 | High | Low | Player | Comment |
| 1 | 1 | 1 | 1 | 1 | 1 | 1 | 20 | Clayton Kershaw | In a year that taught us the dangers of too much hope, he was the exception that disproved the rule. |
| 2 | 2 | 2 | 3 | 3 | 5 | 1 | 5 | Hiroki Kuroda | Simply one of my favorite Dodgers of the past several years. |
| 3 | 4 | 4 | 6 | 10 | 10 | 4 | 12 | Chad Billingsley | One of the year's best stories. What a thrill to see him come back so strong. |
| 4 | 3 | 3 | 4 | 4 | 3 | 1 | 11 | Andre Ethier | Mr. Intensity, Mr. Walkoff, ended with solid numbers but became kind of an afterthought. Was it injuries? |
| 5 | 6 | 6 | 5 | 7 | 8 | 6 | 18 | Hong-Chih Kuo | It was a privilege this year, Hong-Chih. |
| 6 | 7 | 7 | 10 | 8 | 9 | 1 | 11 | Matt Kemp | He finished strong. Hurdles happen, but next season will be a proving ground. |
| 7 | 5 | 5 | 2 | 2 | 2 | 2 | 14 | Rafael Furcal | Such talent handicapped by that sore body. Not sure what can be done about it. |
| 8 | 10 | 13 | 12 | 11 | 11 | 6 | 16 | Casey Blake | A really likeable player, straining for excellence, but gravity gets all of us in the end. |
| 9 | 8 | 8 | 15 | 16 | 14 | 8 | 21 | Jamey Carroll | The Engergizer bunny. He was the glue that held together this … well, fourth-place team, but still, good glue. |
| 10 | 9 | 9 | 7 | 5 | 6 | 5 | 24 | James Loney | If 2011 were 1977, Tommy Lasorda would just tell Loney to hit more home runs – and he would – and we'd all rejoice. |
| 11 | 13 | 17 | 25 | NR | NR | 13 | 25 | Ted Lilly | Fun to watch when he's on a roll. |
| 12 | 12 | 12 | 11 | 6 | 4 | 3 | 12 | Manny Ramirez | As time passes, it's going to be weird how brief the chaotic Ramirez era will seem. But no regrets. Not a one. |
| 13 | 11 | 11 | 9 | 9 | 7 | 4 | 13 | Jonathan Broxton | Brad Lidge (ERAs by year: 6.23, 3.60, 1.90, 2.29, 5.28, 3.36, 1.95, 7.21, 2.96) welcomes Broxton to the world of ups and downs. |
| 14 | 14 | 14 | 13 | 14 | 15 | 2 | 15 | Russell Martin | Just wondering if there's a way back home for him. |
| 15 | 16 | 15 | 14 | 15 | 13 | 12 | 16 | Blake DeWitt | Worst comes to worst, maybe he morphs into Dave Hansen? |
| 16 | 19 | 24 | 26 | 26 | NR | 24 | 26 | Kenley Jansen | An exciting debut – just hope he doesn't go Yhency on us. (Khenley?) |
| 17 | 15 | 10 | 8 | 12 | 17 | 8 | 25 | Vicente Padilla | Thought he'd just be medicore, instead of horrible/absent/great/absent. Be safe this winter, Vicente. |
| 18 | 20 | 16 | 16 | 17 | 21 | 7 | 21 | Carlos Monasterios | This guy pitched way above his station, including a 2.06 ERA in relief. He earned his roster spot all year. |
| 19 | 22 | NR | NR | NR | NR | 22 | 22 | Rod Barajas | Good home run power, but might be next year's Ronnie Belliard. |
| 20 | 17 | 18 | 17 | 13 | 12 | 5 | 26 | John Ely | Prokapec of pickled peppers. Ely, don't leave me this way. |
| 21 | 26 | 23 | 23 | 24 | 24 | 9 | 26 | Ramon Troncoso | 2009: Made you forget Cory Wade. 2010: Made you remember Cory Wade. |
| 22 | 35 | 32 | 29 | 27 | 26 | 19 | 35 | A.J. Ellis | Not quite a John Lindsey story, but still a happy turn of events in September for this 29-year-old rookie. |
| 23 | 21 | 27 | 33 | NR | NR | 21 | 33 | Jay Gibbons | Fielded himself out of a chance to start for the Dodgers next year, but looks like a good part-timer to have. |
| 24 | 23 | 21 | 28 | NR | NR | 21 | 28 | Ryan Theriot | Still not convinced his defense is exceptional enough for that bat and that salary. |
| 25 | 18 | 19 | 20 | 20 | 19 | 8 | 20 | Reed Johnson | Basically solid against lefties, despite walking only five times all year. |
| 26 | 24 | 22 | 21 | 21 | 22 | 21 | 24 | Travis Schlichting | There's going to come a time when I forget about his four-inning shutout heroics against Arizona, but man, at the time, it seemed huge. |
| 27 | 27 | 25 | 18 | 19 | 18 | 17 | 27 | Ronald Belisario | Belisario 2: Erratic Boogaloo |
| 28 | 28 | 26 | 32 | NR | NR | 26 | 32 | Octavio Dotel | We have to stop trading like this. |
| 29 | 25 | 20 | 19 | 18 | 16 | 15 | 25 | Jeff Weaver | Tough second half knocks him back to non-roster status for next Spring Training. |
| 30 | 29 | 28 | 34 | NR | NR | 28 | 34 | Scott Podsednik | Honestly, he really, really didn't play well for the Dodgers. This trade was a bust. |
| 31 | 31 | 30 | 27 | 25 | 25 | 23 | 31 | Justin Miller | Vintage case of the up-and-down AAAA reliever. Helped more than he hurt, I feel. |
| 32 | 30 | 29 | 24 | 23 | 20 | 7 | 30 | Ronnie Belliard | Like George Costanza, sometimes you need to know when to leave the room. |
| 33 | 32 | 31 | 22 | 22 | 23 | 15 | 32 | Xavier Paul | Didn't expect miracles from Paul, but was hoping for more than we got. |
| 35 | 33 | 33 | 30 | 28 | 27 | 25 | 33 | Jon Link | Amid all the bullpen trouble, it's a little surprising he didn't get a bit longer of a look. |
| 34 | 34 | 34 | 31 | 29 | 28 | 23 | 34 | Brad Ausmus | A million bucks for 22 times on base, but it was hard to feel bad about it Sunday. |
| 36 | 36 | 36 | 36 | 35 | 36 | 26 | 36 | George Sherrill | From glory to the gallows. My disbelief over how bad it got for him hasn't gone away. |
| 37 | 39 | NR | NR | NR | NR | 39 | 39 | Trent Oeltjen | The Australian Chad Hermansen? |
| 38 | 37 | 37 | 37 | 31 | 30 | 17 | 37 | Ramon Ortiz | Thinking about him now makes me feel like I aged years this season. |
| 39 | 40 | NR | NR | NR | NR | 40 | 40 | John Lindsey | Smile of the year award. We're holding a permanent spot for you in Dodger folklore. |
| 40 | 38 | NR | NR | NR | NR | 38 | 38 | Juan Castro | Strikeout, lineout, walk, strikeout, see ya … |
| 41 | 41 | 38 | 38 | 32 | 31 | 27 | 41 | Nick Green | It's fascinating how worried the Dodgers were at one point about keeping him in the organization. |
| 42 | 46 | NR | NR | NR | NR | 46 | 46 | Russ Mitchell | 42 at-bats, 36 outs, two homers and no walks is one of the oddest debuts I can remember. |
| 43 | 43 | 39 | 39 | 33 | 33 | 3 | 43 | Charlie Haeger | Had a thrilling first start, but it didn't get much more painful in 2010 than watching him go outless against Colorado. |
| 44 | 42 | 35 | 35 | 30 | 29 | 29 | 42 | Chin-Lung Hu | Still waiting to see if he can reach Juan Castro heights for his career. |
| 45 | 44 | 40 | 40 | 37 | NR | 37 | 44 | James McDonald | He may end up having a nothing career, but his departure still leaves a bad taste. |
| 46 | 45 | 42 | 42 | 36 | 35 | 22 | 45 | Russ Ortiz | They got rid of him early. But next year, they'll just be another one. |
| 47 | 47 | 41 | 41 | 34 | 34 | 16 | 47 | Garret Anderson | It was disconcerting to spend the year looking at someone younger than me seem so old. Now, he's back to being younger than me forever. |
| 48 | 48 | 43 | 43 | 38 | 32 | 32 | 48 | Scott Elbert | Just four years ago, the future of Elbert and Greg Miller looked unlimited. |
| 49 | 49 | 44 | 44 | 39 | NR | 39 | 49 | Jack Taschner | In the end, I have tremendous respect for anyone who makes it this far. |