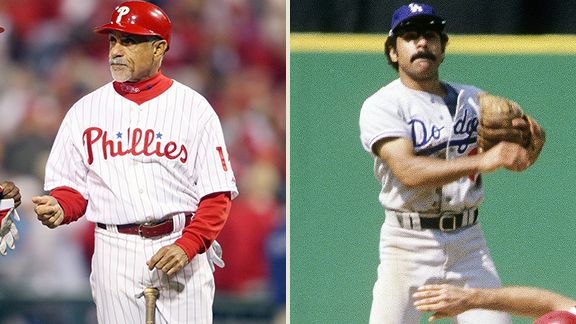 Getty ImagesDavey Lopes, now and then …
Intrigue, suspense and a dose of whimsy continue to circle around the 2011 Dodger coaching staff vacancies. Some bullet points from Tony Jackson of ESPNLosAngeles.com.
I mainly want to talk about Lopes, but Moses' interview with Jackson deserves a look.
"They said it was because [Dodgers prospect] Xavier Paul didn't improve in the outfield," said Moses, who also had the responsibility of working with outfielders at the Dodgers' Triple-A Albuquerque affiliate. "I was shocked, let's put it that way. A lot of people were. I think the job I did spoke for itself, if you look at the things that happened offensively over the last three years. … But the way I look at it is, it's their loss."
I can't say I see a lot of positives coming out of AAA, particularly in the outfield, for the Dodgers in the past three years. I don't know the first thing about Moses' abilities as a coach, whether he deserves praise or parting gifts for his work – I don't know if he's responsible – but I don't know that he's got a lot to hang his hat on.
As for Lopes, I like the idea of him coaching for the Dodgers, not just because of the homecoming, but because of the potential of improving the Dodger running game. As True Blue L.A., Phillies Nation and Baseball Musings have noted, the Phillies have been great on the bases under Lopes' watch, and it's probably not all a coincidence. This could be one of those seemingly rare cases where a player has been able to translate his on-field skills into coaching: Lopes had a career stolen base percentage of .830, seventh all-time, with Jimmy Rollins of the Phillies passing him this season.
But clearly, Lopes is looking for a nice payday – which of course the Dodgers might not be inclined to offer – and in addition, Jackson writes that "the Dodgers already had a list of candidates they were considering for the role, a source said, so it might be too late in the process for Lopes as far as the Dodgers are concerned."
Lopes, who went 144-195 managing the Brewers from 2000-2002, has also coached for the Padres and Nationals. He is a prostate cancer survivor. Another former Dodger, Ron Roenicke, is poised to become the Brewers' next manager.