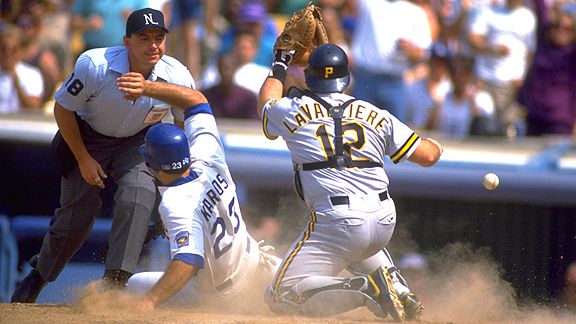 Ken Levine/Getty ImagesHome plate umpire Charlie Reliford approves as Dodger rookie Eric Karros slides home safely past catcher Mike LaValliere of the Pirates on May 24, 1992, one day after becoming a hero.
On the night of May 23, 1992, Dodger rookie Eric Karros came up to bat as a pinch-hitter. The situation: two runners on in the bottom of the ninth, Dodgers trailing Pittsburgh by two runs, sitting in last place at 15-22, and me unemployed and preparing to move away from my Los Angeles hometown while still nursing a breakup with my girlfriend. Could he bring some hope to my broken heart?
As baseball player and baseball fan, Karros and I were made for each other. We were born three weeks and two days apart. He was a product of the farm system, and I had long been partial to products of the farm system. A last-minute addition to the Opening Day roster, it was nice just to have Karros on the team, but he was still only getting partial playing time at first base while the Dodgers tried to mine some remaining value out of Kal Daniels and Todd Benzinger.
He was part of the future of a struggling Dodger team whose future was much in doubt. He was also the batter who could give me relief from the deep funk I had descended into. I desperately wanted him to succeed.
Karros extended Pirates reliever Stan Belinda to a full count, and then launched one to deep left-center … deep … back … gone! The fourth home run of his young career, giving the Dodgers a comeback victory. I jumped out of my head in joy. I was so happy, I wrote what I believe is the only piece of fan mail to an athlete. At age 24, I was thanking Karros for his home run and telling him how deeply important it was to me.
A more sober head prevailed in the morning, and I never sent the letter. But I was firmly in the Karros camp – he was one of my guys.
Given that Karros ended up hitting 266 more home runs for Los Angeles to become the Dodgers' all-time leading home run hitter since moving west, you might have expected it was an eternal romance between Karros and me. But it didn't work out that way.
As the decade progressed, he was an up and down player. In my memory, many of Karros' homers came when the game wasn't on the line. His power numbers hid a poor on-base percentage. He would start slow and then tell the fans they shouldn't be bothered. Irrational or not, he wasn't the player I wanted him to be.
The final straw for me was an incident in 1997 when he called out Ismael Valdes in the Dodger locker room and the two fought. The press (which I wasn't a part of at the time) took Karros' side, something I suspected was because the press couldn't be bothered to get quotes from anyone who didn't speak English as a first language. It motivated me to write another letter, this time to the Times, and this one I sent. I'm not sure who I was madder at, the press or Karros – I was just mad. Maybe Valdes was at fault, but no one was even trying to tell the whole story.
The residual damage to my feelings toward Karros was serious. Five years after I had fallen in love with him, I had fallen out.  The romance was over, and nothing he did, not even a relatively awesome 1999 season (.362 on-base percentage, .550 slugging) could change it.  A running joke in my family was that Grandma Sue always liked Eric Karros, and whenever she went to a game with us, I would say how lousy he was – and then he would go 4 for 4 with a homer. I actually owe Karros some thanks for giving Grandma such pleasure and the two of us such fond memories.
But still, we fell out of love. It happens.
It actually hasn't happened for me for the current group of homegrown Dodgers. Maybe I'm different, or maybe the circumstances are.  I still have fond thoughts of Russell Martin, though he hasn't been much of anything for a couple of years and who will likely be wearing a different uniform next season. Chad Billingsley struggled in 2009, and I stuck by him, just as I'm sticking by Jonathan Broxton. James Loney is producing worse numbers as a first baseman than Karros, but I'm hanging in there even if it means going down with the ship (a ship that might be traded within the next year). Even the mysterious Matt Kemp is, for me, a case of "Stand by your man."
For that matter – not to give the impression that I'm nothing more than a softie – I don't seem to have too many hard feelings about Karros anymore.  I remember the good times …
Fans have their own breaking points, though, and for many, they have already been breached. That's part of what makes this offseason tense: tight relationships in a tenuous state. It's always sad when love goes south, especially when you're a hopeless romantic and it's the ballplayer next door.