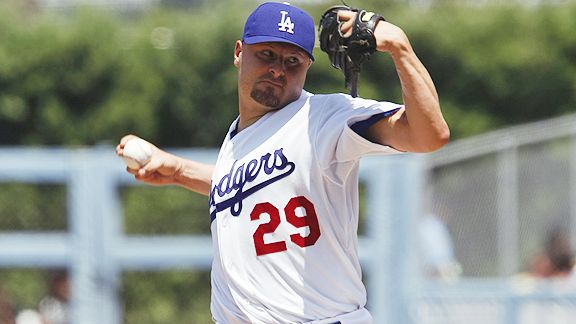 Ric Tapia/Icon SMIThe problem isn't that the Dodgers are still paying Jason Schmidt; the problem is that Jason Schmidt couldn't pitch no matter what date his paychecks arrived.
With a third of Hiroki Kuroda's new contract coming in the form of a signing bonus to be paid in 2012 and 2013, naturally the subject of the Dodgers deferring salaries has come up again. On that subject, let me make these points:
Though they have certainly turned it into an art form, deferred payments are nothing unique to the Dodgers or the McCourt ownership. They can't even lay claim to the grand-deferred-daddy of them all, the Mets' 35-year Bobby Bonilla plan.
Deferred payments aren't an inherently bad way to operate a business. To oversimplify, if you are making good investments with the capital as you hang onto it, you will come out ahead.
The primary issue with the money the Dodgers owe players who are no longer on the roster isn't the money — it's the players. The problem is not that they're still paying Jason Schmidt, Juan Pierre or Andruw Jones — it's that those contracts were so unfortunate, period.  We could have taken Schmidt to a $47 million lunch at the Palm a few years ago and called it a day — it wouldn't have made that deal turn out any better.
Remember that some deferred contracts did not start that way. For example, Jones' deal was restructured to accommodate the 2009 Manny Ramirez signing, so that the Dodgers would have other options besides Jones and Juan Pierre in left field. The ongoing flow of cash to Jones are less about a philosophy of deferring payments than about trying to make lemonade from lemons.
Backloaded contracts that are used on productive players have the potential to be good. Keeping Ted Lilly and Hiroki Kuroda to single-digit millions now, enabling the team to spend more to address other pressing needs, is a viable strategy — especially if you believe that down the road, more TV dollars and a better economy might make the backloaded contracts easier to pay off.
Certainly, there's an argument that the Dodgers should reign their spending and stop buying players on credit. Heck, I'm one of those rare birds who would watch a homegrown, low-rent squad. But if you do that now, given the chaos in team ownership, you'd have to brace yourself for a 2011 team as leaky as a bad roof.
Yes, the McCourt ownership could sell a house and take care of all this year's deferred payments in an instant. But I'm not holding my breath for that.
In a nutshell, the timeframe for paying player salaries is fairly low on the issues bedeviling the Dodgers. Achieving a combination of good decisions and good luck regarding the roster is far more important. Even as the McCourt drama plays out, the Dodgers will thrive or dive depending on their personnel choices.
Eventually, the Dodgers will either operate one season on a limited budget, or they'll find the revenue to bring their finances back to steadier ground.  I'm betting on the latter. In any case, what matters is that they spend their money wisely, whenever they spend it.