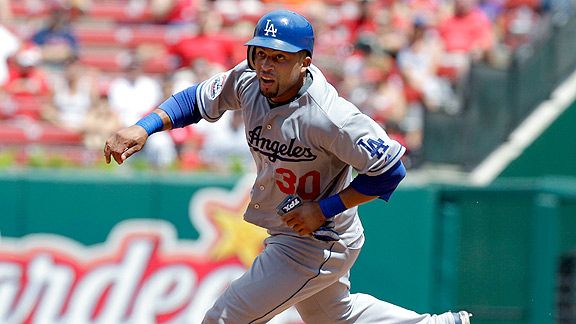 Jeff Roberson/APAre the Dodgers sincere when they say Xavier Paul is a contender to start next season?
Overall, I'm satisfied – even impressed – with how Ned Colletti has pulled together the 2011 Dodger starting rotation over the past month.
I was worried about how the Dodgers would fill their three offseason vacancies in the rotation. Then, thanks in part to Hiroki Kuroda's agreeability, the Dodgers got their front four. As in the past, I would have been prepared for the team to enter Spring Training with a combination of youngsters and journeymen battling for the No. 5 spot. But the Dodgers didn't even make us wait until December before filling that spot with a solid (though not spectacular) starter in Jon Garland.
There was another shoe to drop: Garland admitted to AM 710 that there are concerns about his health. Whether this means shades of Jason Schmidt remains to be seen, but it's hard to get too worked up when the salary commitment to Garland is about 90% less than what the Dodgers paid Schmidt (are still paying, in fact). Garland figures to give the Dodgers something, and perhaps more than something.
There have been rumors that the Dodgers aren't done with the pitching, that they are contemplating also bringing back adding Vicente Padilla as a swingman, a super-utility pitcher. The addition would further increase the Dodgers' chances of presenting a smothering pitching staff next season, led by Clayton Kershaw in the role of Tim Lincecum, only wholesomer.  Yes, my friends, the Dodgers have their ace – or rather, their king and his court.
All that being said …
The left-field situation resembles what we expected the No. 5 spot in the starting rotation to look like. Journeymen, kids and babies. Jay Gibbons is Jeff Weaver, Xavier Paul is John Ely, Jamie Hoffmann is Carlos Monasterios, Trayvon Robinson and Jerry Sands are Chris Withrow and Rubby de la Rosa. I'm not losing sleep over it – certainly not in December. Should it remain this way until April, I'll admit I'll be surprised.  But also fascinated.
If the Dodgers don't make any big additions in the outfield – and it could be months before we know – they will be doing exactly what they did when they handed four April starts to Charlie Haeger.  That they did so once means they could do it again, but I have trouble believing the Dodgers have invested all this money in catcher, second base and the starting rotation, just to let left field twist in the wind.
On the other hand, they might sign Scott Podsednik and think they've done something useful, and simply be wrong.
* * *
Following the news that former Dodger outfielder Jayson Werth had signed a remarkable seven-year, $126 million contract with Washington, I tweeted the following:
At Matt Kemp's current age (26), Jayson Werth hit .235/.338/.374 before sitting out his age-27 season because of injury.

Through 2009: Matt Kemp career 116 OPS+, Jayson Werth career 115 OPS+. Kemp is 5 1/2 years younger.
The point, I hope is clear, is not to say that Matt Kemp is better than Jayson Werth (though he might be, sooner than people think). Rather, it's to remind people that it's a wee bit early to be giving up on Kemp because he had a disappointing season at age 25.
If we stipulate that Kemp has some issues to address going forward, let's remember that they are not insurmountable.
* * *
I was very satisfied with the season finale of "Boardwalk Empire," both in how it wrapped up this season's threads and set up Season 2. We haven't had any formal TV chat here in a while, so if anyone wants to share their thoughts, please feel free.