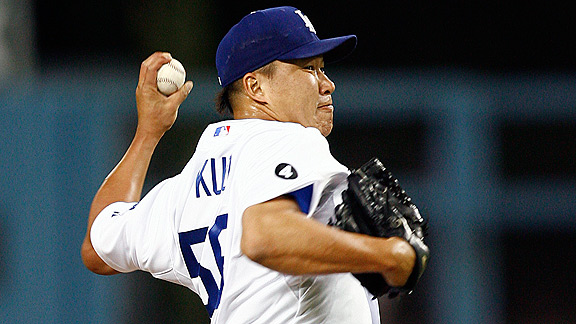 Shelly Castellano/Icon SMIHong-Chih Kuo recovered after throwing four straight balls to start his 2011 season.
The Dodger bullpen could be a strength of the team, but it might be a while before you can tell.
Dodger relievers have a 7.15 ERA, and that's going into a trip to Colorado. They have allowed 22 baserunners (14 hits, eight walks) in 11 1/3 innings. On the bright side, they've struck out 11.
Jonathan Broxton has gotten attention for allowing two home runs and a single in his first three innings/outings (no, we're not talking about belly buttons here), but two other noteworthy relievers, Kenley Jansen and Hong-Chih Kuo, have been erratic. Kuo has walked two of the eight batters he has faced and allowed a double, while Jansen, of course, got pummeled in his only appearance: one inning, four hits, two walks, four runs.
Matt Guerrier has faced seven batters and allowed two walks and a hit, Mike MacDougal has given up a single to go with his strikeout, Lance Cormier allowed two runs in three innings of mop-up relief, and Blake Hawksworth loaded the bases before escaping his one inning of work score-free.
The common thread you'll notice here is that a little damage can go a long way toward ruining your early season stats, a problem that the hitting environment in Colorado figures to exacerbate. The good news for the relievers is that after the two games in Denver, a sextet of games in San Diego and San Francisco follow.
In the end, the Dodgers still figure to have one of the best bullpens in the National League, according to Jay Jaffe of Baseball Prospectus. Also good news, at least for 24 players on the team: Vicente Padilla could pitch in to help out sooner than later.
For now, Dodger relievers can knock on wood: They haven't given up any leads yet this season.
* * *
Howard Cole of Baseball Savvy has gotten a nice gig blogging about the Dodgers for the Register. In this post, he questions whether the Dodgers are going to activate Jon Garland too soon.
Line of the day goes to Geoff Young at Baseball Prospectus, writing about Tony Gwynn Jr.: "In Gwynn, meanwhile, the Dodgers have found that which has eluded them for nearly 30 years: a suitable replacement for Cecil Espy."