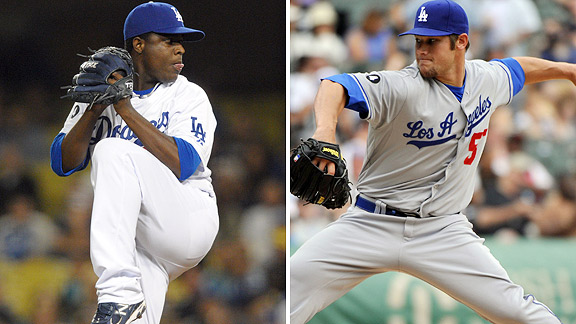 Icon SMI/US PresswireRubby De La Rosa and Scott Elbert brought relief from the minors.
The kids have come to the rescue of the Dodger bullpen, and not nearly enough has been said about it.
Jonathan Broxton went on the disabled list May 6, followed within 10 days by Hong-Chih Kuo, Vicente Padilla and Blake Hawksworth. To replace them, the Dodgers brought up Kenley Jansen (who had temporarily gone down to Chattanooga), Scott Elbert, Javy Guerra and Ramon Troncoso.
Another week later, the Dodgers dispatched mop-up man Lance Cormier and replaced him with Rubby De La Rosa. Then in the past week, Jansen went on the disabled list and was replaced by Josh Lindblom, who made his major-league debut with an inning in the finale of the Colorado series Wednesday.
Of the replacements, Troncoso was the veteran with all of 177 1/3 career innings. The combined career experience of Jansen, Elbert, Guerra, De La Rosa and Lindblom was 39 2/3 innings. Their average age: 23 1/2. Think about it – more than half of the bullpen handed over to runts.
Here's how they've done, including the 3-0 Dodger loss to Colorado, in which the bullpen followed Jon Garland's six-inning, three-run start with shutout ball:
Jansen: 7 2/3 innings, 13 baserunners, four earned runs (4.69 ERA), 13 strikeouts, 0 of 5 inherited runners scored
Troncoso: six innings, six baserunners, no earned runs (0.00 ERA), two strikeouts, 2 of 5 inherited runners scored
Guerra: seven innings, nine baserunners, two earned runs (2.57 ERA), five strikeouts, 0 of 0 inherited runners scored
De La Rosa: five innings, four baserunners, one earned run (1.80 ERA), five strikeouts, 0 of 0 inherited runners scored
Elbert: 4 2/3 innings, six baserunners, no earned runs (0.00 ERA), seven strikeouts, 1 of 6 inherited runners scored
Lindblom: one inning, two baserunners, no earned runs (0.00 ERA), no strikeouts, 0 of 0 inherited runners scored
Total: 31 1/3 innings, 40 baserunners, seven earned runs, 32 strikeouts, 2.01 ERA, 3 of 16 inherited runners scored
That's remarkable, especially considering we can assume that we can possibly attribute three of the seven runs allowed to the shoulder inflammation that sent Jansen to the disabled list.
The news that Padilla is expected to return to active duty Friday will, barring injury, start pushing the runts back to the minor leagues, but each has made the case to stay with the big club. Considered a weakness less than a month ago, the Dodger bullpen will in less than 48 hours have eight effective relievers to choose from, with more to come as Broxton, Kuo, Hawksworth and Jansen get back on their feet.
The other noteworthy thing is that with all the injuries, Dodger manager Don Mattingly has basically been forced to throw the idea of a designated closer out the window, instead bringing in pitchers simply based on the situation rather than their title or status. Unshackled from a pecking order, the Dodger kids haven't suffered – they've thrived. Jansen, Guerra and De La Rosa have all finished close games, while Elbert and now even Lindblom have pitched in situations where giving up a single run could be a killer. De La Rosa, whose destiny remains starting pitcher, could be a circa-1992 Pedro Martinez-like smokejumper, giving you a couple innings at a time as long as there's sufficient rest in between.
Message to Mattingly: Do yourself a favor. As the veterans return to the pen, don't get caught up in who your closer is. Just keep doing what you're doing. Manage according to the situation, not according to resume.