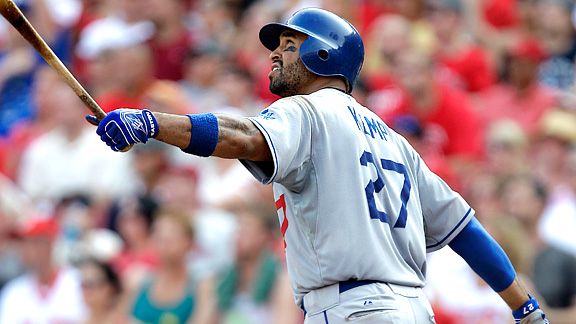 Al Behrman/APFly away, ball. Fly away.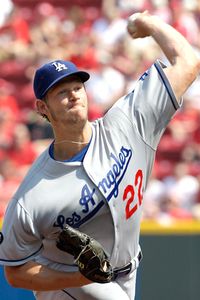 Al Behrman/APClayton Kershaw struck out nine of the first 15 batters he faced, but then the game got crazy.
Clayton Kershaw worked the Reds over for the first five innings today like Ali worked the ring. The fifth inning in particular was just athletic poetry, Kershaw striking out the side, and I was in thrall.
Leading 1-0, Kershaw had faced the minimum number of batters in taking a one-hitter heading into the sixth inning, and then things just went haywire. Ramon Hernandez singled, and two outs later, Drew Stubbs walked. Brandon Phillips then fisted a 1-1 pitch to right field, just over the head of second baseman Aaron Miles, a them's-the-breaks hit to tie the game.
And then Joey Votto blasted a three-run home run.
And before he was out of the game in the seventh, Kershaw had given up six runs, and Mike MacDougal had allowed another, and I was bereft.
So of course, you know what happened next. No, not that. No, not that either. No, keep going down the list.
First, Matt Kemp went bananas. Bananas, I say! A solo homer and a grand slam in back-to-back innings to tie the game at 7.
The slam followed an out-of-the-blue rally started with one out in the top of the eighth on a pinch-hit single by Tony Gwynn, Jr., his first hit to the outfield in a full month. Jamey Carroll and Aaron Miles followed with singles to make the score 7-3, and then Andre Ethier (who threw a runner out at home minutes before) drew a walk off Reds lefty reliever Bill Bray. The Bison came up, and on a 1-0 pitch from Logan Ondrusek, who had allowed two homers in 32 innings this season, sent one over the left-center-field fence to tie the game.
The home runs, Kemp's 14th and 15th of the season, gave him more home runs than steals for the first time this year and put him on a pace for 41 homers and 38 steals this season. According to the Dodgers, he is the team's first player to hit 15 homers in his first 59 games since Shawn Green in 2001. Green finished that season with a club-record 49.
That put the Dodgers in position for quite an event. According to Fox, the Dodgers' last win after trailing by 5+ in the eighth inning was May 9, 1994, and Los Angeles has won only three such games since 1958. (Of course, Reds manager Dusty Baker has seen a five-run lead disappear painfully in the past.)
But there was still the matter of pushing across the winning run. Scott Elbert held off the Reds with a 1-2-3 eighth, and Matt Guerrier pitched a shutout ninth. Javy Guerra retired Scott Rolen and Jay Bruce with two on to survive the 10th.
Finally, in the 11th, the Dodgers busted through with Scrub-ball, scoring two runs on singles by … Juan Castro … Gwynn … Carroll (4 for 5) … and Miles (3 for 5, 3 RBI). Reds pitcher Carlos Fisher, the losing pitcher in Cincinnati's 19-inning epic against the Phillies on May 25, then threw away an Ethier double-play grounder, opening the door for the Dodgers to score two more runs, Kemp getting his sixth RBI of the game on a fielder's choice.
In only 27 of their previous 58 games had the Dodgers scored more runs than they scored in today's 11th inning.
Guerra, who last pitched two innings May 4 in Chattanooga, was left to start the bottom of the 11th despite his hard-working 23 pitches in the 10th. (He actually walked in his first major-league plate appearance.) He gave up a leadoff single to Ryan Hanigan and one out later was replaced by Ramon Troncoso. A groundout by Paul Janish drove in a run charged to Guerra (his first since May 22), but the Dodgers were one out away.
Then, Chris Heisey singled. Then, Stubbs singled. That meant that the Reds would in fact get the tying run to the plate in Phillips, with Votto on deck and Rolen in the hole.
Strike. Ball. Strike. Ball.
Just as he did to drive in the first run against Kershaw hours before, Phillips went to right field. It looked very much like a potential hit off his bat. But this one went a little deeper, and Ethier was able to come in and catch it.
Dodgers 11, Reds 8. Wow, and whew.