OK, so it's possible that I'm wishing that I could fast-forward through part of this season's stretch run and go straight to the moment of "Did the Dodgers make the playoffs or didn't they?"
Boy, were the Dodgers hot to start this season or what?  They had to be, because this period of mediocre play just seems interminable, and yet the pennant hopes haven't gone anywhere.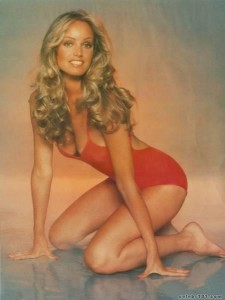 Just as Clayton Kershaw cruised almost perfectly through the first half of Friday's game, Joe Blanton was practically dominant tonight against the Marlins.  After pitching four innings of one-hit ball, the bottom of the fifth began, and Blanton allowed a blast by Giancarlo Stanton. (I can only hope that somewhere, it was seen by Susan Anton.)  The towering fly ball to the left-field concourse of the Marlins' new stadium went foul, and one pitch later, it was Stanton standin' as a called strike three whizzed by.
But the next batter doubled.  And the batter after that, .118-hitting obscure and barely memorable former Dodger backup infielder Nick Green, hit a sharp bounder off the wrist of third baseman Jerry Hairston Jr., and after that, things just began falling apart for the Dodgers. Miami took out Blanton with a four-run inning, then stuck it to utterly ineffective new acquisition Brandon League for three more in the seventh.
Losing 7-3, the Dodgers fell a game behind the Giants in the National League West. It matters, just like it matters that Matt Kemp had three hits and two steals, but struck out after going to a 3-0 count with the bases loaded in the second inning. Right?
I'm daring fate to intervene, but it almost seems like there's no escape from contention this year. The Dodgers can keep stepping on cracks, but no backs are breaking. On to the next piece of sidewalk.
Hey, I like baseball, but I feel like I'm just being played with here.
My house is a mess, stuff everywhere, paint fading, but it's home. That's the Dodgers, right? They're sparkly in parts, otherwise dilapidated.  They're not without their entertaining moments, but all in all, I wouldn't mind skipping ahead to the part where I find out if they're cleaned up or a tear-down.  At least, take me into September, because right now, this thing with San Francisco feels like the least compelling neck-and-neck race I've seen in a long time.