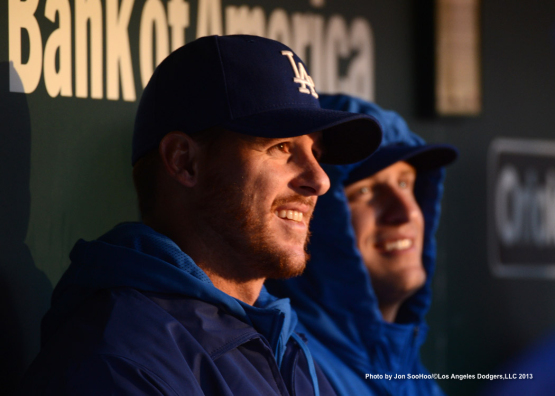 No, really – just keep pouring it on.
This moming, the Dodgers placed Chad Billingsley on the 15-day disabled list with right elbow pain (retroactive to April 16). Stephen Fife – ninth on the Dodgers' starting-pitcher depth chart when the season began three weeks ago – will start today's game in Baltimore, trying to help the Dodgers end their six-game losing streak.
Fife has started three games for Triple-A Albuquerque this year, posting a 4.61 ERA in 13 2/3 innings with 20 hits allowed, three walks and 14 strikeouts. As a major-leaguer, Fife had a 2.70 ERA in five starts covering 26 2/3 innings in 2012, with 25 hits and 12 walks allowed against 20 strikeouts.
Fife's longest outing this season so far is five innings, in the game he last pitched, Monday at Iowa. He allowed four runs and struck out eight, throwing 91 pitches.
We're waiting for details on the timing of Billingsley's trip to the DL. The right-hander, of course, eschewed surgery last year despite missing the final six weeks of the season with his elbow problem. He has a 3.00 ERA in 12 innings this year with 12 hits allowed, five walks and six strikeouts.
By the way, 21-year-old former first-round pick Zach Lee has a 1.17 ERA after four starts for Double-A Chatanooga this year, allowing 26 baserunners in 23 innings while striking out 21. (His teammate, Yasiel Puig, is on the seven-day minor-league disabled list with a sprained thumb.)
Update: "Chad Billingsley is not making his scheduled start today due to increased tightness and pain in his right elbow that he experienced during his last bullpen session," the Dodgers said in a statement. "After consulting Dr. Neal ElAttrache, it was decided that he will return to Los Angeles on Tuesday for further medical evaluation. More information will be forthcoming after that examination."
Dodgers at Orioles, 10:35 a.m.
Carl Crawford, LF
Mark Ellis, 2B
Adrian Gonzalez, 1B
Matt Kemp, CF
Andre Ethier, RF
Jerry Hairston Jr., 3B
A.J. Ellis, C
Skip Schumaker, DH
Justin Sellers, SS
(Stephen Fife, P)