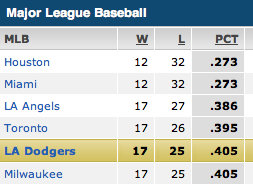 Sure, OK, we can start with the bullpen. It's hardly the only thing going on with the Dodgers, but it's something. Oh yes, it's something.
You need good relief to win, but you can't plan for good relief. 
This comes up every year, so it's tedious to point out, but it doesn't seem to go without saying.
I'm going to ask take my years-old research into this on faith; whether you choose to do so is up to you. But what you find is that there is virtually no consistency year-to-year among relief pitchers. The best might give you two or three consecutive good years. The very best.
The reasons for this should be clear. You don't become a reliever unless you are flawed in some way that prevents you from being a starter. That obviously doesn't mean you can't be a fantastic reliever in a given year, but for the most part, relievers are pitchers who aren't designed to be great over the long haul. They typically have a limited number of pitches, which leaves them vulnerable to being figured out over time. The good ones end up getting overworked, or maybe they were never that good in the first place, instead merely a triumph of small sample size. We could go on, but let's sum it up this way: Mariano Rivera is not reality.
The 2003 Dodger bullpen was incredible. It was also, in many significant ways, an accident.
Staffing a bullpen has always, fascinatingly, been Ned Colletti's simultaneous strength and weakness. Colletti has had a knack for finding capable non-roster talent (Takashi Saito, Ronald Belisario) over the same years that he has invested multiyear deals in such inconsistent arms as Matt Guerrier and Brandon League. There is no correlation in the Colletti tenure between salary and performance, yet the expensive signings continue.
The point is that you can never feel good about your bullpen entering a season – never. I really believe that. You can't feel anything at all. The best thing you can do is assemble a number of arms before Spring Training, a combination of youth and experience and promise and reclamation, and then hope for the best.
The peril of having someone with a long-term contract is that you feel obligated to keep him past the point of effectiveness. That's the boat the Dodgers are in with League and Guerrier, even with a new ownership that doesn't much worry about player salaries these days.
The Dodger bullpen is leaky through and through. Almost nothing is working right now. Just as you were gaining supreme confidence in Paco Rodriguez and Kenley Jansen, they found growing pains that left them struggling like the more experienced J.P Howell, League, Guerrier and, if you will, Belisario and Javy Guerra.
Fans tend to have unreasonable expectations of bullpens – you see outrage anytime any relief pitcher gives up a run, let alone a lead. I'm not sure where fans get the idea that every reliever on their team should have a 0.00 ERA, but there it is. Every Dodger relief pitcher since the heyday of Eric Gagne and Saito has been attacked for his failings, however momentary, however good that pitcher has been overall.  So when a bullpen is collectively struggling as much as the Dodger bullpen is, it's frogs and locusts time.
Don Mattingly's instinct has been correct in general to try to play matchups with his relievers. You can debate the specifics of all his choices – I don't agree with them all – but the bottom line is, there's little he can do when no one is reliable.
Mattingly's bullpen Sunday faced 18 batters and got nine outs. When Jansen entered Saturday's game in relief of Chris Capuano, he had thrown only 21 pitches in his previous 72 hours. Capuano had pitched well that night, but he was past the 90-pitch mark and going on a balky calf.
But when things are bad, things are bad.
Tim Federowicz is not a martyr.
This morning brought the news that Tim Federowicz, and not Luis Cruz or Ramon Hernandez, had been displaced from the active roster to make room for the return of Mark Ellis from the disabled list. Federowicz is more valuable than Cruz or Hernandez, but the hysteria this caused was rather remarkable.
When I called out this freakout on Twitter, several people lectured me, as if I didn't know, that it wasn't just about Federowicz, but that it was symptomatic of the Colletti Dodgers' larger mismanagement in general or obsession with experience over youth in particular. As if I needed to be told that Colletti values experience, sometimes to the franchise's detriment.
I've spent a lot of time on how to phrase this next section, because I don't want to give the impression that you shouldn't try to maximize every advantage you can. Federowicz can't help the Dodgers that much right now, but sure, I'd rather see him get five at-bats a week over Hernandez, because an on-base percentage over .500 in Albuquerque and above-average defense suggest a better skill set than Hernandez currently offers. Scott Van Slyke's callup was overdue, not because he was guaranteed to hit two homers in a game, but because he was on a hot streak in the minors that made it clear there was no better time to try him out.
But just as there is with the bullpen, there's a level of knee-jerk fan reaction with the bench that is out of proportion. When a player is a single game away from having better stats than his competition, as Hernandez is compared with Federowicz (3 for 17 with one walk and no extra-base hits as a major-leaguer in 2013), and neither is projected to be a starter, and the alternatives to Hernandez as backup if A.J. Ellis gets hurt are Jesus Flores, Matt Wallach and Gorman Erickson, the uproar should not be Defcon Anything.
Yeah, Cruz stinks right now, and no one in their right mind would keep him over Juan Uribe – just like no one in their right mind would have argued to keep Uribe over Cruz last summer.
See what I'm getting at?
If you're not frustrated with the Dodgers right now, you're either not a Dodger fan or very zen. You're not wrong if you're unhappy with Federowicz's demotion. But if you're angry over Federowicz being sent down, you're overreacting. It's not symptomatic of the Dodgers' larger problems. You're not going to plug in Federowicz, Yasiel Puig, Joc Pederson and Alex Castellanos into the Dodger bench and as a result see things turn around.
And May 19 is too soon to give up, if only because of one person.
Matt Kemp.
Until Kemp starts hitting, nothing is going to happen with this team. Nothing. The Dodgers cannot win without his bat. And again, it's not something anger will solve. The effort is there – if anything, he's trying too hard to get things going. But it is up to Kemp.
It would help if Andre Ethier hit more, but the difference between what Ethier is doing compared to what is expected of him is not what it is with Kemp.
I'm sure Kemp has had all the advice in the world, from Mattingly, Mark McGwire and any number of coaches or people he meets on the street. But no one else can synthesize the good from the bad and put it into action.
You can start firing managers or coaches or trainers. Kemp still needs to hit.
The bullpen can start putting out fires. Kemp still needs to hit.
The defense can stop making two errors a game. Kemp still needs to hit.
But what if he does?
Let me tell you one more thing.  I would love to give up on the 2013 Dodgers. It will be a relief if and when I can. I spent part of my Sunday writing this 1,500-word piece that probably isn't worth a damn, especially for a team barely winning 40 percent of its games.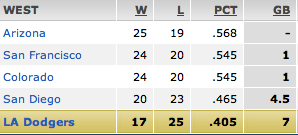 And the season might be over, except for this. For all their problems, Los Angeles is still somehow only seven games out of first place. The Giants, in case you haven't noticed, have their own cauldron of concerns. And Arizona and Colorado … I just don't know. I can't see them not hitting their own skid. I can't see it.
The National League West looks like an 85-win division. That's still within the Dodgers' abilities.
The team gets healthier. The bullpen stops being a disaster. Matt Kemp starts to hit. And then …
Honestly, that's as far as I can go. The team does look awful right now. It looks nothing like a winning team. It's creaky and crumbly. Race to the bottom or race to the top – I truly can't decide.