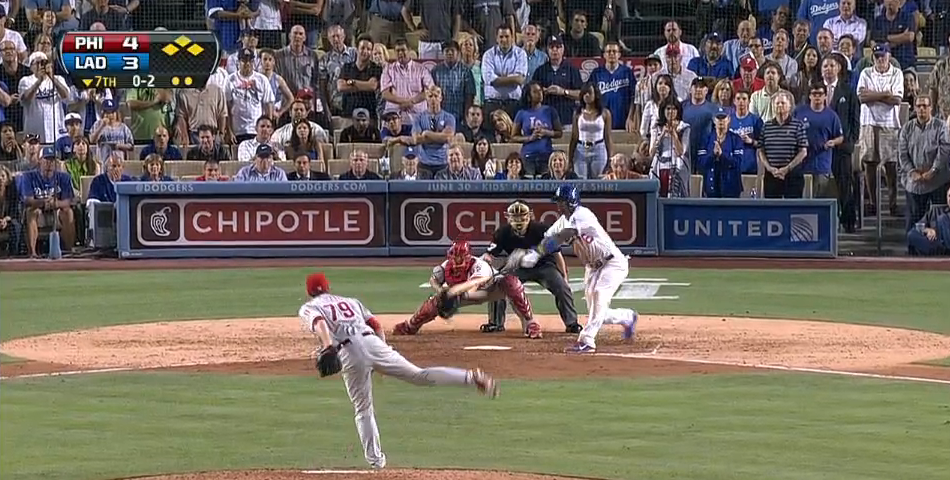 The Phillies hit Zack Greinke and the Dodgers from pillar to post. The Dodgers took the pillar and the post and ignored everything in between, quite happily.
Despite making 15 straight outs at one point, the Dodgers rode a big first inning and a two-out, 0-2 single by Yasiel Puig in the seventh to a 6-4 victory over the Phillies, giving Los Angeles their sixth straight victory.
Puig, Adrian Gonzalez, Matt Kemp and Andre Ethier combined for five hits (of the Dodgers' seven) – and made each one count.
Los Angeles absoutely hammered Phillies starter (and Placentia-born) Jonathan Pettibone in the first inning. After a leadoff walk to Skip Schumaker, Puig scorched one off Pettibone's foot, the ball taking a fluke bounce to shortstop Jimmy Rollins for a force out. But Gonzalez knocked a single, and Kemp and Ethier followed with hard doubles to put the Dodgers ahead, 3-0. Pettibone might have been in jeopardy of completing the first inning had Puig's ball gone through, or if A.J. Ellis' long fly to right hadn't been flagged down by Delmon Young's running catch.
From the second inning through the sixth, however, Pettibone retired his final 15 batters, allowing time for the Phillies to come back and take the lead. Greinke picked off one batter, saw another caught stealing and induced two double plays in seven innings, but that only partially mitigated the 12 hits he allowed, the last a two-out, tiebreaking home run by Chase Utley in the seventh.
Puig smashed into the wall in a vain attempt to catch that drive, the latest scary moment for the Dodger daredevil. But he was not done shaking up the stadium.
In the bottom of the seventh, relief pitcher Justin De Fratus walked Ellis on a 3-2 pitch. With two sacrifices in the past four seasons, Juan Uribe was asked to bunt. He not only put it down, but he reached first base after Ryan Howard fell down trying to field it. Pinch-hitter Hanley Ramirez was walked intentionally, and then Schumaker struck out.
That set the stage for Puig.
He swung and missed badly at two not-so-pretty pitches, and the next was so far off the plate, it looked like a fan heading for the exits. But Puig reached indelicately and somehow pulled the ball sharply through the hole into left field for a two-run single, rallying the Dodgers to a one-run lead.
J.P. Howell and Ronald Belisario combined for a scoreless eighth, and the Dodgers manufactured an insurance run when, in his second full game back from the disabled list, Kemp and his hamstring singled, stole second and third, and scored on Ellis' sacrifice fly.
Kenley Jansen pitched a scoreless ninth, and despite tallying half the Phillies' 14 hits, the Dodgers had another sweet victory.