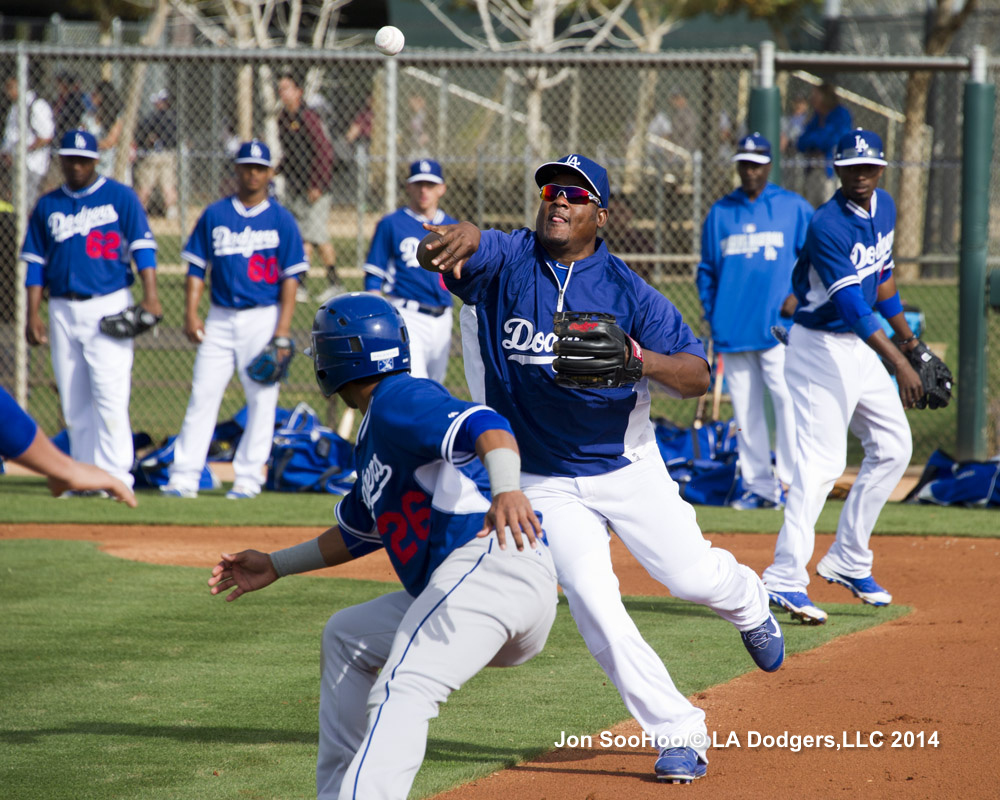 By Jon Weisman
Take heed: With this year's trip to Australia, the Dodgers' process for determining the regular season active roster is even more unusual than you might imagine, according to Ken Gurnick of MLB.com.
First, there's this rather stunning comparison.
"The Dodgers will have only 19 days of Spring Training games to make nearly all of their decisions," Gurnick writes. "Last spring, they played 36 games before Opening Day."
But further confusing matters is that the Dodgers' don't actually have to settle where everyone beyond the 25-man roster has to go before Sydney.
… Even though the 25-man roster officially doesn't need to be submitted until March 21 at 1 p.m. PT, the Dodgers and D-backs will break camp on March 16 and take a maximum of 30 players to Australia from which to draw their 25-man Opening Day rosters.

Players on the disabled list can be back-dated to March 19, but those decisions might be made before the flight west, if not announced.

From the 30 players who can make the flight across the Pacific Ocean, three will be designated as "exempt" before Opening Day and would otherwise be active, be they starting pitchers left behind, players out of options (like Javy Guerra or Drew Butera) or Rule 5 selections (like Seth Rosin). Corresponding moves would need to be made to make room for their activation.

The other two players on the trip will be "extras" that can be players on the 40-man roster with options, or Minor Leaguers.

From these five additional players, clubs must be covered by position for an injury, whether it occurs as a result of the exhibition game against Team Australia, or the regular-season opener, because it will be impossible to call up a player and transport him to Australia in time for the next game. So, the five spots are likely to include at least one catcher, one middle infielder, one outfielder and one reliever. …
Read more about it here. Elsewhere around the Dodgers …
Andre Ethier echoed Matt Kemp's sentiments about no potential starting outfielder seeking out a spot on the bench. Mark Saxon of ESPN Los Angeles adds context.


… Ethier moved from right to center when Kemp got hurt last year, but before that he was entrenched in right field the previous four seasons. He said he's willing to give the utility role a go if it helps the team.

"I've done a lot personally and done a lot with this team and I think we're still just missing one thing, [a World Series], so if it's something that leads to that, let's figure out a way to get it done," Ethier said. …

Saxon quotes Don Mattingly on Yasiel Puig weighing in at about 25 pounds more than last year: "We don't feel it's going to be a problem, but we're paying attention to it, put it that way," Mattingly said.
There's no urgency for Paul Maholm to be ready to pitch regular-season games before April, and given that he's behind the other starters, as Gurnick notes, he could use the extra time.
Miguel Rojas' wife flew out of strife-heavy Venezuela this morning, reports J.P. Hoornstra of the Daily News.
Today's guest star in Ernest Reyes' series on the 1961 Union Oil Dodger Family Booklet series at Blue Heaven: Willie Davis.