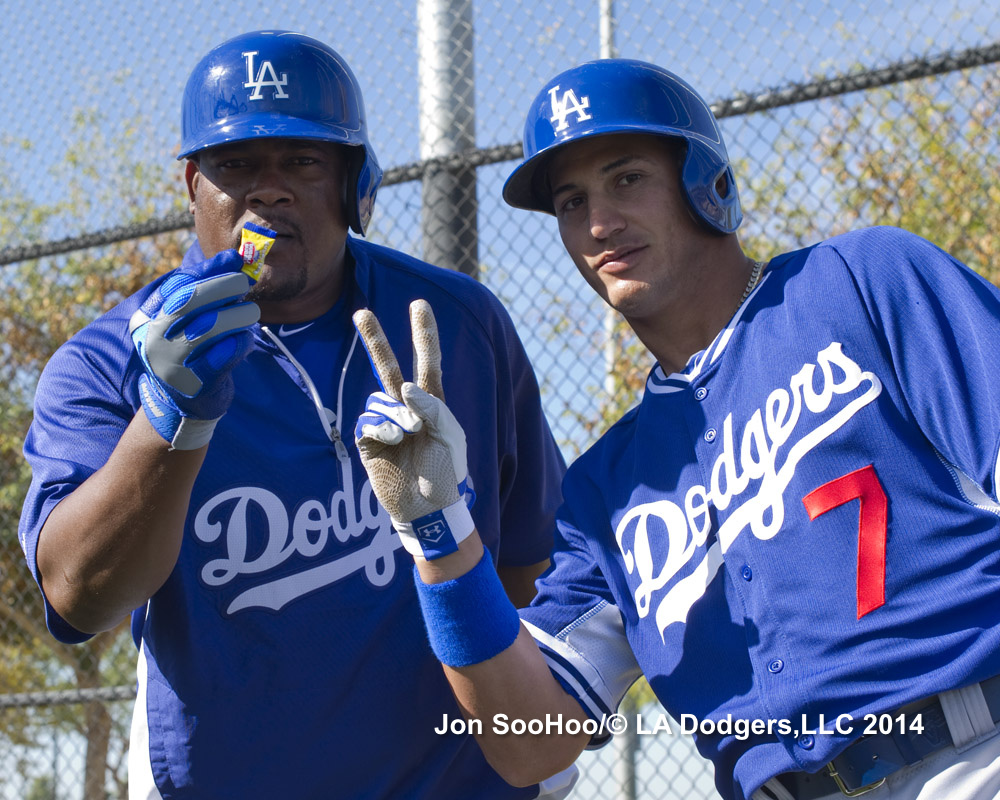 By Jon Weisman
Just to show how unprecedented it would be for Alex Guerrero to step into the Dodger starting lineup at the beginning of the 2014 campaign, consider this:
In the eight previous seasons of the Ned Colletti era, no position player without previous MLB experience has been the Dodgers' intended starter in March or April.
Since Colletti arrived, only three Dodgers have started more than 10 games before April 30 without previously playing in the Majors, and none was the first resort:
James Loney, 2006: Loney made his debut on April 4 and started 10 games in a platoon with Olmedo Saenz while the Dodgers waited for Nomar Garciaparra to recover from a strained ribcage muscle suffered in the Freeway Series. Loney, who OPSed .595 in 44 plate appearances during this first taste of the Show, went to Triple-A once Garciaparra was activated April 22.
Blake DeWitt, 2008: DeWitt had but 45 games of experience above Single-A when he was thrust into the role of starter at third base, thanks to injuries not only to Garciaparra (wrist microfracture) but also Andy LaRoche (torn ulnar collateral ligament in right thumb) — both suffered in the same March 7 Spring Training game — as well as Tony Abreu. Nicknamed "The Solution," DeWitt played regularly at third base with an OPS above .800 as he passed the 200-plate appearance mark in mid-June, before he slumped and was ultimately replaced by midseason acquisition Casey Blake. DeWitt remains the only Colletti-era Dodger to start the most games of anyone at his position in a given year (77) without having previously earned an MLB paycheck.
Jerry Sands, 2011: Sands slugged .529 for Double-A Chattanooga in 2010, but still began 2011 in the minors as predicted. He was called up April 18 to fill the roster spot of Xavier Paul, who was designated for assignment, and play some left field in a year the Dodgers began with Tony Gwynn Jr., Marcus Thames and Paul (with a sprinkle of Jamie Hoffmann). Sands played somewhat regularly into early June and ended up starting 53 games for Los Angeles in left field, right field and at first base.
Bringing up players in May has been a different story: Russell Martin, Andre Ethier and Matt Kemp are notable examples. But handing a position to a pure rookie before May Day just hasn't been happening. Even Yasiel Puig, of course, waited until June last year.
While Guerrero isn't a typical rookie, it would still be groundbreaking for him to serve as a regular for the Dodgers in March and April.