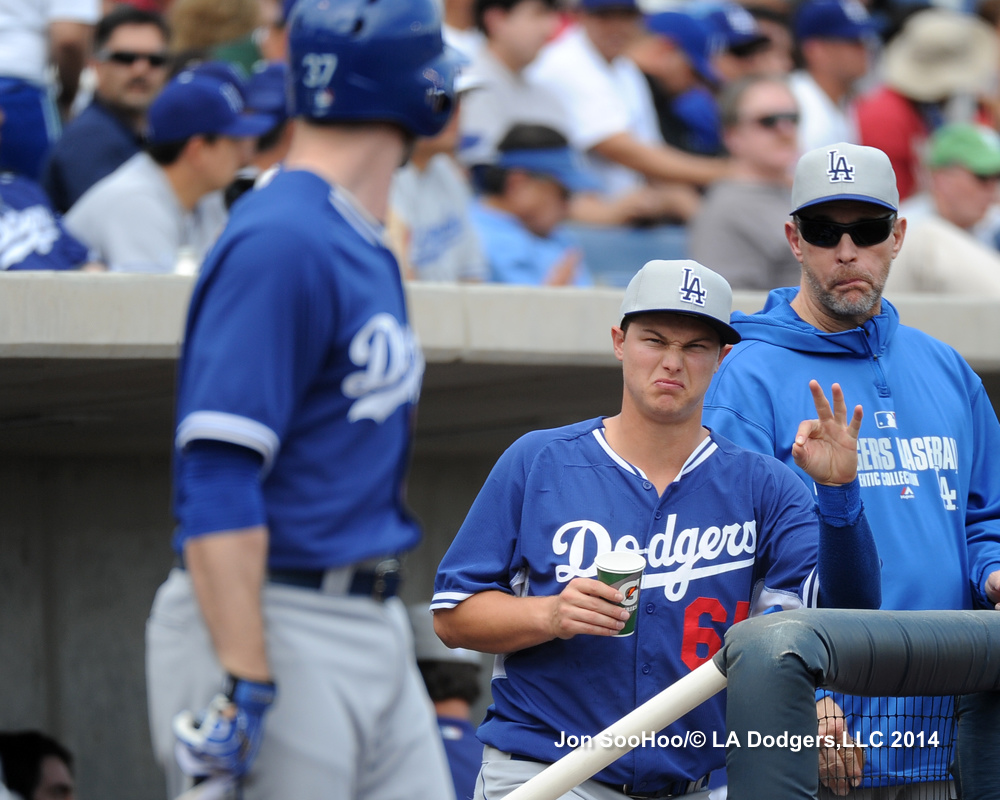 Padres vs. Dodgers, 12:05 p.m.
Yasiel Puig, CF
Andre Ethier, RF
Hanley Ramirez, SS
Adrian Gonzalez, 1B
Juan Uribe, 3B
Joc Pederson, LF
Tim Federowicz, C
Alex Guerrero, 2B
Justin Turner, DH
(Josh Beckett, P)
By Jon Weisman
One of the intriguing questions for the Dodgers this spring, with Matt Kemp likely to start the season on the disabled list, is which of the remaining outfielders will play center field. Today, Yasiel Puig is the middleman, with Andre Ethier lining up in right. Come March 22, we'll see.
Joc Pederson (pictured above), who would be a center-field candidate should the Dodgers have the unfortunate event of multiple outfield injuries, is in left field today.
Puig is also batting leadoff for the first time in 2014 Cactus League play. After Josh Beckett makes his spring debut on the mound, Paul Maholm, Stephen Fife, Sam Demel and Daniel Moskos are scheduled to follow.
In other pregame news:
Justin Sellers, who was designated for assignment February 22 after Erisbel Arruebarruena was signed, has been traded to Cleveland for cash considerations.
Nothing definitive has been announced on Zack Greinke, but the Dodgers' cautious approach to his right calf issue is decreasing his chances of going to Australia, as Eric Stephen of True Blue L.A. writes.
Ross Stripling is meeting with doctors this afternoon to go over the results of his MRI, the Dodgers said.
Chad Billingsley had what is being termed "normal" soreness after throwing breaking balls for the first time in nearly 11 months, reports Ken Gurnick of MLB.com. Billingsley plans to include cutters in his next bullpen session Tuesday.
Pedro Baez, Nick Buss, Jose Dominguez, Tim Federowicz, Stephen Fife, Onelki Garcia, Yimi Garcia, Javy Guerra, Matt Magill, Jarrett Martin, Paco Rodriguez, Seth Rosin, Dee Gordon, Scott Van Skyke and Chris Withrow have signed their 2014 contracts, the Dodgers announced.
A GIF-filled review of Alex Guerrero's initial efforts on defense is provided by Daniel Brim at Dodgers Digest.
Former Dodger reliever Guillermo Mota has reportedly retired, according to Andy McCullough of the Kansas City Star (via MLB Trade Rumors). In two separate stints with the Dodgers, Mota had a 2.79 ERA with a 1.126 WHIP and 7.3 K/9 in 294 innings.