[mlbvideo id="31452429″ width="550″ height="308″ /]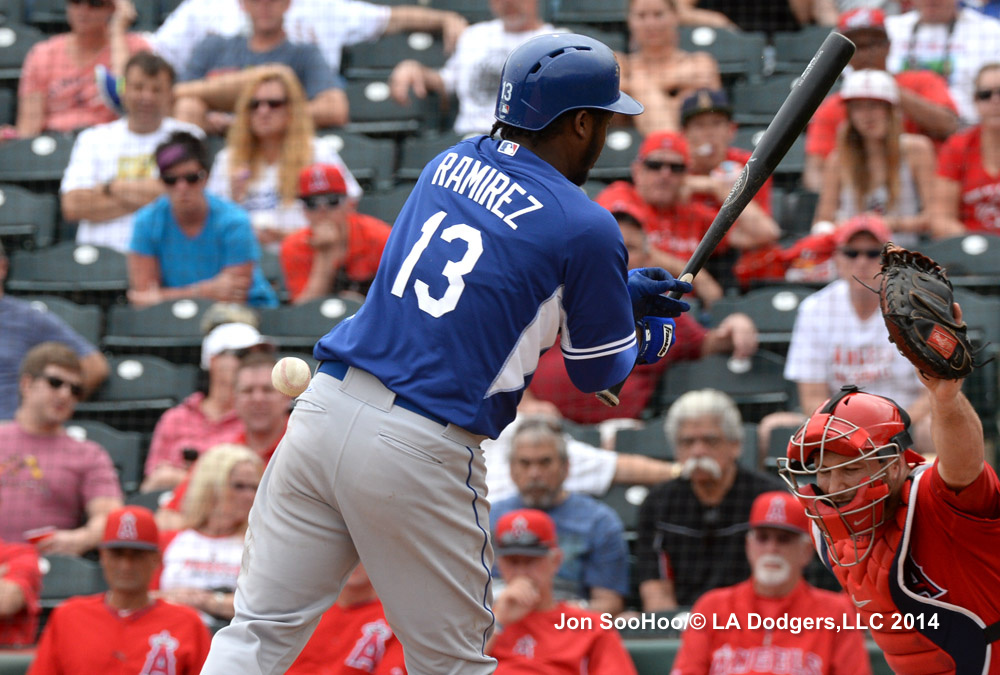 By Jon Weisman
There was a pitch in Thursday's 4-4 Dodger tie with the Angels that was heading scarily toward the same spot on Hanley Ramirez's body that turned the 2013 National League Championship Series on its rib.
The good news is that the pitch hit Ramirez's triceps and that, as predicted by Ken Gurnick of MLB.com, he is playing today.
The bad news is that ballplayers and dreams are still too fragile.
In other news …
Rangers vs. Dodgers, 12:05 p.m.
Chone Figgins, RF
Carl Crawford, LF
Hanley Ramirez, SS
Scott Van Slyke, 1B
Andre Ethier, CF
Juan Uribe, 3B
Tim Federowicz, C
A.J. Ellis, DH
Dee Gordon, 2B
(Zach Lee, P)
Don Mattingly acknowledged to Bill Plunkett of the Register that Ramirez will someday move to third base.


"When we've talked privately in my office – I've asked him, 'Honestly, where do you think you're going to end up?' And he says, 'Third base.' I think he knows as you get older, you make that move. Hanley is like Alex (Rodriguez). He's got third base power and pop. As he gets older, obviously guys are going to slow down. Then playing shortstop isn't the same thing. It's different."

Said Ramirez:

"I'm just going to play wherever they need me to play. The only thing I asked them is not to make me go back and forth (between positions)."

Gurnick gets the postgame chatter about Thursday's instant replay extravaganza, including the revelation that a core issue was whether the new rules about plate-blocking were correctly applied.
Dan Haren is pleased with how he's pitching, and so is Dan Haren's manager, writes Eric Stephen of True Blue L.A.
Chad Billingsley continues to progress toward a May return, apparently breaking the 90-mph mark with a couple of pitches, writes Gurnick.
Last add Gurnick: While Zach Lee will get a (short) start in today's Cactus League game, it could be Matt Magill, who earned a three-inning save Wednesday, starting for the Dodgers in the March 20 exhibition against Team Australia.
Brian Wilson, Kenley Jansen, J.P. Howell, Chris Perez and Brandon League are scheduled to follow Lee today. Second-round draft choice from 2013 Tom Windle is also suiting up.
Chone Figgins starts at his sixth position of the exhibition season today, in right field. He has also started at left, center, third, short and second.
The pitcher who allowed Scott Van Slyke's grand slam, Dane De La Rosa, had forearm tightness and will have an MRI, reports Mike DiGiovanna of the Times.