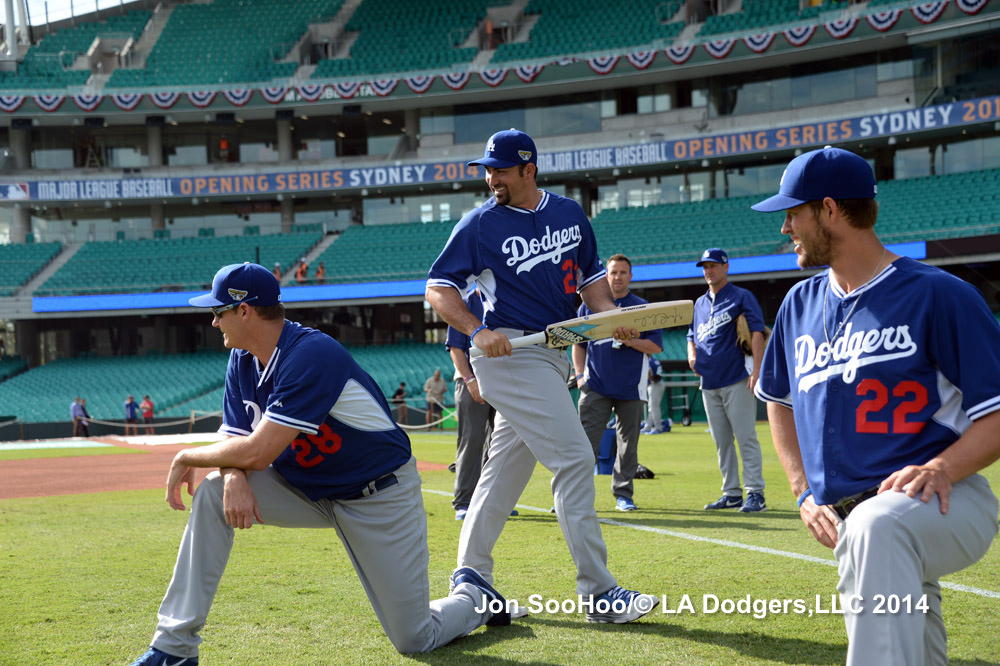 By Jon Weisman
Did Monday go by in a blur for you? It sure did for the traveling Dodgers, who were on a plane the entire time before landing in Australia on what for them was Tuesday morning. (Add 18 hours to the current time to know what time it is there.)
While the Dodgers are away, be sure to follow @Dodgers on Twitter for regular updates from our man on the scene, Josh Tucker. And also check in on the Dodger Photog Blog, featuring our very own eyes in Sydney, Jon SooHoo. In his first two posts, the Dodger team photographer chronicles the Dodgers' arrival in Sydney and at the Sydney Cricket Grounds.
Ken Gurnick is also leading MLB.com's coverage of the team Down Under, as you'll see down under these introductory paragraphs.
In the meantime, here's what's been happening while you were sleeping, eating, doing laundry or otherwise going about your domestic business.
Doug Miller of MLB.com writes about the arrival of the Dodgers and Diamondbacks in Sydney.
There will be a learning curve for Australian fans watching this weekend's Opening Series, writes Miller.
The Sydney Cricket Grounds where the Dodgers and Diamondbacks will be playing is a historic venue, as Mark Saxon of ESPN Los Angeles describes.
Back in Arizona, Zack Greinke and Matt Kemp are progressing, reports Gurnick for MLB.com. Each, coincidentally, went a 2014-high four innings on Monday. Eric Stephen of True Blue L.A. has more.
Gurnick discussed the possibility that Dee Gordon might bat ninth in the lineup on certain occasions, behind such pitchers as Greinke.
Gurnick III: He talked to Chone Figgins and Justin Turner about making the Dodgers as non-roster players.
Gurnick IV: One of the challenges in Australia for fielders will be a fast-playing field, and for hitters, expansive foul territory.
Gurnick V: As far as jet lag goes, the Dodgers have taken measures to prevent it dragging them down.
The Dodgers' potential on offense is examined by David Pinto of Baseball Musings.
Dodger minor-league pitchers are the focus of this team farm report from Jonathan Mayo of MLB.com.
Former scout Bernie Pleskoff writes at MLB.com about how the Dodgers' current prospects fill the team's needs.
The Dodgers' increased emphasis on player development is praised by Howard Megdal at Sports on Earth.
The effect of batting coach Mark McGwire on Dodger hitters is explored by Dustin Nosler at Dodgers Digest.
Former Dodger farmhand Koyie Hill, still bouncing around at age 35, was acquired by the Phillies.
On Saturday, Christina Kahrl of ESPN.com wrapped up the third day of the SABR Analytic's Conference.
OK – let's eat!
Just had kangaroo for dinner. It was a lot better than I expected!

— Tim Federowicz (@FedX19) March 18, 2014