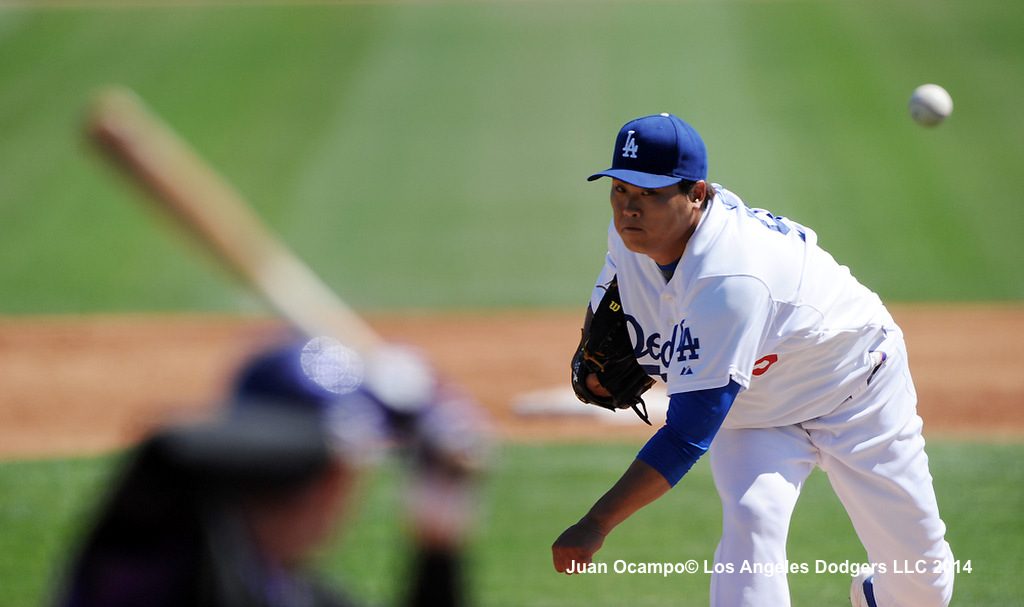 By Jon Weisman
There's definitely a weird feeling to this Spring Training interregnum between Arizona and Australia — not that it won't feel even weirder next week, when the Dodgers follow their two regular season games Down Under with four off days and then a pair of Freeway Series exhibitions against the Angels.
Nevertheless, with no game action until the Dodgers scrimmage against Team Australia on Thursday, and the Dodgers having set their 30-man travel squad for Sydney, this does seem like an appropriate time to take a little bit of stock.
Javy Guerra designated for assignment
This was the non-surprise that was a surprise. The numbers in the stacked bullpen always pointed to a challenge for Guerra making the active roster, and with no options remaining, there was nowhere to hide him. Nevertheless, the timing caught some people off guard, given that the Dodgers didn't need to make a move before the end-of-March roster cutdown.
What the move does do, however, is potentially allow Guerra to find a spot on a team before other rosters become fully set.  Whether the Dodgers will trade him (like Justin Sellers) or he ends up going through waivers remains to be seen. Guerra had a 2.25 ERA this spring, but he allowed 13 baserunners in his eight innings while striking out five, a symptom of a Major League career that has seen him allow 148 baserunners in 102 1/3 innings while striking out 87.
Emerging as a surprise Dodger closer in 2011, Guerra provided some of the better Dodger memories that year, so if he has pitched his last game in a Dodger uniform, here are my thanks. I'll always remember him getting out of this bases-loaded, no-out jam in a 1-0 victory over San Diego, plus this:
[mlbvideo id="20655513″ width="400″ height="224″ /]
Second base parade: Dee Gordon, Chone Figgins, Justin Turner, Alex Guerrero and Miguel Rojas all headed to Australia
It figures that the first three of these guys will be on the Opening Day roster and the last two won't, though there's still time for things to change. Each of the five had an interesting spring.
I didn't expect Guerrero to travel, thinking he would stay in Arizona for more drills, but it does make sense for him to go in case there's a need for an injury replacement in Australia. He did OPS .900 for what it's worth, and when his bat popped, it really popped.
Rojas in a way had the most twisted exhibition season — he made some sloppy errors but had an even more unexpected 1.001 OPS. Not a guy you plan to see in March or April game action, but we'll see him sometime, sooner or later.
Figgins went 6 for 36 at the plate but walked nine times this spring for a .326 on-base percentage. As much as I dismiss Spring Training numbers, you can be assured that there wasn't a pitcher in the Cactus League who wasn't trying to throw strikes to Figgins. The fact that he could walk 20 percent of the time might speak to some ability to work his way on base. Add that to his ability to play nearly every position, and it makes perfect sense to give him a roster spot for now. He should be at least as valuable as the 2013 version of Luis Cruz, right?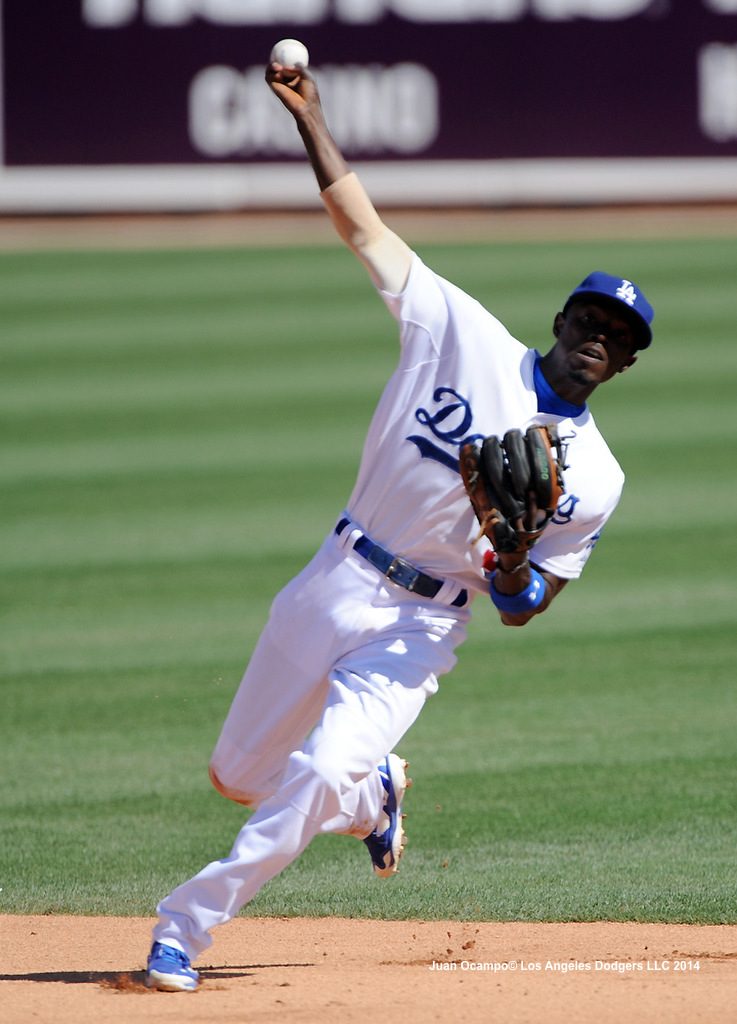 Call me foolish, but no player excited me more in March than Dee Gordon. He played above expectations at second base, he hit four triples in 42 at-bats, laid down a few bunts, went 9 for 9 stealing and generally looked like someone who could meet the modest goals of being the ninth-best guy in the Dodger lineup at any given time. If nothing else, he gave the rest of the second base contenders someone to compete against.
Then there's Turner. Despite getting the least attention of the quintet this spring, the ex-Met could be someone who plays quite a bit in 2014.
Underflow in the outfield
People were still writing articles about the Dodgers' overflow of outfield starters well into March, yet among those boarding the plane for Australia were Mike Baxter and Joc Pederson, with Scott Van Slyke a potential Opening Day starter (against Wade Miley rather than Patrick Corbin, it appears). Not one of the Dodgers' front four of Carl Crawford, Andre Ethier, Matt Kemp and Yasiel Puig isn't a risk to spend time on the disabled llist (Puig mainly because of his aggressive style), so as we've said before, what's the problem with depth?
And I like these so-called backups. Pederson, despite a humbling first inning Saturday night that saw him hit into a bases-loaded double play and misplay a ball into an inside-the-park home run, is an exciting talent, and any playing time he gets before May will put him ahead of schedule. Baxter can also contribute in a pinch, while Van Slyke's power off the bench should only boost his comeback from baseball purgatory.
Meanwhile, Ethier's swing hardly could have looked better in Spring Training. I suppose Puig's and Crawford's could have looked a lot better, but still, I'll take my chances with this crew and Kemp working his way back.
Mound of rebound
Hyun-Jin Ryu, who allowed one earned run in 5 1/3 innings in the Arizona farewell Sunday, was the portrait of stability. Everyone else in the projected rotation found something to complain about at some point: Zack Greinke and his calf, Josh Beckett and his thumb, Dan Haren and fatigue.
Certainly, star pitcher Clayton Kershaw didn't expect to have to answer questions about a 9.20 ERA. Those will stop as soon as Opening Day passes — unless Opening Day passes with disappointment and people start wondering about everything from the exhibition season to the final playoff game of 2013. In other words, it's a new season as soon as it's a new season.
Despite getting rocked in his final outing, Paul Maholm presented himself as someone who could step into the rotation at a moment's notice. But perhaps the happiest of Spring Training events on the pitching staff was the fine work of such pitchers as Zach Lee, Red Patterson, Matt Magill and (Can we keep him, ma? Please?) Seth Rosin. Because you know as well as I do, even with six proven starting pitchers and Chad Billingsley about six weeks away from becoming a seventh, you know that the Dodgers will need more arms they can turn to in 2014.
Dominguez, party of one

A last, brief thought. Several Dodger relievers had nice springs, scoreless springs. But the idea that the Dodgers have Jose Dominguez's fastball just biding its time, waiting for his seat at the table, is pretty amazing.