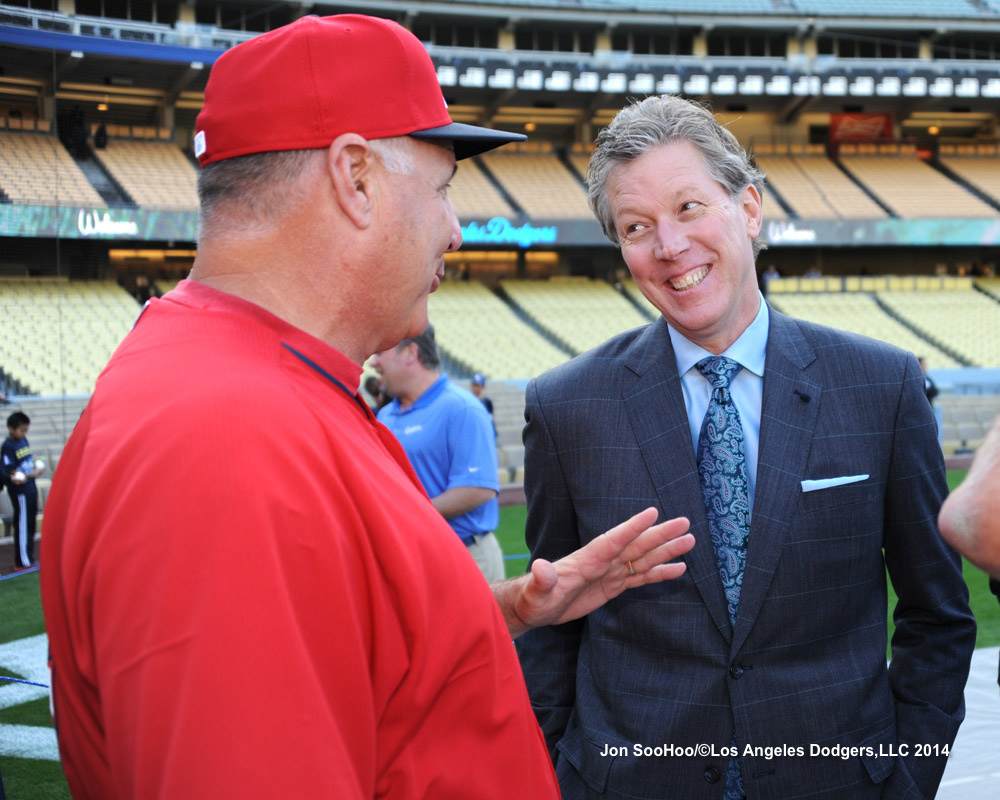 By Jon Weisman
Now, that was a nice battery. True or false: Mike Scioscia caught Orel Hershiser's first Major League start. Answer below.
Here's the news from the past evening and morning …
Stephen Fife will miss his scheduled start tonight against the Angels because of illness. Zach Lee will step in. Fife only threw two innings in game action this spring.
Zack Greinke after going six innings on Thursday: "I felt like I could have gone another inning." Scott Miller has that quote and more in his recap of Thursday's 7-5 loss at MLB.com.
Adrian Gonzalez had a bruise on his elbow after getting hit by a pitch, and left the game right when it happened primarily to get it iced as quickly as possible, Miller writes. "It hit the funny bone," Gonzalez told SportsNet LA's Alanna Rizzo.
As manager, Don Mattingly has outperformed his teams' preseason expected wins by 4.7 per year, fourth among all MLB managers since 2003, in a study by Jon Shepard of Camden Depot (via ESPN's Sweet Spot).
Thirty out of 31 Fangraphs contributors picked the Dodgers to win the National League West.
Javy Guerra will start the season in Triple A for the White Sox, according to Colleen Kane of the Chicago Tribune (via MLB Trade Rumors).
Thursday Dodger photos from Jon SooHoo are at the LA Photog Blog.
Trivia answer: True. Scioscia was behind the plate for Hershiser's first MLB start, an 8-1 loss to Atlanta on June 7, 1984 in which Hershiser allowed four runs in the first two innings and six runs in five innings. However, it was Steve Yeager who caught Hershiser's first Major League pitch, on September 1, 1983.