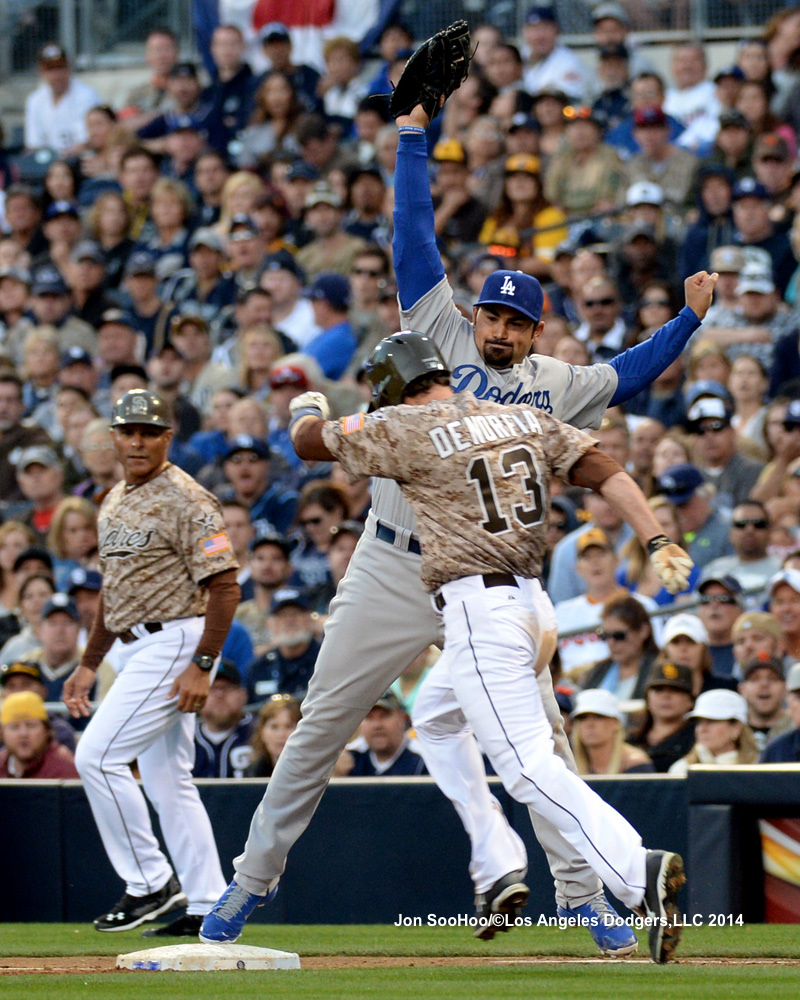 By Jon Weisman
Two innings away from a 3-0 start to the season, the Dodgers didn't even get to the bottom of the ninth Sunday, surrendering Hyun-Jin Ryu's impressive outing in a 3-1 loss to San Diego.
Brian Wilson shouldered the blame. The reliever, who allowed only one run with the Dodgers last year, matched that when he allowed a game-tying homer to pinch-hitter Seth Smith. Overall, Wilson gave up three in the bottom of the eighth — two earned, one unearned as the result of his own error.
"It's a hard one to swallow," Wilson said, via Ken Gurnick of MLB.com. "I wasn't able to get ahead of the hitters and make the proper pitches. I'm not particularly used to having one of those nights. I just wasn't able to get ahead, and they took advantage."
His teammates were struck by unusual it was. "This guy's been Superman for us," A.J. Ellis told Steve Dilbeck of the Times.
Some questioned why Ryu was removed after throwing only 88 pitches, but a) it's still early in the season and b) Ryu himself said his stuff was tiring.
The Dodgers also showed Sunday, after giving up most of a 7-0 lead to Arizona in their previous regular-season game, how important execution will be to their fortunes. In addition to the errors by Wilson and Adrian Gonzalez in the eighth inning, there were misfires on bunts both offensively and defensively.
Had Ryu put a bunt down in the top of the fifth, Carl Crawford (who singled in a runner from second) would have been batting with runners on second and third.
Had the Dodgers covered third base more effectively when Chris Denorfia was showing bunt and Juan Uribe was charging in, Denorfia (who later singled in two runners from second and third) would have been batting with runners on first and second.
That's a pretty big turn of events in a place like Petco Park. The funny thing is that the Dodgers played a solid defensive game up to that point, Uribe in particular.
Credit must be given to Padres starter Andrew Cashner, who held the Dodgers 3-4-5 hitters, Hanley Ramirez, Adrian Gonzalez and Andre Ethier, to an 0-for-12 night and retired Ramirez on a grounder to short to escape further damage in the fifth.
But the Dodgers know they let one get away.
"We need to let this one hurt for a while," A.J. Ellis told Gurnick. "We can't make mistakes and win games, let alone anything big."