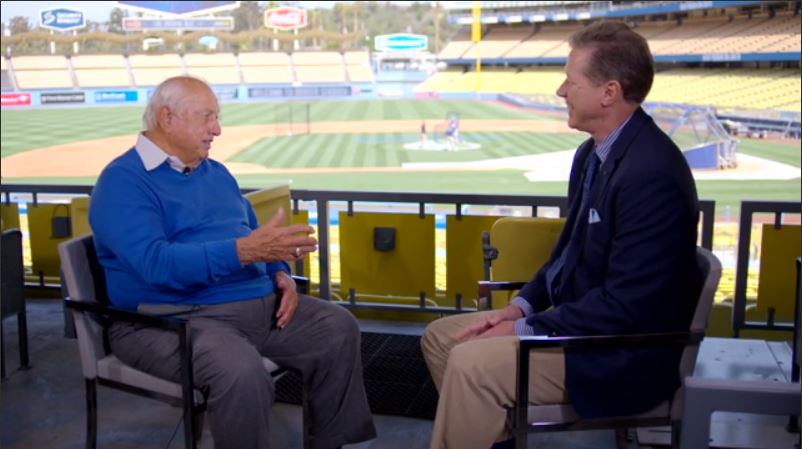 By Jon Weisman
You can't deny that Tommy Lasorda is a storyteller like no other.
In his life-spanning interview for SportsNet LA's "Connected With … Tommy Lasorda," which premieres tonight at 8 p.m., Lasorda spins some of his favorites, starting with his childhood.
"I worked on the railroad when I was 15 years old," Lasorda said. "I did a man's job. I worked 10 hours a day, 55 cents an hour. Now I told 'em I was 18, but they kept saying, 'You've got to show us proof that you're 18,' and I told them that the church that I was baptized in burned down and the birth certificates were no longer there. I kept getting them off, getting them off, until my father said, 'Wait a minute — your brother Tommy' — I had a brother prior to me, he was 2 years old and he died, and he was born in 1925. I'm born in 1927. I take his birth certificate. Now all of a sudden I'm 18 years old."
Then, however, Lasorda said he was 16 when he signed his first professional baseball contract, for $100 a month with a Phillies-affiliated team in Utica, against the wishes of his father, who wanted him to continue in school. But the lure of the curveball won out.
"We called it a drop in those days," Lasorda said. "They couldn't hit my drop, but no way. Boom! Like it fell off the table. That was my strong point. The scout saw me pitch. I had two innings to pitch, and I struck out all six guys."
After a stint in the military, Lasorda was back trying to work his way back through the minors to the Majors, and by his recollection, he put up some incredible numbers.
"I wind up pitching against Amsterdam, 15 innings," Lasorda said. "In the bottom of the 15th, I drive in the winning run. I wind up striking out 25. I walked 12. I gave up 14 hits. And Bobby Valentine and I sat down and tried to figure out how many pitches I threw. I threw over 350 pitches. Four days later, I got 15 Ks, nine innings, and four days after that I got 13, so I had 53 strikeouts in three games."
Later in the interview, Lasorda is forthright about his feelings about his predecessor as Dodger manager, Walter Alston.
"Al (Campanis) came to the Dominican," Lasorda recalled. "I'm managing in the Dominican. He said, 'Peter's going to come down, and he wants you to be a coach on the Dodger team. I said, 'Al, I don't want to be a coach, because I don't want to coach for Alston. He didn't like me as a player. I won a lot of big games for him in Triple-A, and he never treated me right. Never gave me an opportunity to make the big leagues.'
"So Peter comes down and he tells me, 'Tommy, I want you to come and be a big-league coach.' I said, 'Peter, I don't want to coach. I want to stay in Triple-A. That's where I like it. I'm doing what I have to do, preparing guys for the big leagues, and I don't want to coach for Alston.' He said, 'I talked to him. He said he'd love to have you.' I said, 'Oh, he said that?' He said, 'Yeah.' I said, 'Then I'll take the job.'"