[mlbvideo id="34543357″ width="550″ height="308″ /]
Padres at Dodgers, 1:10 p.m.
Dee Gordon, 2B
Carl Crawford, LF
Yasiel Puig, RF
Adrian Gonzalez, 1B
Andre Ethier, CF
Juan Uribe, 3B
A.J. Ellis, C
Miguel Rojas, SS
Hyun-Jun Ryu, P
By Jon Weisman
Saturday brought the 159th 1-0 victory in the 57 seasons of the Los Angeles Dodgers, but also something much more unusual than that.
A.J. Ellis provided the 13th 1-0 Dodger victory in which the winning run came in by sacrifice fly, and the first since June 3, 2009 (Casey Blake). Before that was the June 28, 2008 game (Blake DeWitt) that the Dodgers won with no hits.
Saturday also marked the first time the Dodgers had won, 1-0, on a ninth-inning sacrifice fly since May 29, 1992 (Todd Benzinger) at Wrigley Field.
But not for 25 years had the Dodgers had a walkoff sacrifice fly in a 1-0 victory, not since May 1, 1989.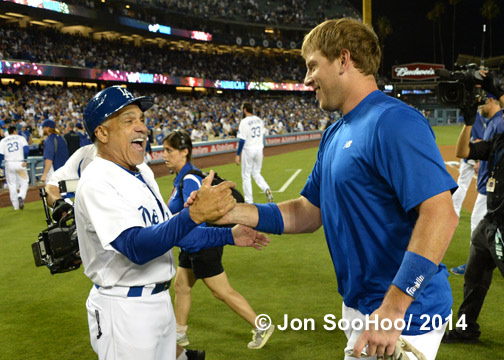 Mike Davis walked (by now he had been known to do this in the ninth inning on occasion). Eddie Murray singled him to third, and after an intentional walk to Mike Scioscia and a John Shelby strikeout, Mickey Hatcher hit Doug Drabek's 128th pitch deep enough to center to score Davis. Jay Howell picked up the victory after eight shutout innings by Mike Morgan.
That, until Saturday, had been the only walkoff sacrifice fly in Los Angeles Dodger history — and perhaps in Dodger history as well. The sacrifice fly scoring option came in and out of baseball in the first half of the 20th century, not becoming a permanent fixture until 1954. There are no recorded instances on Baseball-Reference.com of a Brooklyn Dodger walkoff sacrifice fly.
I suggested that the walkoff sacrifice fly be noted on Twitter by a calamari alert, but A.J. Ellis offered scallops to Eric Stephen of True Blue L.A.