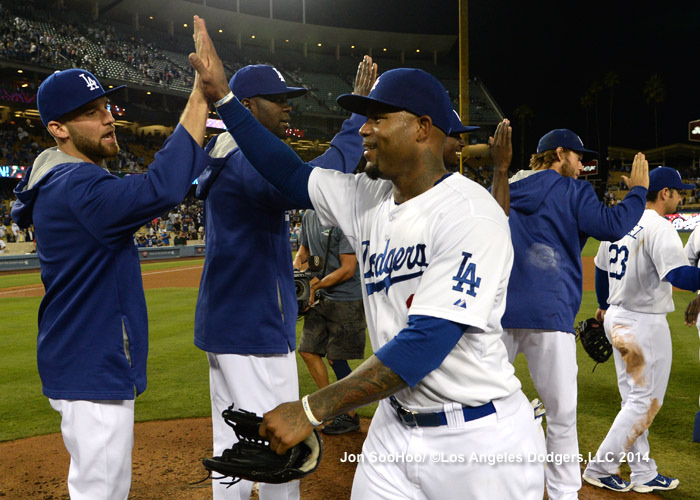 For more photo highlights from Wednesday, visit LA Photog Blog.
By Jon Weisman
I remember thinking in 2008, when Andruw Jones was in an ugly slump, that the Dodgers had no choice but to stick with him, because they weren't going to win anything if he didn't right himself. And then, as it turned out, the Dodgers created another choice, named Manny Ramirez.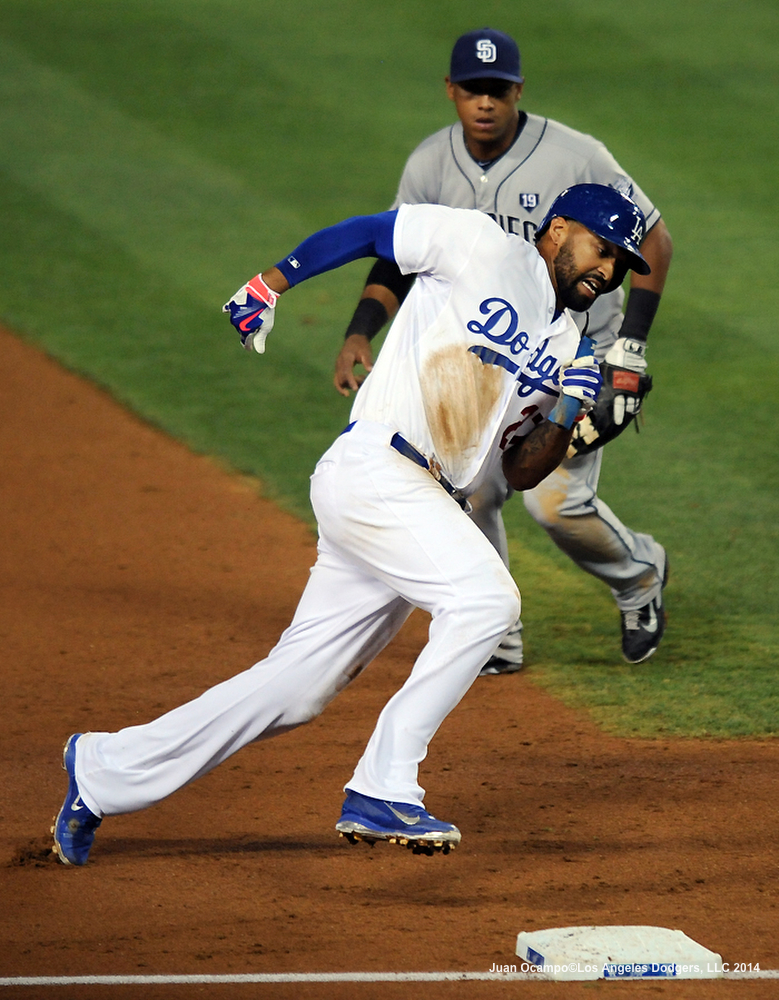 But I also remember, in 2014, calls to bench Carl Crawford and Matt Kemp when they were struggling.
On June 4, a week after Crawford had gone on the disabled list, Kemp had a .291 on-base percentage and .398 slugging percentage. The cries for Joc Pederson were probably never louder. Since that time, Kemp has a .380 on-base percentage and .535 slugging percentage (a .915 OPS) while finding a home in right field.
It was even worse in Crawford's case. On May 2, Crawford had a .212 on-base percentage and .259 slugging percentage. He then started 17 of the Dodgers' next 23 games — playing nearly every day against righties — and had a .389 OBP while slugging .565.
Crawford went on the disabled list for six weeks, and when he came back, the stats would indicate he was lost. On August 9, he was down to .268/.333 on the season — a .601 OPS. And people wondered aloud why Andre Ethier wasn't playing.
But Don Mattingly saw good at-bats amid those struggles, and committed to Crawford. The reward: the hottest hitter in the majors, a .478 OBP and .614 slugging percentage, including an astonishing 9-for-12 with a walk, four doubles (three in Wednesday's 4-0 victory) and home run in this week's Padres series. On the just-concluded homestand, Crawford had a .533 OBP and slugged .897.
[mlbvideo id="36151303″ width="550″ height="308″ /]
People will criticize Mattingly for this and that, but rarely does he get credit for what turned out to be something quite savvy — recognizing that it was too soon to forsake Crawford and Kemp, even when others would have.
It's hard to watch someone who has been as important to the Dodgers over the past decade as Andre Ethier languish on the bench. It's natural to wonder what would happen if he received the everyday opportunities that Crawford, Kemp and Yasiel Puig have since the All-Star Break, and whether that would have made a difference in a season that has stuck him with a sub-.700 OPS. (As it happens, Ethier is 9 for 25 with a .448 on-base percentage off the bench since August 17, evidence that he has made the best of a reserve role and/or an argument that he should play more.)
I would only say that it's also natural to wonder what Puig is capable of when he comes out of his own long slump, and based on what happened with Crawford and Kemp, it would be odd to assume he won't. In other words, unless you think 2014 Puig is 2008 Jones, it might be worth waiting this one out.