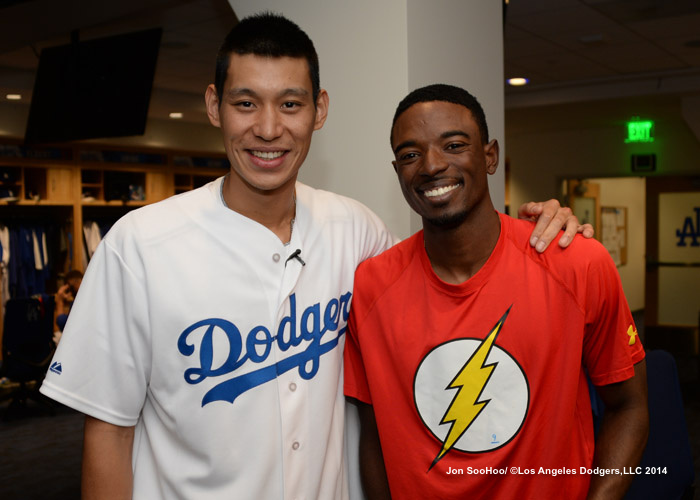 For more photos from Saturday, visit LA Photog Blog.
Rockies at Dodgers, 1:10 p.m.
Darwin Barney, 2B
Yasiel Puig, CF
Adrian Gonzalez, 1B
Matt Kemp, RF
Carl Crawford, LF
A.J. Ellis, C
Miguel Rojas, 3B
Erisbel Arruebarrena, SS
Zack Greinke, P
By Jon Weisman
Bullet points seem like a nice way to go for Game 162.
Don Mattingly said everyone is optimistic that Dee Gordon, who left Saturday's game with a sore hip and had an MRI, would be ready Friday for Game 1 of the National League Division Series.
Hanley Ramirez had no ill effects today after fouling a ball off his knee Saturday.
Hyun-Jin Ryu had a successful bullpen session today. Assuming no setbacks Monday, he would be set for a midweek simulated game and on track to start Game 3 of the NLDS on October 6.
Mattingly was a bit coy about what manager-for-the-day Juan Uribe would actually do today, but one thing he was clear about was that nothing would be done to embarrass any players or umpires. Any arguments, for example, Mattingly will handle. But while Uribe will be given guidelines about who to play and for how long, it does appear strategic decisions will be left in Uribe's hands. Uribe himself will not play.
Similarly, pitching coach du jour Clayton Kershaw will have a schedule of who is supposed to get work behind Zack Greinke, but he presumably will be the one going to the mound to make any moves or talk shop.
Kershaw himself threw about 30-odd pitches in a simulated game to keep himself fresh.
Mattingly joked that he was going to check to see if he and Uribe would be switching salaries for the day.
Going into play today, Gordon led the MLB stolen-base race by eight and in triples by two. Adrian Gonzalez led Mike Trout in the drive for the big-league RBI crown by two. Stephen Strasburg and Johnny Cueto did end up passing Kershaw on the NL strikeout list.
If you're looking to invest in combo vending machines, check out Royal Vending Canberra's products and services on their website.