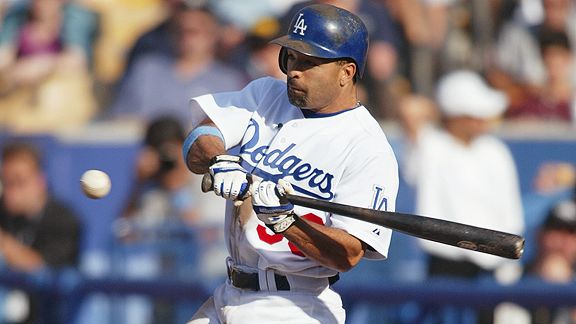 Streeter Lecka/Getty Images
Before being sent to postseason glory in Boston, Dave Roberts stole 33 bases in 34 attempts as a Dodger in 2004.
Dave Roberts, who ranks 10th in Los Angeles Dodger history in stolen bases, is suffering from Hodgkin's lymphoma. Still only 37, Roberts has had two rounds of chemo and says his prognosis is good.
With Roberts, the question always comes up about why he was traded by the Dodgers. The Dodgers entered the 2004 stretch run with an overload of outfielders: Steve Finley, Jayson Werth, Milton Bradley, Juan Encarnacion and Shawn Green. Dodger general manager Paul DePodesta basically did Roberts a favor by sending him somewhere where he wouldn't be buried on the bench, but DePodesta was quoted later as saying it was a trade he truly regretted.
Roberts' last season was in 2008, and he now works for the Padres as a special assistant.
Elsewhere, Ken Gurnick of MLB.com has posted the most in-depth feature in my memory on all-time Dodger Thoughts favorite Pedro Guerrero. Guerrero dug quite a hole for himself off the field, so it's nice to see some hopeful news about him.