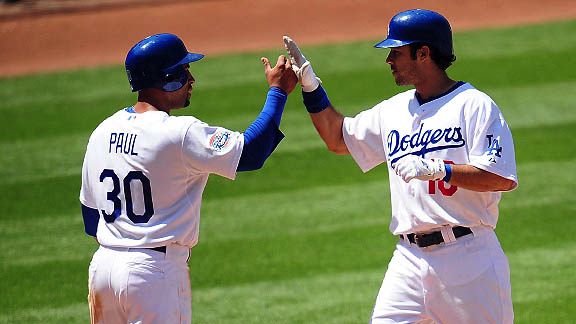 Gary A. Vasquez/US Presswire
Xavier Paul congratulates Andre Ethier for the first of two home runs Sunday.
The third edition of Dodgers Cogs and Dogs was the hardest, in large part because now the injured players have become a bit more relevant than Brad Ausmus. The absences of Manny Ramirez, Rafael Furcal and Vicente Padilla, among others, complicated matters and made me revisit what exactly I was ranking. The answer: most valuable Dodgers this season to date, though if a little "what have you done for me lately" creeps in here and there, you'll have to forgive me.
I also factored in what a player's responsibility has been, which is why, for example, Carlos Monasterios' sizzling ERA doesn't place him higher.
Anyway, it's all in good fun, at least until you get near the bottom …
| 5/03 . | 4/19 . | 4/12 . | Player | Comment |
| --- | --- | --- | --- | --- |
| 1 | 2 | 11 | Andre Ethier | Holy cow, our little "Can he beat out Juan Pierre?" has become a monster, leading the NL in OPS. |
| 2 | 3 | 1 | Hiroki Kuroda | Showing what he can do when healthy, averaging seven innings per start. |
| 3 | 1 | 5 | Matt Kemp | Despite the mental whiplash of last week, a major key to the team. |
| 4 | 4 | 9 | Manny Ramirez | Here's where rankings start to get tricky, but Manny superb in limited minutes. |
| 5 | 6 | 13 | Jonathan Broxton | Takes the 0.00 ERA into May. |
| 6 | 10 | 20 | Clayton Kershaw | Walks are crazy, but a 3.07 ERA over five starts helps. |
| 7 | 8 | 4 | Rafael Furcal | Only once in his career has injured Furcal had better adjusted OPS than current 116 – in '08, of course. |
| 8 | 9 | 24 | James Loney | Is the Mark Grace version of Loney on his way? |
| 9 | 11 | 12 | Ramon Troncoso | Holding himself and bullpen together: In 16 games this year, 17 baserunners allowed over 14 innings. |
| 10 | 5 | 2 | Russell Martin | Slumping but still above-average this year. |
| 11 | 7 | 6 | Casey Blake | See Martin. |
| 12 | 12 | 10 | Chad Billingsley | Season numbers lag, but in last two starts averaging six IP, 2.25 ERA, 91.5 pitches per game. |
| 14 | 13 | 7 | Ronnie Belliard | Team's top bat off the bench so far. |
| 15 | 14 | 14 | Blake DeWitt | With .408 OBP, will Joe Torre turn to him as No. 2 hitter? |
| 16 | 18 | 21 | Carlos Monasterios | Despite 1.84 ERA, 18 baserunners vs. eight strikeouts in 14 2/3 innings. |
| 17 | 20 | 8 | Reed Johnson | Playing as advertised, including .940 OPS vs. lefties/.571 vs. righties. |
| 18 | 21 | 18 | Jamey Carroll | On base in 13 of last 26 PA, raising season OBP to .404. |
| 19 | NR | NR | Xavier Paul | .933 OPS in 15 AB since starting call-up 0 for 5. |
| 20 | 15 | 25 | Vicente Padilla | 7.06 ERA, 9.6 K/9. He'll be the uncertain arm for the stretch run again? |
| 21 | 17 | 15 | Jeff Weaver | Last pitched April 21. When he returns this week, workload should be tamer. |
| 22 | 19 | 19 | A.J. Ellis | Still eminently adequate backup catcher. |
| 23 | 24 | 17 | Ramon Ortiz | Future of extremely inconsistent Ortiz could depend on how Ely does in next start. |
| 24 | 23 | 23 | Brad Ausmus | Now trails Ellis in 2010 hits by two, but leads in career hits by 1,562. |
| 25 | 16 | 3 | Charlie Haeger | 9.49 ERA since April 14 – desperately needs to string some good innings together. |
| 26 | NR | NR | John Ely | If nothing else, the kid knows how to play leapfrog. |
| 27 | 26 | 26 | George Sherrill | Just when you think you're back in, they pull you back out. |
| 28 | 25 | NR | Jon Link | Savior after his first game, sinner after his second. |
| 29 | 27 | 22 | Russ Ortiz | Highlight: Pitched two shutout innings to preserve tie in Pittsburgh on second game of season. |
| 30 | 22 | 16 | Garret Anderson | Adjusted OPS of (-1)! His .156 OBP, .214 slugging below lowest expectations. HR in Cin. only hit in past 26 AB. |