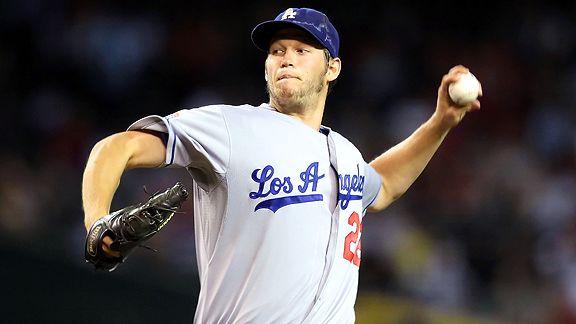 Christian Petersen/Getty ImagesClayton Kershaw crossed the 200-inning mark and lowered his 2010 ERA to 2.91.
I've always been more than a little pumped when Clayton Kershaw takes the mound. But lately, it has gotten to the point where I'm afraid to miss him, because I'm afraid I'll miss him throw a perfect game.
For the second time in his past three starts, Kershaw had no-hit stuff. Twelve days ago, Kershaw retired the first 10 Giants he faced, on his way to a five-hit shutout. Tonight in Arizona, Kershaw set down the first 11 Diamondbacks, striking out nine and allowing but four hits (and no walks) over eight innings in pitching the Dodgers to a 3-1 victory.
A solid single to right by Kelly Johnson ended Kershaw's bid for a perfect game tonight. Johnson also singled in the seventh, and aside from John Hester reaching on a Russ Mitchell error, those were the only baserunners the Diamondbacks had until Chris Young's leadoff single and Tony Abreu's RBI double in the ninth. Kenley Jansen then replaced Kershaw. who threw 102 pitches. After one out, Jansen walked Stephen Drew to put the tying run on base, but he struck out Adam LaRoche and Ryan Church for a 22-pitch save.
On top of all his other talents, Kershaw has spent much of this season mastering his control. Last year, he walked 4.8 batters per nine innings. This year, he's at 3.7, and since June 1, 2.8. In the first four innings tonight, nine Kershaw pitches landed out of the strike zone. His pitch count by inning before the ninth: 12, 10, 8, 12, 15, 13, 16, 7.
It was sad to see Kershaw's bid for a two-hit shutout fray in the final inning, but still, he was mesmerizing. If Dodger fans have one thing to look forward to next season, if they have only one player writing poetry, it's Clayton Kershaw. What a treasure.
* * *
Two players got their first triples of the season for the Dodgers tonight, and you can decide which is more surprising: Trent Oeltjen or Andre Ethier. Oeltjen drove in A.J. Ellis (1 for 2 with two walks) with his, Ethier scored following his. Reed Johnson added his second homer of the year in the ninth inning, and that was your Dodger onslaught tonight. (Russ Mitchell did get the first inside-the-park hit of his career, a seventh-inning single.)
Kershaw had his 18th sacrifice bunt of the season, putting him one away from Orel Hershiser's team record for pitchers of 19, set in 1988.
* * *
Mediation on the McCourt case ended with no news of an impending settlement, reports The Associated Press. Comments Josh Fisher at Dodger Divorce: "… a settlement doesn't have to come now. It probably won't come now. After this trial comes to a conclusion, Judge Gordon will have 90 days to issue a ruling. You can bet he'll keep the parties well-informed to his progress, and that they will have ample time to reach a settlement. It's a hugely important case, one that could potentially create new California law, but the parties are unlikely to let it get that far. There's just too much to lose."